In a call with investors earlier this week, Marissa Mayer summarized her plan for getting on track as a "chain reaction."
"We're starting with great people, the foundation for creating great products," she said. "These great products and increased ubiquity will drive user growth and higher engagement. And finally, higher adoption and engagement causes higher advertising spend, and ultimately, more revenue."
Yahoo's focus has been on step one, talent, since Mayer took the helm in July: The company has acquired six startups, mostly for talent purposes, and its attrition rate for top talent is half of what it was a year ago.
Now signs of what Yahoo hopes will fall under step two, better products, are making their debut. On Thursday, the company launched a weather app for iPhone and an email app for tablets–its first new mobile products under Mayer's leadership.
Like updates to the Flickr iPhone app and Yahoo Mail app for smartphones, the apps are products of a new, centralized approach to mobile inside Yahoo.
"We changed the way teams work together," says Adam Cahan, who was promoted by Mayer last year to lead Yahoo's mobile efforts. "Teams are now product, design and engineering. It's a holistic approach, what we call a pod, the idea being that we are all there together to solve a user frustration, or to understand the 'why' of the product, if you will."
Before designing a tablet app for its email product, the team behind Yahoo Mail thought hard about what makes a tablet different than the desktop or a smartphone app. "When we looked at our data," says Lee Parry, who led the project, "we could really see the tablet was being used at different times during the day, compared to the normal web product, and we saw that the use cases were a lot different. People were reading a lot more on the tablet, compared to doing a lot more writing [on the desktop."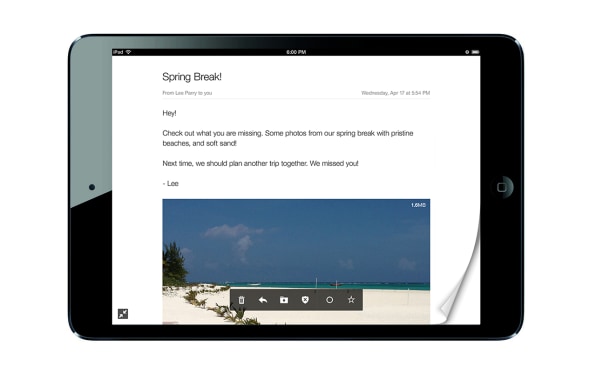 This insight sparked the idea for a magazine-like mode that makes flipping through emails more like turning a page in a book. It also helped the team decide how to use the tablet's bigger screen more efficiently. Instead of filling the space with open emails, the app uses it as a space for sorting them.
Any emails users check from their inbox show up in a separate dock to the right of it, where they can all be deleted or archived all at once. Users can pull the emails they want to read into the dock and delete the main queue. It's a design that favors sorting over composing, which, Parry argues, is appropriate for an iPad app. "Nobody has really done this yet," he says. "Nobody has adapted their design to what we actually do [on tablets]."
Making something as simple as the weather fit Yahoo's new mantra of making daily habits "inspiring and delightful," seems difficult. Which may be part of the reason its new weather app gets some help from Flickr.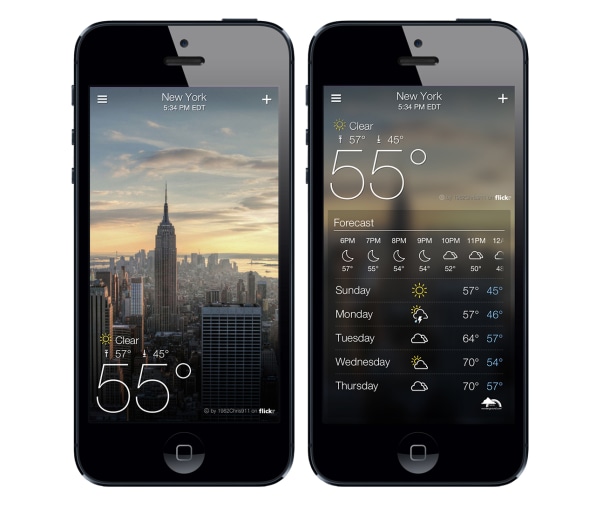 Yahoo Weather for iPhone shows not only the temperature in a specific location, but also Flickr photos of what that weather looks like in that location. If there's a blizzard in Chicago, for instance, the app will deliver that news with a photo of a blizzard in Chicago. It pulls the photos from a special Flickr group.
Unlike Flickr's weather app for Android, which uses Flickr photos from the same group, images dominate the experience. Only when you scroll down do you see all the geeky weather info you could ask for, including a windmill that spins slower or faster depending on the wind speed. Cahan says the idea was to encapsulate the idea that "the forecast is beautiful."
Despite profit help from overseas investments, Yahoo's revenue is declining. And it needs to get to the last step in Mayer's "chain reaction" before that changes.
The company's new approach to mobile products has so far done a good job at the third reaction in Mayer's chain, increasing engagement. After introducing a new Flickr app, the total number of photos uploaded to the service increased by 50% last quarter, and a revamped mobile app for Yahoo Mail saw a 50% increase in daily active users over the same period.
Yahoo Weather for iPhone and Yahoo Mail for iPad, however, are the first completely new mobile experiences created under Mayer's leadership. They represent, as Cahan puts it, "what we're trying to do with our mission more broadly."