Many companies want to be the Pinterest of specific topic X, or the Twitter of Y. But after watching around 8.5 million users save more than 300 million items over the past year, one popular content-sharing app found that more people want to simply share individual things with certain people, rather than become social media broadcasters. It's a good lesson for more than just that app.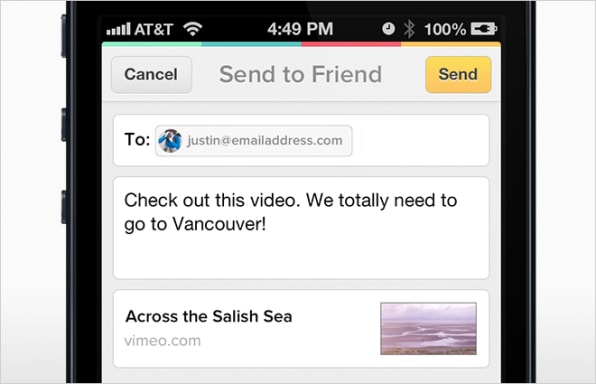 In a way, Pocket is, as announced today, working to become The Email of Content. The move makes sense to Pocket founder Nate Weiner, as email is the most popular way Pocket's users share articles and videos and other links with each other, by a more than two-to-one ratio.
"There were versions of (Pocket Sharing) that were far more advanced and crazy," Weiner said in a phone interview. "But from our own usage, and from the data side, the number one thing people do is share via email. Combine Twitter and Facebook (sharing), and it's still far smaller than the sharing volume via email."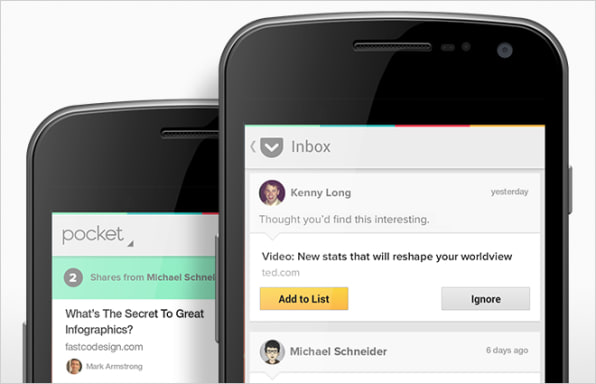 Every website (and especially this site), almost every mobile app, and a growing number of advertisements all want you to broadcast more than share: Like us on Facebook, tweet that you just learned your credit score, Pin this story. What Weiner learned, and what most people will eventually learn, is that it's the personal nature of contemplating, sending, and adding a note about something that makes closed-circle recommendations more powerful than hoping everyone catches it in your feed/stream/pinboard.
So Pocket has added features that make it easy to share one thing with a few people. Your note about why you are sharing is retained, and if the person receiving your item is a Pocket user, you and them see friendly faces and mobile notifications.
"We've seen that you don't read a book so you can run down the street screaming, 'Hey, I just read this.'" Weiner said. "In reading, there's something that strikes you, that reminds you of something else, that you share with a small number of people. It's way better, and sometimes way faster."
Trying to make social in smaller circles than shouting out loud doesn't work for the big players, at least for the moment. Twitter and Facebook have their versions of configurable lists, but you've probably seen that they have yet to catch on. Google+ was launched with just this kind of focus, but Google+ is still, shall we say, getting there.
What about you and your coworkers, collaborators, team members, and smart friends and contacts? What's a good way to share out links and news without flooding or annoying people? Here's a few tips:
Ask first, always: Even if you know someone would enjoy getting relevant and intriguing links from you, ask if you can add them to an informal list. By asking, you are smoothing out the transaction and separating yourself from their typical LinkedIn clutter. You are also cementing the fact that they stand apart from all those people to whome you simply broadcast.
Space them out: Share-worthy things can arrive in batches, but sending all those links stacked on each other makes you look more manic than inspired. Gather up the stuff you want to show (or show off) in Evernote, in Pocket, in a bookmarks folder, or wherever you like. Send them out on a schedule, even if you bundle them up all at once. Boomerang for Gmail, a browser plug-in that helps conquer email, is great for scheduling emails in advance, or bouncing share-worthy things back to you later on.
Do a little formatting: Create bullet-point lists, put sub-headings in bold, and create text-based links in your emails. A little formatting goes a long way toward showing you care about the space in which you are inserting your thoughts. If you want just a bit more polish, you can sign up for Mailchimp's Forever Free plan, which can format and send about six emails per month to up to 2,000 people. If you have more than that, you are broadcasting, not sharing.
Amrit Richmond, an independent market research and strategy consultant and founder of Magenta Labs, curates an email list for about 300 people. The list, built from invitations and referrals, allows Richmond to "share some of my findings and spark product discussions with a trusted group," she wrote me. Richmond asks before adding people, and asks startups if they're ready for a link. Everything is compiled into bullet-lists with categories: "Mobile," "Books," "Recruiting," etc.
Richmond's newsletter is definitely a bulletin, but it feels like it's from a real person, and the most that person is asking for is to trade back some other link or recommendation on occasion–such as this occasion. (You can request an invitation at hello@magentalabs.org).