What are you loving this month?


Reshma Saujani
Founder, Girls Who Code
Grindspaces.com: "It's so awesome to see the innovation happening at this collaborative work space. Creative people from every industry are sharing their ideas and working on projects to change the world."
Imperative.com: "This group is rethinking the way we approach social impact by designing tools to measure and improve the well-being of people, organizations, and communities."

Tiffany Shlain
Filmmaker and founder, the Webby Awards
Cube 3-D printer: "My family and I are obsessed with our 3-D printer. We are making robots, rings, house models, and are loving watching dust turn into things before our eyes. This magical device from the future that is finally here."
Vine: "As a filmmaker and someone who likes creative constraints, such as the Webbys' five-word acceptance-speech rule, I love the idea of having to create something interesting in video in just six seconds."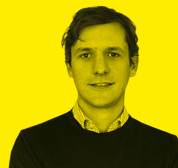 David Noel
VP of community, SoundCloud
Thinx: "My friends in N.Y.C. are rethinking women's underwear with beautiful, high-tech designs that 'prevent embarrassing scenarios' in the developed world and, for every pair sold, in partnership with Uganda-based AFRIpads, provide one set of reusable pads that help women and girls stay engaged at work and school."
The West Wing: "This series offers a crash course in leadership, dedication, purpose, debate, and friendship. Worth rewatching once a year."

Dorie Clark
Author, Reinventing You: Define Your Brand, Imagine Your Future
Regus Business Lounges: "If I'm traveling and have time between meetings, instead of looking for a noisy cafe, I use this quiet haven to make calls and work online."
BoardnetUSA: "Many people under 40 don't consider nonprofit board membership an option, but it's a great way to network and give back. This site helps connect you with your favorite causes."

Bernardo Carvalho
Director, product management, Huge
Understanding Comics: The Invisible Art: "I'm re-reading this 1993 masterpiece by Scott McLoud. The author set out to explain comics as a medium and ended up creating a very insightful book about art, design, communication, and visual thinking. It's the first book I would recommend to a young user-experience designer."

Kakul Srivastava
Founder and CEO, Tomfoolery
Toca Boca: "Toca Boca is a mobile app studio in Stockholm that is reinventing digital toys. Its apps are gorgeous, totally creative, and like nothing else you've seen before. They remind me how powerful play and a sense of wonder can be."
Invisible Cities, by Italo Calvino: "The book takes place as a conversation between a dying Kublai Khan and Marco Polo, who has surveyed the king's vast empire. Calvino plays with all his tools—language, structure, meaning, sound. I've read it many times, and each time I learn something new and beautiful."

Justin Kan
CEO, Exec, and president, Twitch
Mailbox: "It's the first app that's truly replaced the native iOS mail app for me. Archiving or deleting or setting an email to be a reminder later with one swipe makes it supereasy to get to inbox zero."
MessageMe.com: "I got into the MessageMe beta and haven't stopped using it since. The app has a bunch of fun features. My favorite is the ability to take images and draw crazy things on them."

Shivani Siroya
CEO and founder, InVenture
Infinite Vision: How Aravind Became the World's Greatest Business Case for Compassion, by Pavithra K. Mehta and Suchitra Shenoy: "Incredibly inspiring for any entrepreneur with a big vision. Shows how compassion and a McDonald's franchise model can coexist to create efficiency and achieve a massive vision of curing blindness."
Power20: "A great tool for anyone constantly traveling or without a lot of time for exercise. It keeps you entertained by unlocking new workouts, and it's only 20 minutes!"

[Beck Diefenbach (Shlain)]
A version of this article appeared in the May 2013 issue of Fast Company magazine.