Rob Coneybeer doesn't often drive the silver BMW Z3 parked near his house. Rather, he purchased the convertible primarily for other people to use. "I bought the car to list it on RelayRides," says the Shasta Ventures managing director, referring to the peer-to-peer car-sharing platform that has received $13 million in funding from Shasta, Google Ventures, and GM Ventures, among others. For $15 an hour, anyone in San Francisco can rent Coneybeer's wheels. This arrangement, he believes, represents the future of car ownership. "You know in Austin Powers, when Dr. Evil says '$100 billion' and puts his pinkie to his mouth?" says Coneybeer. "Car sharing is a billion-dollar opportunity."
In the two years since I covered the "sharing economy" for Fast Company ("spawned by a confluence of the economic crisis, environmental concerns, and the maturation of the social web, an entirely new generation of businesses is popping up," I wrote), dozens of platforms have emerged to facilitate the selling, swapping, and renting of every conceivable asset. The success of Airbnb, which reportedly has a valuation of $2.5 billion, has spurred entrepreneurs to apply the model to everything from pasta makers to unused garage space.
But when it comes to business models, we're learning that Airbnb may be more the exception. Tomasz Tunguz, a VC at Redpoint Ventures, says a platform's viability depends on the value of listed items, the profit an owner can make, and the cut for the intermediary. Home rental is one of the few areas where there's payoff for both owners and renters. After that, the math becomes dicey. Says James Reinhart, CEO of ThredUp, a service for reselling clothes, "A lot of sharing companies weren't providing strong value propositions, but got caught up in the hype."
This has played out most starkly in the neighborhood sharing space, where some 10 startups fell prey to the idea that neighbors were the optimal sharing group. "Developing an alternative to Craigslist has proven difficult," says Rachel Botsman, coauthor of What's Mine Is Yours: The Rise of Collaborative Consumption. "People assumed that location is the primary factor. It's not." If the effort required to pick up the good is the same as going to the store and the savings aren't significant, the motivation won't be there for a marketplace to work.
Even car-sharing outfits are facing the challenges of scaling. While people point to the $491 million sale of Zipcar to Avis as proof the model works (despite Zipcar being an owned fleet, not P2P), Reinhart has a more sober read: "It took Zipcar more than a decade to build that business, and they were barely profitable. My sense is that this was not because of the economics of owning the cars but because of [low] utilization." Craig Shapiro, founder of the Collaborative Fund, which has invested in more than 20 sharing startups, says the gap between intent and reality is another inhibitor: "If you tell 10 people about car sharing, 7 will say, 'Sounds neat.' But when you say, 'Why don't you post your car on RelayRides?' they say, 'What if someone spills coffee?' And it drops to 1 or 2."
But an opportunity clearly exists for companies that are able to provide real value and an unrivaled experience. "The first generation facilitated a transaction," says Shapiro. "Newer startups prolong their involvement." DogVacay–which is targeting the estimated $8 billion pet services and boarding market by connecting traveling dog owners with temporary hosts–provides $4 million in liability coverage, has developed an app so hosts can share pictures of the dog with its owner, and is exploring providing GPS collars so pups can be tracked. "I no longer think of us as a peer-to-peer marketplace," says DogVacay founder Aaron Hirschhorn. "I consider it a service where we provide the highest quality possible."
How three companies are adapting to the modern sharing landscape.
ThredUp: Venture backing $23 million
When James Reinhart, then a newly minted Harvard MBA, founded ThredUp in 2009, his goal was to "build an enormous business for secondhand online."
Initially, ThredUp helped parents sell used kids garments directly to other parents. But by 2011, inconsistent quality had caused sales to plateau. "The problem with P2P is that relying on customers to deliver an experience is hard," says Reinhart.
So in 2012, ThredUp inserted itself further into the process. Instead of having users mail goods to each other, ThredUp now receives 8,000 pieces of clothing each day; it then vets, photographs, and posts the best of the lot. That pivot revitalized the company and opened up a new business: logistics. Says John Voris, a former VP of operations engineering for Netflix whom ThredUp hired as COO, "Suddenly our core competency became operations at scale."
Poshmark:Venture backing $15.5 million
"There are few categories where an individual has a meaningful inventory of items," says Manish Chandra, previously the founder of social shopping site Kaboodle, who launched Poshmark, a P2P fashion marketplace, in 2011. "Fashion is one of them."
The site, which has more than $1 million in inventory added daily, is organized around each woman's closet: Users can design their own look and upload photo spreads of everything from handbags to shoes, which are then sold to other women. To expand the community, the service throws both online and offline "Posh Parties" around specific designers (Marc Jacobs or Chanel) or looks (street style).
"I liken us to the early days of eBay, when the buyers and sellers were the same people," says Chandra. "It's not focusing on buying and selling, but on building a community."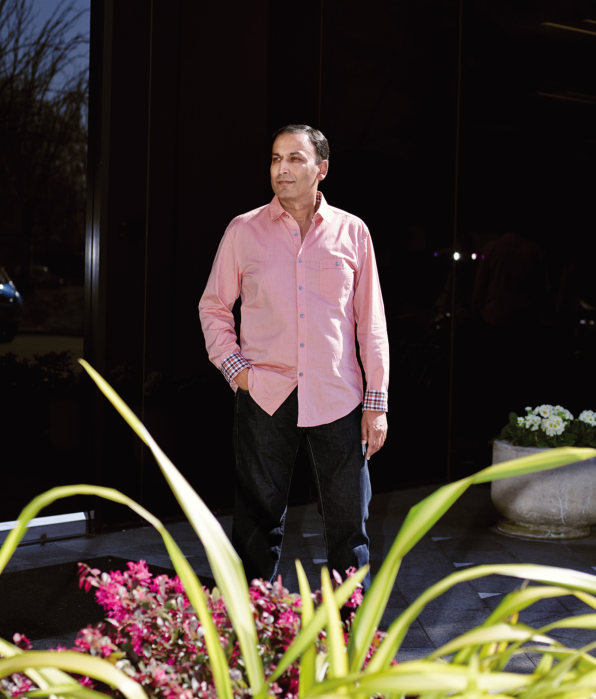 Yerdle: Angel backing $500,000
"Everyone who failed in the low-cost-goods space says the model won't work," says Adam Werbach, cofounder of Yerdle, a platform for the sharing of, well, everything, "because the value isn't worth the hassle." Yet Werbach, whose career has included jobs at the Sierra Club and Saatchi & Saatchi, and cofounder Andy Ruben, Walmart's former chief sustainability officer, think pioneers bet on the wrong thing. Early low-cost-goods startups assumed that people who live near each other would want to share. Yerdle figures sharing is more likely to occur between people who have a relationship and thus built its platform on Facebook, enabling users to share via the social graph.
Its goal is to involve traditional retailers in the process as a means of helping them foster customer loyalty: a store facilitates sharing when possible; if not, it sells you the item.
[Photos by Jake Stangel]