We all knew it was coming. It simply didn't make sense that all of the web's video would be housed at a single site, or within a single company. The history of both technology and media is that as markets emerge, and users or audiences arrive with unique tastes and expectations, companies rise to the demand.
YouTube has been for a period of time, a single point of upload and playback for web video. But web video hasn't been 'web video' for a very long time. In fact, many of the early attempts to build businesses around web video failed, some spectacularly. A footnote: just the other day I ran into a former intern who reminded me of a nascent experiment that I ran under the umbrella 'CameraPlanet.' CameraPlanet posted videos contributed by users. The were postage stamp sized files, encoded in either Windows media or Real Media. They played poorly, they choked often. The idea worked, the tech didn't. Fail.
But things are changing now, on three important vectors: the audience, the devices, and the money. Together they create the snap, crackle, and pop that is the birth of new TV. It's that sizzle that Marissa Mayer has seized on at Yahoo, and making the purchase of Dailymotion her first big-dollar move at Yahoo would be a powerful bet that is a sign of things to come.
Here are the three key trends the Yahoo move would validate:
The audience. Video is a massive driver of web traffic. It's growing in the number of audience members who consume video, the size of HD video files, the length of videos viewed, and time on site watching videos. It's growing far beyond old-fashioned Television's entertainment focus. Video is expanding rapidly to serve audiences in education, medical, community, relationships, hiring, travel, sports, health, food, fashion, finance. Simply put, video isn't passive, it's active. And it's moving from the edges of our lives and work to the red hot center.
The devices. Video's shift can be attributed to dramatic change in two classes of devices. Video recording devices, and video playback hardware. Video capture is now standard issue on every mobile phone. Everything from recording, filters, and even video editing is now standard issue on your phone. At the same time, home digital cameras now record amazing HD video, and for the daredevils and adventurers, the sales of the Go Pro helmet mounted video camera is exploding. That's before the release of Google Glass and the convergence of wearable computing and video recording. On the video playback side of things, the growth is equally startling. From OTT devices, to tablets and smart phones, video is driving adoption and behaviors.
The money. Advertisers have long known that video is a stunningly powerful elixir of information and seduction. When, for a moment, it looked like television wasn't going to make the leap to the web, agency creatives morned the death of their favorite medium. So, no surprise, Madison Avenue is pointing a firehose of dollars toward web video. The only thing they wish is that the quality sources would get to scale more quickly. Then, there are consumers eager to pay for video that used to be thought of as free TV.
The confluence of devices, dollars and consumers creates a rich environment for rapid innovation. That's what Marissa knows. But she's not alone. AOL has been building its video network with a mix of created, curated, and live video. AOL's video ad revenue vaulted up from just $10 million 2 years ago, to $100 million in 2012, with more growth ahead in 2013. The results are due in large part to AOL's acquisition of 5Min in 2010 and VP of Video Ran Harnevo's understanding that they need to be both a destination and a distributor of video to third party sites.
There are two other players in this space that deserve mention. Facebook is already the number two video site on the web, almost by accident. So far, they haven't spread their wings around video, but they will. And finally, there's Amazon, which so far has stuck to building a delivery system for pro content to their Amazon Instant video product. But Amazon quietly moved into video encoding in March of 2013, and can an upload tool and a low cost video player be far behind? With AWS to power a video network, it seems almost inevitable.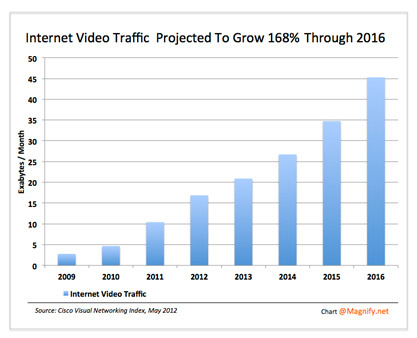 YouTube has had a powerful head start, but with more and more ads appearing on YouTube players and a new crop of competitors coming online, the fickle Internet audience will most certainly continue to be carved up in to more appropriate nitches. Some of them will be entertainment networks for sure. Will Facebook buy Netflix? Will Hulu sell, remain independent, or evolve? One thing is certain, new TV will be far more than just a "lean back" couch potato experience.
The data doesn't lie. The web is shifting from text to video. And that means that video will touch every part of what is now the Internet. With collaborative content creation and connected location aware devices about to explode video content production, the new power of the video web shifts to organization and monetization. For as long as I can remember, I've wanted to see the inherent power of video communication break out of the economic box of commercial television. Those of us who make video, and make video curation tools, have commiserated that the future is so clear–if we could just hurry up and get there.
It appears that the confluence of devices, audience, and dollars has finally arrived. Now the fun begins.
——————————————–
I didn't want to leave the powerful data that backs up the argument on the cutting room floor. For some of you reading this, the trends are indisputable, for others–the hard data from reputable sources will help make the case that the future has arrived. Here's a snapshot of the supporting data.
DATA: The Audience:
It would take over 6 million years to watch the amount of video that will cross global IP networks each month in 2016. Every second, 1.2 million minutes of video content will cross the network in 2016. (Cisco)

In a keynote address at CES, YouTube's Vice President of Global Content Robert Kyncl said that video would soon be 90% of Internet traffic. (Forbes, 2012)

Globally, Internet video traffic will be 55 percent of all consumer Internet traffic in 2016, up from 51 percent in 2011. This does not include video exchanged through peer-to-peer (P2P) file sharing. Video exceeded half of global consumer Internet traffic by year-end 2011. The sum of all forms of video (TV, video on demand [VoD], Internet, and P2P) will be approximately 86 percent of global consumer traffic by 2016. (Cisco)
Internet video to TV doubled in 2011. Internet video to TV will continue to grow at a rapid pace, increasing six fold by 2016. Internet video to TV traffic will be 12 percent of consumer Internet video traffic in 2016, up from 8 percent in 2011. (Cisco)
DATA: The Devices:
In 2010, GoPro had 14 employees in San Fransisco, now there are 150. In 2012 the company sold 2.3 million cameras and grossed $521 million, according to Woodman; with $100 million in sales in January alone, that annual figure should again double this year.

Parks Associated says there will be 87 million connected TV households by 2016 — something that's music to advertisers' ears since the majority of smart TV households (55 percent) have at least a $75,000 income and own 11 Web-enabled devices.

Online video now accounts for 50% of all mobile traffic and up to 69% of traffic on certain networks. (Bytemobile Mobile Analytics Report, 2012)

28% of smartphone owners will watch videos on their phones in an average month (Experian 2012 Digital Marketer: Benchmark and Trend Report)

Over 40% of tablet use occurs outside the home. Tablet users prefer tablets to personal computing for a variety of uses including watching video (67%) and shopping (52%). (Online Publishing Association, 2011)

93% of smartphone users use their devices in the home, and almost 50% of users watch videos on their smartphones. 90% of smartphone searches result in an action such as a purchase or a visit to a business. (Google Blog, April 2011)
DATA: The Money
The online video industry will reach $28.72 billion in 2017, soaring from the $3.79 billion recorded in 2010 and the $11.14 billion expected in 2012. These numbers point out that the OTT sector is "on the brink of a tremendous take-off," according to the firm Digital TV Research. While the U.S. is projected to lead in online video revenue–totaling $10.9 billion in 2017–China is estimated to come in second with $2 billion.

Online video is the fastest growing ad format in 2012 with nearly 55% growth. (eMarketer, January 2012)

According to Internet Retailer, 52% of consumers say that watching product videos makes them more confident in their online purchase decisions. When a video is information-intensive, 66% of consumers will watch the video two or more times.

28% of smartphone owners will watch videos on their phones in an average month (Experian 2012 Digital Marketer: Benchmark and Trend Report)

Shoppers who view video at Onlineshoes.com convert at a 45% higher rate than other shoppers, and the site has seen a 359% year-over-year increase in video views. Product pages with video have higher conversion rates than product pages without video. (Internet Retailer, February 2010)

Ice.com found that viewers who chose to view video converted at a 400% increase over those who did not. Ice.com also credits video with decreasing returns by 25%. (Internet Retailer, December 2009)
[Image: Flickr user Daniel Kulinski | Data curated by Invodo.com]