Social music app Rockbot uses music to gamify happy hour–and make sure Nickelback's biggest fan doesn't ruin your night out with a sack of quarters at the jukebox.
Rockbot, which is backed by Google Ventures, Detroit Venture Partners, and others to the tune of $1.2 million, is rolling out its redesigned app this week, having recently taken over 15 bars in Austin during SXSW, and it's announcing new partners Miller Lite beer and 19 locations of bowling alley chain Lucky Strike. It's a big step toward making Rockbot a more appealing service to venues who would otherwise jack in an iPad, Pandora, or some satellite service.
"I think it really solves the problem for businesses that are trying to create an experience that attracts consumers," says Garrett Dodge, Rockbot's 34-year-old cofounder and CEO. "And music is an important piece of that. And Rockbot is a piece of that, too."
Along the way, it might even transform your next dentist visit into a singalong. But let's start with drinks.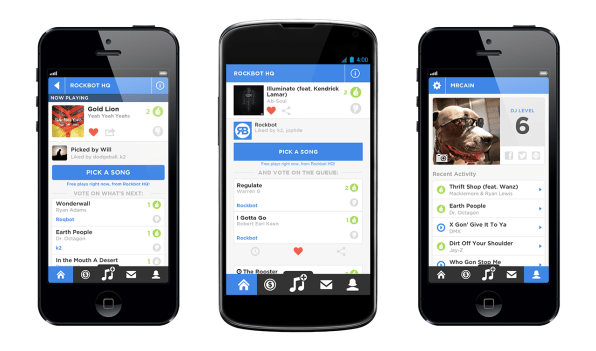 Bars are always looking for new ways to attract patrons. Their vendors are always looking for new ways to get those patrons to buy more product–say, beer. That's why every one of 'em vie for placement on taps and give away free branded beverage napkins and neon signs (you thought that was a design choice?).
In Rockbot, "We have found that the social media component has helped tremendously in getting our brand out there," said Steven Foster, owner and CEO of Lucky Strike, in a news release out today. "We have customers not only sharing their check-ins at our locations but also sharing their music selections."
You go to, say, a bar that's signed up for Rockbot's business music app (ranging in levels from $25-$100 a month) and has likely tailored its playlist to include an appropriate slice of Rockbot's 7 million tracks that are fully licensed for public consumption (so some smartypants patron won't end up picking Foghat at a disco or Abba at a biker bar). Patrons check in with a free jukebox app then not only start picking songs from the venue's playlist, they start lobbying to have people vote them up. Results show up on a screen. (Beats an ambiance-draining television or some canned trivia system.) The more votes a patron's song gets, the quicker their songs play. In a perfect world they even tweet out song choices and get friends to come out to help win plays (and drink beers).
Even without allowing yourself to be co-opted as the social media marketer for your local chuggery, there's still a potent brew in Rockbot's formula for brands, whose logos are placed alongside the playlists on video screens that captivate patrons vying for plays. "The Miller guys were very excited to have their brand be on the screen right over the bar," Dodge says. While you're engaged in the quest to publicly declare your love for the new ASAP Rocky banger, "that leads you to stay a little longer, buy another beer," Dodge says. He acknowledges the whole host of influencing factors at play but says during a six-month test period, San Francisco's Bar Basic saw a 26% increase in business while using the Rockbot system. In the quest to show ROI in social media–and to borrow the line from Old Milwaukee–it just doesn't get any better than this.
Then there's the overall vibe you get when a bar gets the ambient music right. "They know that a better experience makes people want to stay longer, spend more money," Dodge says. Bad music? Well, what's your move when someone thinks it's funny to buy an entire album's worth of Meatloaf on the jukebox?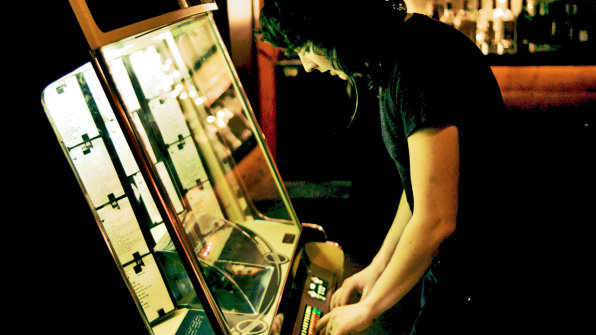 And since patrons are connecting with the service via their social graph, Dodge says Rockbot can help connect its clients with its clientele based on all kinds of factors–"even the weather," he says. "We do know the users that are there. We get more input about who they are."
While admitting that Foursquare unlocked the power of the check-in, Dodge boasts that Rockbot attracts twice as many consumers per location as the popular check-in service, adding that "Users are on their app 30 minutes when they're in there," based on Rockbot's data.
Beyond the SXSW bar crawl, Dodge says the service is aiming at a wider variety of eateries and venues. "It's been a wide mix," he says. "In the last month, we had two dentists sign up. The one I was familiar with, they wanted people to engage when they were in the waiting room. I think one of them was using it in the treatment room."