Think of Jonathan Hsu and Dave Aardsma as David and Goliath. Hsu is CEO of Recyclebank, an online community and incentive program for recycling that has over 4 million members. Aardsma is chief sales and marketing officer of Waste Management, which has the largest curbside trash pickup service in the country with over 20 million customers in North America.
In corporate America, it's quite common to see a giant like Waste Management vanquish its more diminutive competitor. Indeed, Waste Management has grown to its current size, in part by acquiring hundreds of smaller businesses. And they made bank when people discarded their waste instead of recycling it.
The balance still tips toward tossing, as more trash continues to be kicked to the curb (literally) rather than sorted for repurposing. In 2010, Americans generated about 250 million tons of trash and recycled and composted only about 34.1 percent, according to the EPA. Similarly, a sizable chunk of Waste Management's $13.65 billion revenue in 2012 came from trash collection and landfill as opposed to recycling.
Rather than duke it out (or ignore each other) at an industry conference two years ago, Hsu and Aardsma struck up a friendly conversation. "Dave came up to me after the presentation and said, 'Why aren't we working together?'" recalls Hsu. "I had no answer except to say yes." That dialogue would later forge a partnership in the spirit of coopetition that's now offering rewards points for recycling, redeemable for deals on groceries, clothing, and other merchandise to residents in 75 communities across the country.
Though Waste Management is not a rookie in the business of reducing waste, recycling, or recovering resources to create renewable energy, Aardsma admits, "People still know us as picking up the trash and bringing it to landfills." He says the company even began instituting a loyalty rewards program for recycling. "We are a company that is in the middle of a big transformation," he says, and it was time to tell consumers a different story. What better way to do that than to join forces with a company that was already encouraging people to be more conscious about reducing waste. Aardsma contends that while Waste Management already had the infrastructure to handle curbside recycling, Recyclebank had them beat when it came to engaged membership and relationships with consumer product companies. "It made total sense to me to align both companies so we both can benefit and move our causes forward, instead of us trying to iterate," Aardsma asserts.
This was all very forward-thinking, but Hsu was not totally sure how things would work in real time. "We are a mission-driven company," Hsu asserts, one that values authenticity and positive change. "Obviously there are always challenges when a Fortune 200 company starts working proactively with a high growth startup," he says. "One of our largest concerns working with a company with 40,000 employees was how to get that message aligned and how it would translate to everyone in the field."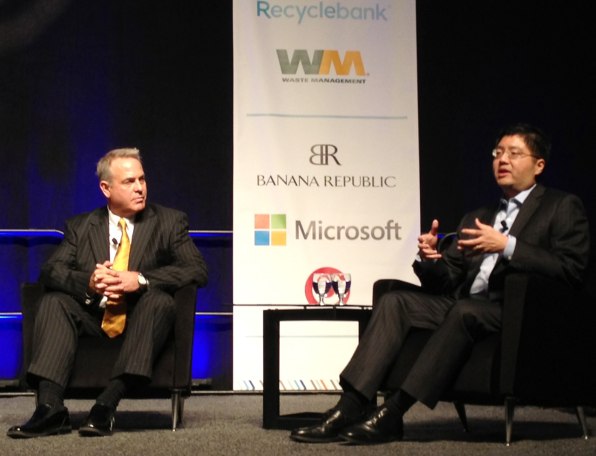 Hsu got schooled right away. He watched as Waste Management's management team provided support and the metrics for success that allowed all levels of staff to understand how the partnership would "transform communities." And he was put to work, too. "I've been out on many different trucks and picked through garbage," says Hsu. "Frankly, the thing that astounded me most when I talked to a local representative of Waste Management or the driver of a truck, they believed in the transformation because they see it firsthand."
This wasn't a surprise for Aardsma, who began his own career working on the back of a collection truck during summers while he was in high school. He eventually worked his way into the executive suite, but observes, "The beauty of this business is that it's very local."
Hsu says that measuring engagement at this granular level was part of the companies' due diligence during the first year. Spending time talking with mayors, city councilors, and local business owners was necessary to gain support for the partnership. "You need to win hearts and minds and prove the value," Hsu underscores.
You also have to make it easy for people to sift through their disposables for recycling instead of dumping everything into a bin and forgetting about it, says Aardsma. Where most people have to hand sort into three different bins for paper, plastic, and aluminum, Waste Management's technology uses optical sorters to do the work instead. Aardsma says that simply allowing residents to stash everything in one cart (known as single-stream recycling) resulted in an increase of 50 percent more material recycled.
In communities that are part of the new partnership the results have been even higher. Hsu points out that Little Rock, Ark. saw a 63 percent improvement in the amount recycled there. That's because in addition to Waste Management providing single-stream recycling and larger carts, Recyclebank's promotional efforts and incentives contributed an added boost of 13 percent. A higher level than either would achieve alone.
So far, Hsu says that 100 million tons of material have been recycled and Aardsma says they are looking to double the number of participating communities this year to service 3 million homes.
Of course, both companies stand to increase their bottom line for these efforts. Recyclebank's revenue comes from a combination of communities paying to engage and educate citizens and partnerships with major corporations such as SC Johnson, Coca Cola, and Unilever that are looking for ways to engage individual consumers. Aardsma admits that Waste Management isn't currently earning bigger revenues from recycling as opposed to trash collection but the company is continuing to evolve toward developing technology to convert both recyclables and trash into alternative energy.
Above all, Aardsma underscores, is to develop relationships in new communities, and not just because it adds to the balance sheet. "Community members who have joined have earned $4 million of Recyclebank's rewards. It's a nice way of driving the local economy and sustainability behaviors," he says. "When people think about the world differently, it's a cool loop."