"I'm an optimist," declared Microsoft and Gates Foundation founder Bill Gates during his standing-ovation-receiving keynote address this morning at the South by Southwest Education Conference. Gates was, in part, talking about his belief in the power of innovation to transform everything from poverty to health care to toilets.
The he focused on the topic at hand: "In just the past few years technology has finally become part of our schools in a big way, and it's only getting bigger."
Gates' influence in seeding the ed-tech ecosystem represented by this conference, now in its third year, can't be overstated. [Disclosure: I was a Gates education grantee in 2011.] His interests in standardized testing, charter schools, and technology are at the core of the bipartisan national education reform agenda. In just the last two years his foundation has bestowed $170 million on schools, districts, and startups that are building and testing the potential of data, analytics, game-like adaptive learning platforms, and connectivity to personalize learning, engage students, and get more of them to graduation. That compares to about $410 million in venture investment over a similar time frame.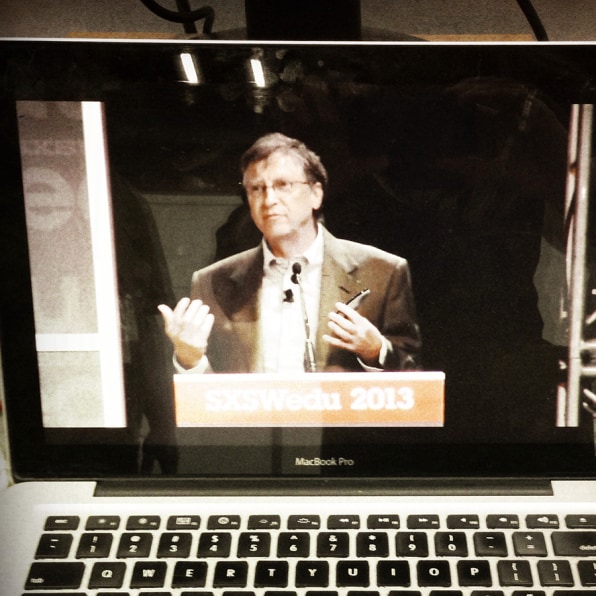 "What's really changed in the classroom isn't much at all," Gates argued. "We've gone from a blackboard to a whiteboard."
But this market, Gates argued, is about to hit a "tipping point" due to growth in demand from parents, students, and teachers for learning experiences that better resemble the rest of our wired lives. Taken together, it could be worth $9 billion a year just in public K-12 spending.
In the past, some Gates grantees, like Khan Academy's library of videos, have been viewed as trying to "teacher-proof" education. Perhaps to counter that perception, Gates focused today on the potential of technology to help teachers–enabling them to collaborate, share best practices, give each other feedback, and allowing them to direct individualized instruction to large groups of students. "Digital technology has several features that can make it much easier for teachers to pay special attention to all their students," he said.
He closed with a plea for great educators and great technologists to work more closely together, the same way that scientists work alongside developers in the biotech industry.
Gates shared the rest of his keynote with three of the ed-tech entrepreneurs he's supported. Each represented a different piece of the learning and technology ecosystem. Iwan Streichenberger is the CEO of InBloom, a nonprofit that is building a system to host student data in the cloud and make it more easily accessible to states and districts. Jessie Woolley-Wilson runs Dreambox Learning, an adaptive online math program. Diane Tavenner founded Summit Public Schools, a network of charter high schools in California with extraordinary results graduating and preparing underserved kids for college. It was featured in the documentary Waiting for Superman.
In a separate interview, Tavenner threw a bit of cold water on the notion that the technology community will be the saviors and standard-bearers of next-generation education. Her schools have their own in-house developers building a student-driven learning and assessment platform "until something better exists," she says. "A lot of entrepreneurs I talk to haven't imagined what the schools of the future look like. They see an existing market that's asking for solutions, but I see that as the market that's rapidly going away."
[Images: Flickr users Capslockpirate, and Michael Brown]