SoundTracking has been putting off a big problem. Today, the app's cofounder Steve Jang tells Fast Company he's solved it in a single touch of a SmartPlay.
The social music app cofounded by Jang, a web streaming pioneer and former imeem CMO, is great for tagging, sharing, and broadcasting what he calls "the soundtrack of your life." It erases friction between serendipitous musical moments and whatever social networks you use to share them.
It works like this: You discover music as friends (via Twitter, Facebook) or people in your vicinity (Foursquare) listen on SoundTracking.
Or you use your smartphone to identify and tag music playing in the atmosphere (like Shazaam) and then share that with SoundTracking followers.
But here's the rub: You only get snippets of those serendipitous songs. If you actually want whole new tracks, you have to go out to iTunes to buy them, or, worse, go out to a streaming service app, type in a search for the song or album title you found via SoundTracking, and hope for the best. Meanwhile, that thrill of discovery withers and dies.
"This has been the elephant in the room," Jang says. "I've discovered this music, now I have to go through this old way of finding the music."
That changes today with SoundTracking's new SmartPlay button. It's a one click option that lets you play the song you've discovered on popular streaming services Spotify and Rdio (presuming you have those apps and a login).
You'll even get the one-touch option to view the song's video on YouTube (you'll see the video right in Soundtracking, Jang says).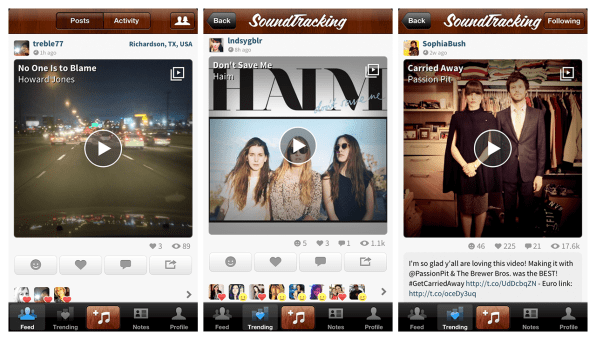 "Not only are you finding the best match within one of those popular music services, we're taking you the user to that audio/video experience right away instead of sending you to a search bar," he says.
From the user's end, it's a bit of a no-brainer. For the tech types at SoundTracking it's been a months-long effort to find just the right APIs plus the right search logic to find the best match and launch a playback experience immediately. "There are so many little discrepancies to simplify and make into one task and have the very best match come up, there are an enormous number of factors involved," Jang says. "If you still feel like you have to type something in after you've tapped the button, it doesn't feel as good. It feels like work. That's the difference between implicit and explicit in terms of emotion."
Jang's big on the emotional part of the musical equation–it's the backbone of SoundTracking. And there's a lot at stake if SoundTracking gets this function wrong. Picture the frustration of seeing a friend post a song by Frank Ocean and then clicking through to find yourself watching a video by Billy Ocean.
IOS users are scheduled to see the free update pop up for SoundTracking today, and they'll put the new button to the test.
An update to the Android version of the app is scheduled to roll out later this evening. It incorporates the SmartPlay button plus a redesign and features iOS users got a month ago–it included a new search engine, a visual timeline, and a way to tag and push-notify people you associate with songs you're playing.
Jang says the last redesign made a huge difference in users and engagement. He says SoundTracking is now handling 1.5 million social interactions per day inside the iOS app alone. And it's up to more than 10 million daily impressions on Foursquare, Facebook, and Twitter. The play button closes the loop on the discovery experience, Jang says. "We just really realized that one of the things you want was to be able to be happy and have that aha moment…. We've been waiting to be able to do this for a really long time."
[Image: Flickr user Daniela Vladimirova]