Amid this week's Oscars buzz, a new study claims that brain feedback from a movie's trailer can predict its opening weekend revenues.
According to the Innerscope Research study, if a film's trailer fails to reach a specific emotional engagement threshold (65), it will very likely generate less than $10 million in revenue on opening weekend; a movie whose trailer exceeds a certain level (80) will very likely earn more than $20 million the first weekend.
Some big Hollywood studios such as Fox and Paramount have been experimenting with neuroscientific research in order to gain a reliable, direct, real-time read of moviegoers' (non-conscious) brain and emotional responses to movie stimuli such as trailers. For competitive reasons, most studios won't talk about their research tricks of the trade, especially when it comes to use of fledgling neuroscience methods (predictably none of the studios behind 2013 Best Picture nominations would comment for this story). But filmmakers such as Daniel Myrick, co-writer and director of the $248 million-grossing, $600,000 budgeted Blair Witch Project, says neuroscience and the Innerscope study can be useful for filmmakers and studios. Stephen Susco, who made the $187 million picture The Grudge, says this research is a useful tool, too. And even Morgan Spurlock, the Oscar-nominated documentarian famous for needling the advertising and marketing industry, says he gets why studios would look to neuromarketing studies.
Carl Marci, CEO of Innerscope tells Fast Company, "The study's real value to the film industry is in putting this new method to work. Biometrics can be used to evaluate trailer creative up to eight weeks prior to movie launch–enough time to rework the trailer creative based on high and low points in the target audience's emotional experience, put the promotion back into market, and improve the ultimate performance on opening weekend."
The study's findings were gleaned from Innerscope's proprietary biometrics database, "the largest of its kind in the world" including over 20,000 people, Marci says. Innerscope showed 40 discrete movie trailers to more than 1,000 respondents from 2010 to 2012. The trailers were part of "masking content" to subjects, who were reacting to other stimuli such as ads, websites, videos, etc. for Innerscope clients. They were wearing "biometric belts" that captured their "emotional engagement" (attention to what emotionally moves them) by sensing related skin sweat, heart rate, breathing, and motion responses. Biometric information was integrated with data from eye tracking that measures visual attention. Each trailer was shown about six to eight weeks prior to the film's release. Later, Innerscope looked at publicly available data and, voila, found strong correlations between movie trailer emotional engagement and box office. (Innerscope will not release the study report publicly but has agreed to share it with Fast Company for this story.)
Marci says the findings are particularly important and useful given the expanding ways moviegoers consume trailers across an array of electronic media. Much of Innerscope's work today is in media and entertainment and focuses on understanding how TV, advertising, content, the web, and social media impact one another. Its biometrics clients include: Turner's Conan O'Brien; Fox Television's Glee; Warner Brothers' The Ellen DeGeneres Show; NBC's Heroes; and Time Warner's CNN (Super Bowl 2013 Ads Analysis).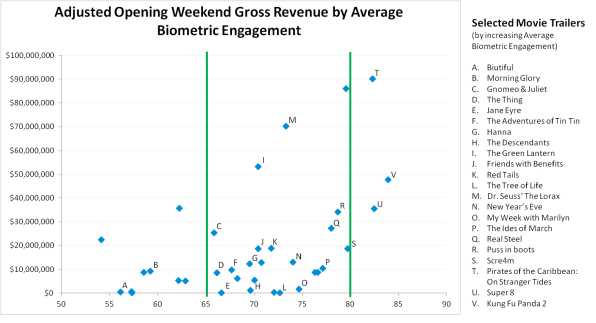 Melissa Mullen hired Innerscope when she was Director for International Theatrical Research at Fox Entertainment Group, she tells Fast Company. "Predicting box office scores is the holy grail for movie studios" but Mullen is not ready to say biometrics feedback can singly do that. But she does affirm the increasing importance of the trailer and the value of this new type of feedback for studios. Other traditional research methods used in Hollywood such as consumer self-report surveys and focus groups are somewhat unreliable, she says. Mullen does not group Innerscope with other "neuromarketing" or "neurometrics" (fMRI, EEG, eye tracking) firms whom she calls "snake-oil salesmen." Based on her experience, the biometrics work is more sound, practical, and actionable, and does not overpromise.
Neuromarketing practitioners have been criticized for shrouding their work in secrecy and hiding behind client confidentiality while not offering proof of the effectiveness of their craft. By tying emotional engagement results to data in the public domain, Marci hopes biometrics and the larger neuroscience field gain more credibility–certainly in the entertainment industry.
While Mullen views neuroscience-based methods as an "exciting new frontier for cinema marketing research," she voices strong caution on the Innerscope study findings.
"A movie studio may be able to use bio- or neuromarketing research to get the best possible trailer out there for consumer eyeballs, but one cannot ignore the extremely weighty aspects of marketing spend, publicity and promotions upon levels of awareness, interest and buzz. It makes sense that high engagement (high attention along with high emotional connection) by a wide fan base would indeed lend itself to high box office receipts. But high engagement without high marketing spend can cause a box office flop, regardless of how well the trailer plays to audiences. If consumers don't know about the film, it won't succeed at the box office. All the variables must be brought to bear in a prediction of this nature."
But The Grudge filmmaker Susco tells Fast Company the Innerscope study is "both reasonable and useful–a great way to test whether or not a trailer is connecting with audiences. It is a natural and predictable correlation: If a trailer doesn't move the viewers, they're not going to be inclined to invest their hard-earned money until and unless they get assurances from reviews or a friend that the film is worth their time and cash."
Blair Witch Project is probably the first and best example of the power of Internet word-of-mouth virality in building movie success. Its cocreator Myrick tells Fast Company brain feedback could be "a valuable tool to isolate audiences' primal reactions, see the spikes, adjust and re-edit the piece." He also cites the limitations of market research. "Nineteen of 20 subjects in New Jersey did not get the ending to Blair Witch. They (researchers) asked the wrong question, because 20 of 20 said it was scary." Myrick thinks neuro-based inputs would be useful "on the whole movie ("neurocinema"), not just the trailer which is supposed to be kick-ass."
Morgan Spurlock, whose Super Size Me was nominated for a Best Documentary Oscar in 2005, sees the logic in studios turning to neuromarketing. "Sure, if it's 60% or 70% accurate, they will use it," he tells Fast Company. Spurlock's spoof Pom Wonderful Presents The Greatest Movie Ever Sold pokes fun at the growth and pervasiveness of subliminal marketing and "creepy" tactics used by studios to fund, make, and market movies. While he found his own fMRI brain scan results accurate (after he neurologically responded to a Coke ad in the machine), he worries about a "Minority Report world of marketing, of filmmaking when the machine is getting smarter than me."
Neuroscience will continue to play a role in Hollywood movies albeit likely in a supporting or minor one (definitely off-screen, un-credited). Pixar has worked with facial expressions expert Paul Ekman. Director James Cameron talked excitedly about the field's potential after making Avatar. Disney has built a secretive neuromarketing lab in Austin (Disney representatives declined to comment on this story). At Fox, Mullen oversaw "biometrics" and "neurometrics" research on trailers for Die Hard 4. EEG testing was conducted on trailers for Rango by Sands Research, its CEO Ron Wright tells Fast Company. The animated film won an Oscar in 2012 and made $245 million. Sands has recently set up shop in Hollywood.
A correlation between box office and Academy Awards spoils is undeniable. As evidenced again this Oscars season, success in one venue can build success in the other. An effective trailer helps drive movie sales–certainly on opening weekend. And if measuring brain feedback and emotional engagement can help make a trailer better, then neuroscience can be a potent ingredient in the studio's mix to "spike" the box office.
[Brain Maze: GrandeDuc via Shutterstock]