Quick: Name the product that you can sell and customize for Lady Gaga, the Irish Times, the Toronto Star, ESPN, the WWE, AmazingRibs.com, and Suicide Girls. Give up? Kelly Abbott knows the answer.
Abbot's Realtidbits sells comments and discussion tools, a category that many web-savvy folks might believe has been already solved. Many brands with content to push and conversations to manage buy into established platforms, like Facebook, Disqus, and Livefyre. Such systems scale up and down and offer cross-site accounts, but they are still their own entities that benefit from diverse pools of user data. Commenting through Facebook on a news or entertainment site isn't really commenting on that site, so much as commenting about a certain page, while connected through one of those discussion services. And while third-party commenting systems can blend in a bit, they're hardly ever designed for the site they're hosted on.
That doesn't matter that much to a commenter, but to the publisher, it's valuable engagement that they're handing to a third party. That's why Facebook is in the market, after all. And that's where Realtidbits and its hyper-customizable, enterprise-targeted, data-sharing comments come in.
"We're helping (publishers) retain the entire value chain," Abbott said. "You'll never see our logo on it. The data's 100 percent theirs."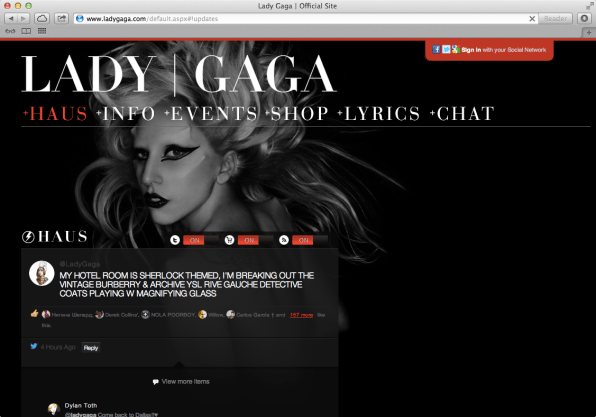 News brands, in particular, are keen to take ownership of a key interaction opportunity with their customers. As Abbott sees it, Realtidbits can help publishers "mend their fences."
"They got their butts kicked by Craigslist. Then they got their butts kicked by Google, with the news portal opportunity. They're about to get their butts kicked again by Facebook and the others, but this time, they can draw a line."
If Realtidbits offered just a standard plug-in, they might face the same diminished fate as other free-your-data upstarts like kinda-Facebook Diaspora or kinda-Twitter App.net. Instead, Realtidbits aims for enterprise-like deployments, skinning and augmenting the comments to fit whatever a brand needs. The same goes for data mining: Realtidbits can set up the interface, or plug directly into suites like Google Analytics.
What Realtidbits actually looks like depends on the client. The Washington Post's sports forums and most newspapers keep an austere, text-forward look with gray boxes and blue links. The CW cultivates an image-centered, Pinterest-style discussion around Nikita, a poll and voting product for America's Next Top Model, and other shows. There are some standard offerings, like moderation tools and integrating specific Twitter hashtags into comments, but for many clients, Realtidbits writes custom plug-ins to a customer's specifications. It's not a plug-and-play service, but it is remarkable to see the same service powering the comments on Lady Gaga's "Haus" and ESPN's NFL forums.
Realtidbits grew out of a multi-project consultancy that, as Abbott put it, had to make a "burn the boat" decision in the summer of 2011. After deciding to keep the product instead of taking a fee from an early client, the small team decided to shove all other projects to the side and develop a flexible comments system. They knew the market existed, based on the efforts and hand-wringing they saw over comments at large firms. Like Vikings torching their ships to ensure either a successful invasion or death, Abbott's team started quietly acquiring clients and bootstrapping from that revenue.
Traffic through Realtidbits comments grew just over 2 million uniques per month in March 2012 to more than 150 million by the start of 2013. There's not viral spread, because the product isn't available to everybody who wants it. Growth has to continue at pitch meetings and product demonstrations, rather than on the web. Even at the smaller scale of something like the Marriage Equality Pinboard, Realtidbits' implementation was co-managed by the site director and the system developers, as evidenced by a behind-the-scenes blog post.
"We didn't design a product for 2 million bloggers, we designed a system for 2 million visitors," Abbott said. "Our main product is an adaptive platform, and some really heavy listening to our customers."
[Photo Mash: Joel Arbaje]
Disclosure: Kelly Abbott's prior business, 3ones, published author Kevin Purdy's book The Complete Android Guide; still, and sadly, Realtidbits caught Purdy unaware when it had its public debut last week