For the past week, thousands–perhaps tens of thousands–of LinkedIn users have been getting electronic pats on the back for attracting amazing numbers of page views on their profiles or for winning a stunning number of endorsements for a skill set.
I even got one, commending me for elbowing my way into the top 5% of page views on my profile page. Pretty impressive. I came thisclose to tweeting it out. But really, 64 views in 90 days seemed like a number only a mother could love (especially when you realize how many of those were probably intended for other women parading as Nancy Miller). Not many LI members shared my restraint. The Twitterverse has been cluttered with boasts and worried queries–did you get a notice from LI? Are you a one-percenter? Five? Ten? How long would LinkedIn continue to send its love notes? (Answer: Until Feb 15.)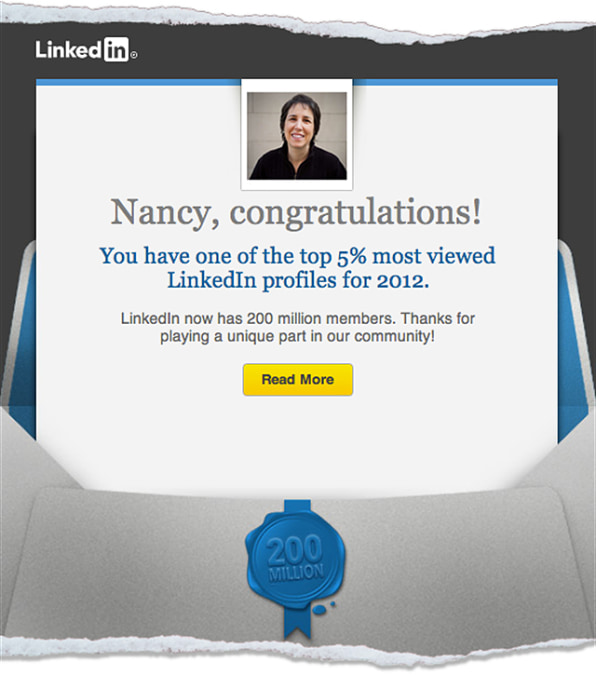 Then it seemed as if the rules were changing: Views weren't the only measure of your worth: "Hurray! I was one of the first 500,000 LinkedIn members in Portugal," posted one member.
"Hurray! I'm one of the top 1% most endorsed on @LinkedIn in Indonesia for jQuery," tweeted another (total endorsements in that skill: 16).
But pride shifted to skepticism as the more numerate noted that ranking in the top 10% of page views put them in the company of 20 million other LinkedIn members. "LinkedIn is like Lake Wobegone," joked Cathleen Rittereiser on Twitter. "All of our profiles are in the top 1%."
Let us now praise data slicing and dicing and some wicked marketing over at the Mountain View, Calif., professional networking operation. What's LinkedIn really up to? "This campaign is an expression of gratitude to our members, and we have no plans to gamify it or build it beyond thanking our members for helping us build the network," a spokeswoman wrote in response to my questions.
I'm sure LinkedIn is grateful for reaching 200 million members, as it wrote in notes it began emailing on Feb. 7 (LinkedIn won't specify the exact number sent). But if gratitude was No. 1 on the agenda, why not thank everyone and email a pre-fab tweet for everyone to shoot out: "I'm one in 200 million!" Instead LinkedIn went to a bit of trouble to pay homage to a shrewd mix of members, which feels like a dastardly psychological game. The selection is producing results just random enough to make you think: That should be me in the 1%, not that loud-mouthed shmoe from marketing.
The lucky winners of the blue ribboned notes weren't necessarily big name hoo-hahs on BuzzFeed. They were drawn from a pool of one million members (LI declined to say how it selected this crew). Each nominee needed more than 100 contacts and more than 100 page views to win. Skill endorsement winners passed muster on two levels: They boasted skills that ranked in the top 10% in their country (if you're a sheep shearer in New Zealand, congrats!) and you needed to receive the top 1% of endorsements. And voila, the Lake Wobegone algorithm: I really am special! And your local club is nowhere near 20 million. One hundred thousand. Max. And probably much smaller, but divvied into dozens and dozens of bite-sized entities. Which makes you feel that you know everyone in them.
For LinkedIn the Pareto Principle hums in the background–80% of business comes from 20% of clients. Who matters most? Anyone who wants a job and/or has a skill in big demand. And people who appear to value the Web 2.0 and engagement. The active ones. For LinkedIn users, the gamification–intentional or not–of the thank-you's put many on edge. The rewards beyond bragging rights for the winners aren't clear. No discounts for a premium subscription so members can see who is stalking them. Not even a T-shirt. Just the opportunity to market LinkedIn to your buddies. Consider this: Klout perks recently handed over the keys to a Chevy Volt to its top influencers for three days–on top of bragging rights.
LinkedIn is liberally tossing pixie dust on the social stratosphere to mask a challenge unique to its business model: If members aren't job-hunting, they really don't have much reason to hang out on the site. LinkedIn has an amazing leg up on Twitter and Facebook: Half of its income comes from recruiters seeking candidates. But the other half comes from advertisers and subscriptions. And that portion of the business needs to be a virtual water cooler, a place for professional gossip and career enhancement. To that end, LinkedIn has been rolling out new products galore. Last quarter came endorsements (already more than a billion on the site) and LinkedIn Influencers, designed to entrench it as a publishing platform with a magic combo: Celebrity-level pros and original content. Traffic to news has increased eightfold since LI launched Influencers, when earnings blew past all expectations.
Come, these products beckon. Stay.
But the ghost of MySpace says don't rest on your laurels and forces everyone in the business to examine how many nanoseconds each innovation will hold users. How meaningful are those endorsements? Sometimes my buddies give me half a dozen with a single click of the button. If just 20% of the LI user base does the same for one another, hitting one billion endorsements shouldn't take very long. Just 25 endorsements per person, easily spread among five connections.
Thank you, LinkedIn shouts. And the recipients? What are they likely thinking? "Will I get a thank-you next year? If I didn't, what can I do to get one next time round?" And even though so many people are laughing at the low bar set to get the thank-you, who can resist a little love? Sure, you may push mom gently away when she says you're the greatest. But confess. You also kinda like it.