"I know there are people out there who can start successful companies and still have time for great love affairs or deep meaningful romantic relationships. They can be a great business leader and a supportive and available husband or wife to their partner. I am not one of those people. Sadly, I have neglected every partner I have ever had for my first true love, work."
That's Sean Suhl, cocreator of Suicide Girls and cofounder of the recently released Let's Date app. Given the demands of starting a new venture, you would think Suhl's experience is par for the course for enterprising business people–male or female.
But you'd be wrong. Stereotypes notwithstanding, plenty of evidence suggests the young, Type-A, tech-savvy self-promoter who regularly sleeps alone on the office couch isn't your typical founder. Indeed, 70% were married when they became entrepreneurs and 65% were over 30 when they founded their first company.
And now Manta, the online community for small businesses, finds that owning a small business can actually help your love life. Manta CEO Pamela Springer says 32% of respondents to their latest survey report their family life and relationships have gotten better with business, and nearly 60% of them would recommend working with their significant others.
Venture capitalist Brad Feld and his wife Amy Batchelor, managing director of the Anchor Point Fund, know this all too well. In fact, they wrote the book on it. Startup Life: Surviving and Thriving in a Relationship with an Entrepreneur sprung from their personal experiences of surviving a near-breakup more than a decade ago.
"It's repeated over and over that entrepreneurship is an 'all-in' experience and the partner of an entrepreneur has to accept that he is playing second fiddle to the entrepreneur's startup," they write. "We completely reject this notion. We reject the idea that the more you work, the better the outcome. We reject that time spent on work matters more than having a fulfilling life." Instead, they contend, "both you and your startup will be more successful if you have a full experience on this planet."
They acknowledge that relationships, like entrepreneurship, are really hard. Failure is to be expected–in both. And just as founders are told to fail fast, pivot, and charge ahead, Feld and Batchelor believe the same is true in love: "Own your mistakes, learn from them, and move on."
One big mistake they've found is that entrepreneurs tend to be connected to their businesses constantly. "Technology is not always your friend. You do not need to do just one more email right before bedtime. Stepping away from the computer at least an hour before bedtime helps make this happen," they advise.
Still, startup stress can have a disastrous effect on sex. Only 19% of small business owners surveyed by Manta say their sex life is most important to them, and a paltry 1% say that their life between the sheets has improved since they started their business. "Small business owners are finding it hard to improve their sex life partially because of increased stress, as they have to spend more time focusing on their companies since there are many uncertainties from the current economic climate and new federal policies in the pipeline," says Springer.
For his part, Suhl vividly recalls a beautiful Italian woman named Christina smoking cigarettes in the windowsill of the Soho Hotel in London. Rather than turn to him amorously after their liaison, Suhl says she demanded to know whether or not he'd surreptitiously checked his notifications during an intimate moment. "She's getting married in the fall to someone who presumably has his priorities straight," Suhl says. "I just launched a new iPhone app, though. We really got all the details right. I obsessed over everything. Instead of that balance thing." 
Feld and Batchelor recommend a host of standard-issue solutions to keep both sex and romance thriving along with the balance sheet, from talking about sexual preferences and always answering your partner's telephone calls to sending love notes when traveling. For the goal oriented, they suggest putting a dollar in a jar every time you have sex (or five if it's breathtakingly awesome) as a way of measuring progress.
Ironically, while the percentage of new businesses that survive past five years is 51%, according to SBA statistics, and the U.S. Census Bureau reports that the divorce rate of first marriages is around 50%, it's not entrepreneurship that dooms most marriages.
Springer says that an overwhelming majority of small business owners (82%) said owning a company did not a play a role in their separations. "This aligns with our data because most small business owners enjoy working with their significant others and many agree on most work-related issues. In fact, 60% of small business owners polled are married, which is almost 10% higher than the national average," she says.
As for finding love in a startup, Springer says all that time spent together could make the sparks fly. While a previous Manta survey shows that 74% of entrepreneurs believe networking online is just as valuable as networking in person to grow their business, only 12% of them say they dated through social media. "This could mean that small business owners value direct, in-person interactions more than virtual dating when it comes to finding their significant other," Springer notes.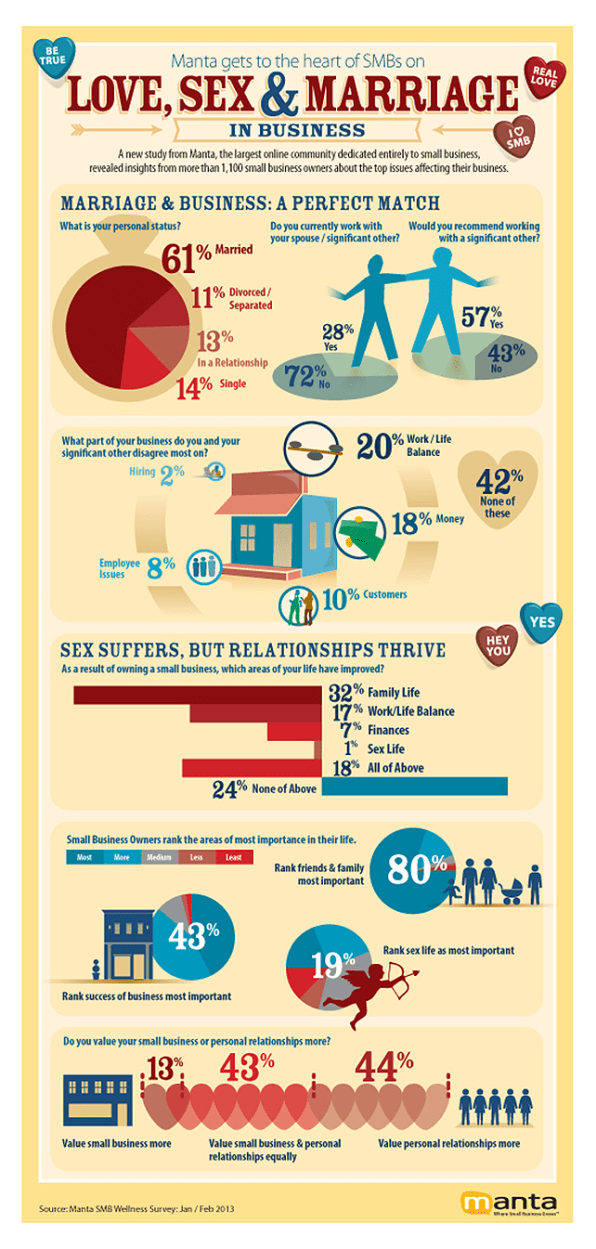 [Image: Flickr user Lauren Nelson]