A woman inquires about '80s-era ski gear she wants to borrow for a costume party. A civilian watchdog inspires his community to organize meetings with local police after reporting a home invasion. Commuters create ride-sharing grids to organize carpools.
These are all examples of what Nextdoor CEO Nirav Tolia refers to as "emergent behaviors" on the private social network for neighborhoods. The network, while just a little more than a year old, currently spans more than 8,000 neighborhoods across all 50 states.
Now Tolia is taking his company's mission one step further with Nextdoor 2.0, which launched yesterday and brings additional functionality and a refreshed user experience to the site. The redesign includes a new, dedicated "Crime and Safety" section where civilian watchdogs and police and fire departments can share news and send time-sensitive urgent alerts regarding local crime. More importantly, Nextdoor users can now take advantage of a feature called Nearby Neighborhoods, which allows people living in neighboring communities to exchange messages with one another.
"The 'aha!' moment for us was this realization that there is no social network for the part of our lives closest to home," Tolia tells Fast Company. "In fact, that part of our identities–our local communities, the neighborhoods where our children go to school and where we spend a majority of our time–it's a massive part of what makes us who we are."
Listening to Tolia describe Nextdoor, it's surprising the platform didn't exist two years ago. We have Facebook to keep up with friends, LinkedIn to network with professional contacts, and Twitter to discuss our interests. But Tolia wondered, Why isn't there a place online for people to connect with their next-door neighbors?
That's where Tolia identified a huge opportunity for Nextdoor's platform. So far, his hunch is proving prescient: Neighbors on Nextdoor are trading 500,000 messages a day about everything from local events to handyman and babysitter recommendations to unwanted furniture; more than 90 city governments and police departments use Nextdoor to keep citizens aware of local crime; and the network is adding 40 new neighborhoods per day.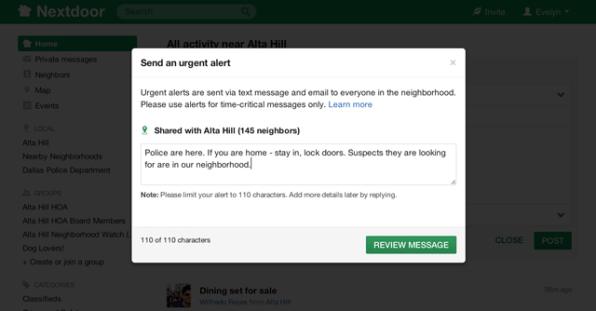 Before the relaunch, Nextdoor–which requires all users to provide their real name and street address to join–was so fixated on maintaining privacy that members of one neighborhood couldn't exchange messages with residents of nearby neighborhoods. But in some cases, it's helpful or necessary to connect with your indirect neighbors.
In January, Piedmont, Calif., resident and Nextdoor user Dion Lim got word of a brutal home invasion in neighboring Dracena Park, which a resident had posted to that town's Nextdoor. Lim posted the news to Piedmont's Nextdoor, which led residents to organize meetings with local police, sign up for self-defense classes, and create community neighborhood watch groups.
"Even if these things show up on the police blotter, people don't go out of their way to look for them," explains Lim's wife, Amy. "So unless you've already heard about it, you may never know it happened, even though it's five blocks away from your house."
Tolia likens Nextdoor's expansion to Nearby Neighborhoods–which he says has contributed to a tenfold increase in engagement in early testing–to Facebook's expansion beyond college students.
"The reason colleges worked so well for Facebook is because in college, your friends are the most important ingredient in your life," Tolia says. "But you have friends after college, and before college, and when you're a senior citizen. In the same way, your neighborhood has the highest utility in terms of connecting to people where you live. But, it turns out, it's not just your neighborhood."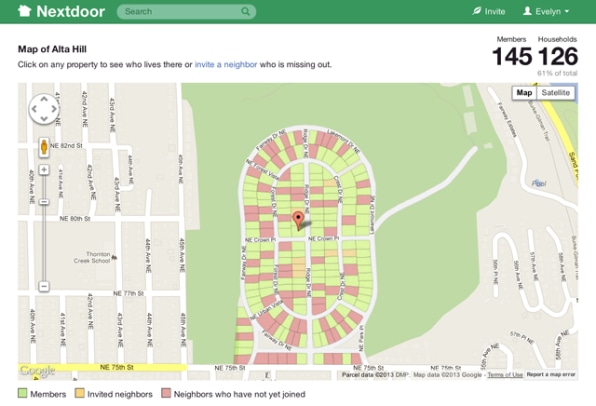 Tolia has arguably never had a better time to push Nextdoor's platform: Last week, NBC abruptly shut down hyperlocal news site EveryBlock, to users' dismay; Chicago recently became the latest city to announce it will no longer respond to non-life-threatening 911 calls to conserve resources; and Nextdoor has quietly raised a second gargantuan round of funding in seven months. With its new $21.6 million funding round, Nextdoor has also roped in the advisement of Greylock Partners' David Sze, an early investor in both Facebook and LinkedIn. All this comes just as new studies suggest that Facebook fatigue is kicking in.
Meanwhile, Tolia assures me that a mobile component is coming. Indeed, it's hard to imagine a modern social network reaching critical mass without a mobile component. And just as Twitter's infrastructure allows its users to turn it into a go-to source for breaking news, Tolia hopes Nextdoor will become the same go-to source for the trusted word among neighbors.
"What we're really building is the infrastructure for any person to easily connect and communicate to the people around them," he says. "The neighborhood is just the beginning."
[Image: Flickr user Cubosh]