[Ed note: For more on Jonah Berger's mission to map virality, pick up the April issue of Fast Company. Read exclusive excerpts from Contagious, starting Feb. 25 at FastCompany.com.]
Jonah Berger is holding court at lunch in a swanky Southern bistro in Greenville, S.C. His table mates, attendees of the Brains on Fire "Fire Sessions" on word of mouth marketing, are clued in to the fact that he's serving up a big slice of the afternoon's intelligence. But in between bites of shrimp and grits, Berger's not discussing his presentation or flogging his upcoming book. He's extolling the virtues of Trader Joe's dark chocolate almonds and wondering (like some of the other devotees of the savory sweet snack) why they haven't caught on in a bigger way.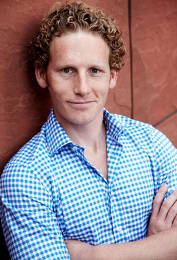 It's a question the author of Contagious: Why Things Catch On spends a lot of time pondering. At 32, the assistant professor of marketing at University of Pennsylvania's Wharton School of Business is carving out a corner of academia for himself in the study of social epidemics, or how products, ideas, and behaviors become popular. But he's also betting that all his findings—now neatly packaged into a slim 180-page manual—will become the next viral best-seller a la Malcolm Gladwell's The Tipping Point.
Though it was Gladwell's book that sparked his early research, Berger's book (and his class and his presentation) are partly an effort to debunk one of established author's major theories on the efficacy of influential people to make a thing go viral. "We believe that if we can just find those early adopters, then a product will be really successful," he tells the group. With so much time focused on the messenger, Berger contends, we miss out on the value of the message itself as a vehicle for driving virality.
But even before he really launches into the meat of the presentation, Berger does something that many in the room don't recognize as the first key tenet of his findings. He tells everyone that the shiny tangerine paperbacks they see before them are advance copies of his latest book. He reinforces the notion that they are part of an exclusive group of individuals who are getting this well before the masses. "It's not in stores yet," he underscores, "and because it's an advance copy, you will find errors," he adds, with a droll comment about his editors already diligently working to fix them so not to worry, or worse, send him an email pointing them out. "There's nothing I can do," he says, drawing laughter.
And just like that, Berger's cleverly infused his book with "social currency." In other words, the idea that someone has something special, something that will give them bragging rights in their social circle. The concept is the first of several "STEPPS" that also include Triggers, Emotion, Public, Practical Value, and Stories, which, if incorporated, "can make any product or idea contagious," he says. In a roomful of marketing and social media mavens, Berger's data that word of mouth is the primary factor behind 20-50 percent of all purchasing decisions and that McKinsey Quarterly predicts WOM marketing will be a $5.6 billion industry by 2015 preaches to the choir. Everyone leans in closer when he suggests that STEPPS are a way to engineer content to make it more viral. "I can't guarantee the billion hits and I can't make you the next Gangnam Style," he says, but does say that mega hits like Rebecca Black's YouTube sensation "Friday" ("The worst video ever made") are not random.
Berger's presentation paralleled Contagious the book by drawing on many of its anecdotes and examples. To take it a step further, Fast Company caught up with Berger before and after his talk to ask him to discuss what other things are catching on. Here's what he told us:
Why cats always go viral—when more people love dogs.
When research indicates that people prefer owning dogs to cats, why do so many more Internet cat memes go viral? Is there a hidden STEPPS component? (Note: Fast Company is betting on the dogs.) 
 
Cats videos are like baby photos. Not only are they highly Emotional but people love to show others what their little special one is doing. It's the self-display part of Social Currency. By showing people how cute their cat is, they're also showing how great they are. Could be that cat people spend more time on the web or that they care more about social currency. My dog is cute, but you won't see me posting photos of her on the web.
How Justin Bieber is like a business book.
Justin Bieber's latest effort, an acoustic version of previously released songs, reached the top of the Billboard chart in its first week. While Berger acknowledges that having a major record label's promotional efforts and an already massive fan base skews things to succeed, he contends that there's still a certain amount of social currency to be gained by downloading the album early. "It's like having everyone discuss the latest business book and you not knowing a term [used in the book]. Being one of the first to have [Bieber's album], even if you are among thousands or millions of people who have it, is taking part in a cultural experience. It allows you to access that information and be part of the group."
Is Dan Marino the next Jared Fogle?
Berger uses Subway spokesperson Jared Fogle's commercials as an example of a campaign that successfully incorporated Story, Emotion, and Practical Value and continues to work for the fast food chain. Celebrity endorsements or spots can also go viral—but it's almost trickier. "No one believes Joe Montana is wearing Shape-Ups," Berger says, laughing, "But especially if you're a guy, and you see Dan Marino [on a Weight Watchers commercial], maybe its okay that I have a weight problem."
What to make of the Nike ID FuelBand.
Berger brandishes a Nike ID FuelBand on his forearm while admitting he's not one to buy in to be the first on gadgets or tech trends. "This is an interesting experiment for someone who is into cultural movements," he says. "I need to be able to understand them." But no matter how much Social Currency or Practical Value the fitness tracking bracelet might hold, Berger says the jury is still out. "This thing hasn't ruined my life but late at night I was swinging my arm around to get to 3,000 points so I could get to sleep."
Vine is to Twitter as Poke is to Facebook.
Though Vine made headlines for being a vehicle to share porn, thereby upping awareness of Twitter's latest spawn, Berger isn't quite ready to claim it a viral hit. Like Snapchat, he says the app is a great example of the limitations of word of mouth. "I had never heard about Snapchat until about two weeks ago when I was hanging out with some 22-year-olds" who were active users, he says. "It is popular within certain networks, but not in the world more broadly."
Berger goes on to say that apps like Vine have two values: functional and symbolic. The latter is what is says about you as a user. "A few years ago I said Facebook was going to be dead in 8 or 9 years, because who wants to be on the same social network as your grandparents," Berger notes. Nevertheless, functionality has worked in Facebook's favor. With all the photos and contacts made, "It's just too hard to leave."
 
The Power of Habit: more than just a catchy headline?
The other book at the top of Berger's mind is The Power of Habit by Charles Duhigg, a best-seller and the #1 business e-book on Amazon. Did he think its popularity had anything to do with the author's New York Times article and the subsequent adapted piece Forbes ran with the provocative headline "How Target Figured Out a Teen Girl Was Pregnant Before Her Father Did"? Berger says, "The Power of Habit has great Stories. If you ask people what they remember from that book, over 50% of people will say the one about Target figuring out a girl was pregnant before her father did. But the New York Times magazine piece and the Forbes article didn't hurt either. Researchers call it 'Big Seed' marketing. Even if something is contagious, seeding more people to start (via advertising or PR) always helps."
[Image: Flickr user Marek Isalski]