The thought of having to constantly revisit the terms of service and privacy policies of every single company you've ever done business with or requested services from is unreasonable-bordering-on-ridiculous. But when was the last time you actually took the time to dissect those documents before clicking "I Agree"?
Docracy, a site for free legal documents, has built a Terms of Service Tracker in an attempt to keep consumers informed of their ever-changing relationships with the companies they depend on daily. The Terms of Service tracker, which has only been up since January 16, uses an algorithm that currently crawls the websites of nearly a thousand companies and documents any changes made to their terms of service or privacy policy documents, in real time.
Docracy cofounder John Watkinson says he hopes by documenting the minutiae of terms of service updates as they happen, companies will feel more compelled to put the onus on themselves to be forthcoming about the policy changes they make, regardless of whether they're as big as Instagram, Facebook, or Twitter. (For those, we've put together our own terms of service cheat sheet.)
"If Facebook silently deleted a little line, someone would probably pick it up just because they're so high profile. But a lot of these other ones still get a lot of traffic, people spending money, sharing things," Watkinson tells Fast Company. "They weren't under any pressure prior to this, and we hope they'll start to be more forthright now."
We took a look under the hood of nine different companies' terms of service and found a legally acceptable but morall gray land of robocalls, ad retargeting, and user data hoarding.
The coed hotties' haven recently added a new section to its privacy policy that allows it to retarget customers with A&F ads on other websites by supplying "non-personally identifying" user data to multiple third-party ad companies: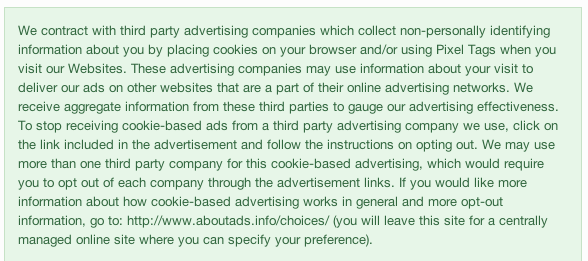 Though the insurance company assures customers it doesn't track your location on its mobile apps without your permission, it recently cut this line that prevented Geico from sharing the location info it did have with third parties:

Under eBay's new corporate rules for privacy, the online ticket vendor can now sic robocalls and auto-texts on any telephone number it associates with you. Stubhub can also retain user information even from closed accounts:
The daily deals site recently linked up with mobile app tracking company HasOffers, who it provides with non-personally identifying data about its app downloaders:

Will the tools and equipment retailer sell your email address? "NO!" But that won't stop it from providing third parties with your actual address, along with your name and product purchase history: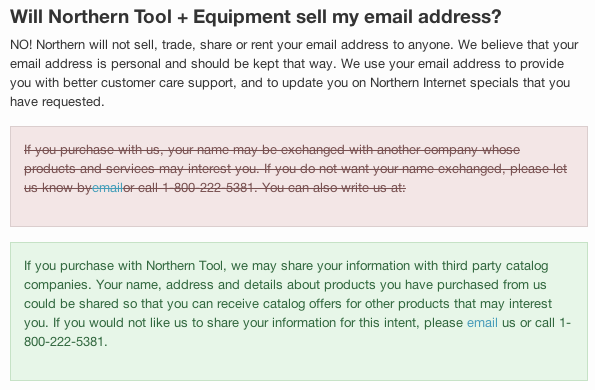 In January, Skype introduced an addition to its Terms of Service that prevented users from pursuing class action suits. A few weeks later, and just as quietly, Skype nixed the waiver:


If you provide any personal information on a Surveymonkey blog or community forum that you didn't want to go public, you can ask to have it taken down. But that doesn't mean Surveymonkey will always oblige:

Let us assure you: We will telemarket you. You do not have a choice.