The past 15 years have been unkind to tobacco farmers. In 1997, they collectively harvested 836,000 acres, yielding revenues of $3.2 billion. Since then, in part because of the elimination of tobacco-price supports in 2004, production and revenue have dropped more than 60%, to 325,000 acres and $1.1 billion, in 2011. Now tobacco farmers are looking for alternatives, and nowhere more avidly than in North Carolina, which produces twice as much tobacco as any other state. Here are four growers who are cultivating new crops.
Greene Farms
Crop: Stokes Purple sweet potato
Annual production: 20 acres ($60,000 in revenue)
Top annual tobacco production: 35 acres ($100,000)
With its deep purple flesh and tinted skin, the Stokes Purple is so obscure that agriculture statisticians don't keep track of its production; only four or five farmers are growing it on 35 acres north of Winston-Salem. Local restaurants and grocers are buying it, but growers hope the big sales will come from the dye markets of Asia.
Why he chose it "It's actually easier to grow potatoes than it was to grow tobacco. We know they'll yield good. The health benefits of these potatoes are so much better than the orange potatoes. There's higher antioxidants. It's just a matter of getting the public interested. [But] that is a niche market. If we get one company to get this dye process going, we would have an unlimited demand for these potatoes."
Biggest challenge "It takes labor to plant them and then you cultivate them a couple of times and shoot the deer out of them all summer. That's our biggest problem. Deer love the sweet potatoes. Three years ago, they ate all of my potatoes. Out of 20 acres, I harvested 5. That was probably around $50,000, $60,000 worth. I hate deer. In certain areas, they're just eating us out of house and home."
Harvest of the Great Spirit Prawn Farm
Crop: Freshwater prawns
Annual production: 4,000 pounds ($35,000)
Past annual profit from leasing out land for tobacco: $800
U.S. aquaculture surpassed tobacco in 2007, reaching $1.4 billion in sales, versus $1.3 billion for tobacco. Farm-raised crustaceans had more than $50 million in sales. Founded in 2007, Jacobs's farm first sold its prawns right from its pond to locals who cooked them like shrimp or crawfish. A year later, the recession made the seafood, at $8 a pound, too pricey. Now Great Spirit sells almost exclusively to high-end food brokers in Chicago and California.
Why she chose it "I had time on my hands, and my son–he's a disabled veteran–had been to China and Japan, and seen them raising prawns in less-than-sanitary conditions. Our main purpose was to get a business that our son could make money off. I didn't have a clue what a prawn was. It was something adventurous, something new."
Biggest challenge "The only thing you can use from your tobacco experience is you know you're going to have some hard labor. Freshwater prawn is something a lot of people hadn't heard of. We were so near the coast, people were getting $2.99-a-pound shrimp, so people didn't want to pay the difference."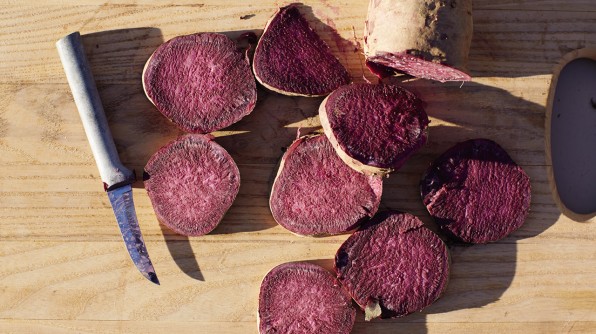 Crop Pears
Anticipated annual production: 2 acres ($15,000)
Top annual tobacco production: 12 acres ($45,000)
Riverbirch Vineyards grows 14 varieties that appear almost nowhere else in the South. The farm had a strong pick-your-own market for grapes; now farm visitors are asking when they'll be able to pick the pears, which just had their largest harvest yet.
Why he chose it "There seems to be a big market for pears. We have a lot of apple orchards in this area, but no pears."
Biggest challenge "I work 40 hours a week as a test engineer for Tyco Electronics. I usually put in a minimum 50 to 60 hours a week on the farm, usually till dark every night. It's hard to make a farm on less than 100 acres."
Taylor Fish Farms
Crop: Tilapia
Annual sales: $700,000
Top annual tobacco sales: $150,000
A third-generation tobacco farmer, Taylor wanted to tap a national market like the one he'd had with cigarette makers, and tilapia trails only shrimp, tuna, salmon, and pollock in U.S. seafood consumption. "If you've been raising 100 acres of tobacco, a fruit stand ain't gonna cut it," he says. He just signed a deal with Whole Foods.
Why he chose it "Most of the ocean had been fished out. The wild-caught fish, they're diminishing. I saw how fast the tilapia was running up the market. Our biggest market is New York: Chinatown. They sell them in the restaurants; they sell them in the seafood markets. You'll see them outside the buildings in little tanks and they're swimming."
Biggest challenge "It took me four years just to get my financing. That's the hardest thing when you're trying to transition, educating the USDA. They really dragged me through the mud just to get the loan. I had to put up 150% collateral to get it."