Your iCal may have just digitally flipped to 2013, but there's already significant buzz about Apple's next iPhone moves. It's proof positive, again, that while Android units outsell Apple, and Samsung ships more handsets, it's Steve Jobs' old firm that still sets the agenda in the mobile market.
A lot of column inches were filled this week spurred by a Wall Street Journal rumor that Apple was planning on building and selling a cheaper iPhone to serve emerging markets this year. The idea was that Apple would make the phone using cheaper components so that it could sell it at a significantly lower price and thus rival the exploding sales of cheap Android units that currently serve this market. The idea is seductive, given the scale of the market Apple could address.
But Apple VP Phil Schiller seems to have very quickly quashed this rumor. In Schiller's words Apple is "not like other companies" which use a shotgun tactic firing many variations of a product at the market hoping one will hit the target. Consumers, Schiller argues, may buy them but "after purchase will find no suitable software products and user experience."
That's also a not-so subtle dig at Samsung, which is still milking the Galaxy brand for its Android smartphones. The company already sells older edition iPhones at lower price points to address the cheaper market, and these phones are doing well.
What Schiller was intimating is that if Apple does go after this market, it will do so in quintessential Apple style–with a product strategy that is different from other folks. Remember Jobs poo-poohed cheap 7-inch tablets as inferior products…and now Apple sells a full-featured, but cheaper 7.9-inch iPad mini. Which means it's not impossible that Apple would launch a phone product in this space this year.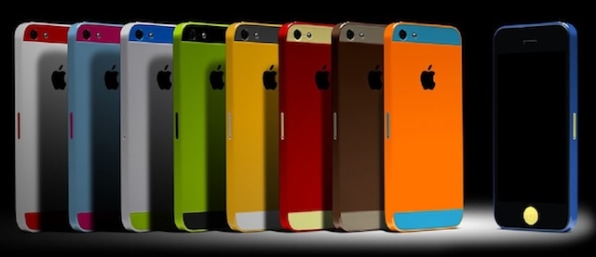 Another hot rumor for 2013's iPhone is actually a rewarming of a couple of old favorites: Analyst Brian White from Topeka Capital Markets stirred up a lot of fuss by suggesting Apple will release iPhones in multiple sizes this year, and also in multiple colors.
Multiple sizes would go hand-in-hand with the cheap iPhone rumor, because a smaller iPhone would presumably have more limited specs and thus a lower price. A larger-screen iPhone could then tackle the emerging "phablet" market (though can we here and now rename it the "mobile tablet" market?).
All this thinking borrows from the business model Apple used for the iPod over the years–including multiple colors–and riffs a little on the recent moves to sell a smaller iPad and the bigger-screened iPhone 5.
We're not buying it, 100%. These bits of thinking are intriguing, but diluting the iPhone brand at this point, when it's actually still very much leading the discussion about smartphones and selling like hotcakes, would seem to be a very un-Apple idea.
Just as the new year rolled in, there was a fresh rumor Apple was already testing the next-generation iPhone because it began showing up in developer logs, with an IP address you can chase back to Apple's Cupertino location. The testing is not unusual, given that many months of testing in various phases must happen before a new release, but the timing is odd and may imply Apple will bring an iPhone 6 to market sooner than the expected September window.
If it does, there's an argument to be made that it'll be an iPhone 5S rather than a new-design iPhone 6. Apple only just completed all the physical engineering, radio and electrical design, and software/hardware integration needed for its new iPhone 5, after all. Apple can capitalize on that investment by releasing a boosted "S" version with uprated internal components (perhaps a better camera), and won't stir up too much buyer's remorse with a wholly new design.
And let's not forget the Apple television rumors, which are still hanging around after all this time. If Apple does choose to address this market in 2013, it would seem logical that its flagship iPad and iPhone mobile products would play a significant role in the TV design. It is an increasingly second screen world after all…and touchscreen interfaces with Siri assistance could be part of Jobs' promise that he'd "cracked" the broken TV-human interface problem.
Keep in mind that these are, of course, only rumors. Then again, they've been right before.
So whadya think–if Apple sold one, would you buy a cheaper iPhone Mini?
[Images: Flickr user jefflen, Colorware]