Here's what you saw: In 2010, Mark Zuckerberg appeared on Oprah to announce that he was donating $100 million to Newark's troubled school system.
What you didn't see were the behind-the-scenes machinations that come with such a huge gift. Some of those dealings and the spin involved have just come to light. For example, although the donation came from Zuckerberg personally, Facebook COO Sheryl Sandberg was hyper-involved at every level, right down to press release language and choreographing the participation of other big names. Zuckerberg authors only one email to the group, which is included in 96 pages of discussion leading up to the donation that the City of Newark released on Christmas Eve (when nobody was likely to notice).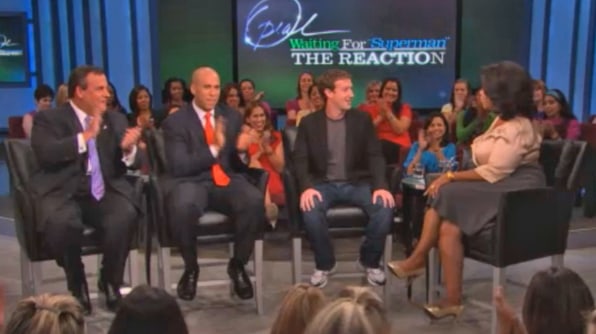 Newark had refused to release these emails for two years, claiming executive privilege, until a lawsuit from a local parents group and the ACLU forced them to comply with the state's public records laws. (You can read the originals here, thanks to the Newark Star-Ledger.) In the emails, the planning team talks candidly about trying to make the donation look participatory, getting big names and big round numbers involved, and making sure the billionaires look "modest" and feel "special."
"URGENT: Having the ability for citizens put in funds to help match Mark's money is fantastic….Can this get done?" –Sheryl Sandberg, 9/19/2010
Sandberg and the Facebook team wanted individuals to be able to contribute to the Newark schools fund $5 or $10 at a time. With the clock ticking, they discuss possible technical solutions to the logistics of accepting small donations using innovative platforms such as Square, DonorsChoose.org, PayPal, Sean Parker's Causes, Google, and Kiva. One conference call was scheduled for 10:30 p.m.
"They believe it's bad positioning for Mark if only higher end donors are able to contribute to the matching funds in large chunks." -Sarah Ross, 9/18/2010
Sarah Ross, director of new media at Ashton Kutcher's company Katalyst, helped out the Newark team with the crowdfunding piece, getting Jack Dorsey and a team of engineers to crash a "real time fundraising" solution involving Square and Amazon Payments. Ultimately, however, the pieces didn't come together in time to collect significant small donations.
The team next turned to attracting other high-profile donors, such as Oprah, Warren Buffet, Pershing Square investor Bill Ackman, Eli Broad, and Bill Gates to the cause.
"The plan is to have a one on one with Bill [Gates] so he feels special…" -Bari Mattes, 9/22/2010
Leading up to a potential Gates contribution came the intricate choreography of a fundraising meeting between Gates and Zuckerberg, the subject of this email between Mattes, one of Newark mayor Cory Booker's fundraising advisers, and Facebook's Sandberg.
"I've anchored that they should do $10-$15 million. He mentioned $3-$5 million on the phone and is now saying $3 million here." -Mark Zuckerberg, 9/19/2010
This is the lone email from Zuckerberg in the chain, summarizing his "ask" to Bill Gates.
"I told Warren [Buffett] about it and he was thrilled. I will send you later some information about where the discussion with Oprah on that topic is." -Bill Gates, 9/19/2010
Although the email forwarded by Zuckerberg from Bill Gates was redacted from this release, a local news blogger was able to read through the black bars. "When I spoke with Melinda and the team at our foundation who does the K-12 work about our partnering with you on the New Jersey work they were very excited," Gates wrote to Zuckerberg. The billionaire philanthropist goes on to suggest a $3 million gift.
Zuckerberg pushed back, hoping for a bigger check: "I'm glad you're on board with this. I mentioned this to Cory (Booker) as well, and he's very excited that you'll be participating. He also confirmed that the budget for measurement in his plan will be in the $10-$15m range we discussed, so giving some or all of that will be very helpful."
Gates put in $3 million for "teacher professional development, and said his foundation could install "panoramic cameras" in classes to "allow observation of what teachers do well and what they need to improve." The Bill & Melinda Gates Foundation is already funding a research project, part of Measures of Effective Teaching, that videotapes classrooms in 360 degrees with sound.
When the time comes to tell the world about the gift, Elliot Schrage, VP Communications and Public Policy of Facebook, gives input on the announcement press release. He also taps Peter Cunningham, director of communications for Education Secretary Arne Duncan, for advice on messaging.
"Employ language that resonates well with a mass audience, without alienating potential adversaries… Our goal is to better explain objectives and avoid hot-button words if we can." -Elliot Schrage, 9/19/2010
After the announcement, we hear about an important deliverable: the positive press coverage, playing against the unflattering portrayal of Zuckerberg in the 2010 movie The Social Network.
"Coverage is now mostly recapping the Oprah segment, highlighting Mark's quotes on the movie and education and describing the first look into his modest life while continuing to note he wanted the donation to be anonymous… Overall the coverage and tone is generally positive–reflecting that though the donation could be seen as trying to thwart a negative image of Mark from the movie, it doesn't matter and this is a really commendable donation." -Victoria Cassady, 9/24/2010
From a coverage report email from PR professional Victoria Cassady.
Lastly, there's the actual recipients of this windfall. As suggested in a passing reference made by Mattes, there was an understanding among this small group before the donation announcement that the Zuckerberg millions would be earmarked for something other than the classroom.
"Mark's money is not going in to classrooms." -Bari Mattes, 9/19/2010
The original public records request stemmed from concerns that Zuckerberg's money came pre-earmarked and that it represented a lack of transparency and community involvement in the planning for Newark's struggling public schools.
There is some evidence to support this view. For example, there are several references in the chain to L.A.-based philanthropist Eli Broad's interest in knowing who the new Newark Superintendent would be as a condition of participation in the donation. (Their pick, Cami Anderson, a former Executive Director at Teach for America and former deputy of Joel Klein at the NYC Department of Education, was a friendly one to this crowd.) If there is a smoking gun in these documents for NJ school activists, the following is probably it.
"…The potential teachers' contract investment, technology investment, and other investments that paid extraordinary dividends in NY and beyond." -Cory Booker, 3/16/2011
Booker is referring to the national school reform agenda pioneered by many of the foundations and donors mentioned here and carried out by leaders such as Klein in New York City and Michelle Rhee in Washington D.C., typified by school closures, opening charter schools, greater emphasis on test scores and teacher accountability, and more use of data. As superintendent, Rhee used $64 million in private outside donations to provide raises and bonuses to D.C. teachers as part of a contract renegotiation. Anderson announced this past fall that she would do the same with much of the Zuckerberg money in Newark.