Tanay Tandon apologized for not being able to meet in person for our interview. "I don't have a ride," he explained.
Tandon is 15. He can be forgiven for not even having found time to get a learner's permit this year. Between debate and tennis and hangouts with friends, not to mention class, most of Tandon's spare time has been poured into his app, Clipped, which he released just before New Year's.
Clipped uses an algorithm of Tandon's devising (a patent is pending) to extract key information from news articles or other pieces of writing, distilling these tidbits into bullet points. It's being billed by some as a Flipboard competitor, but it has grander aspirations than that. Really, it's something of a research-assistant competitor, or Congressional-aide competitor, or judicial-clerk competitor–or at any rate, it could be. If the problem Tandon is working on were ever truly hacked (first reviews online appear somewhat mixed, and Tandon is the first to acknowledge the app isn't perfect), computers could essentially do a lot of our reading, or at least our skimming, for us.
We caught up with Tandon to learn more about Clipped and the unique challenges of hacking a product at 15.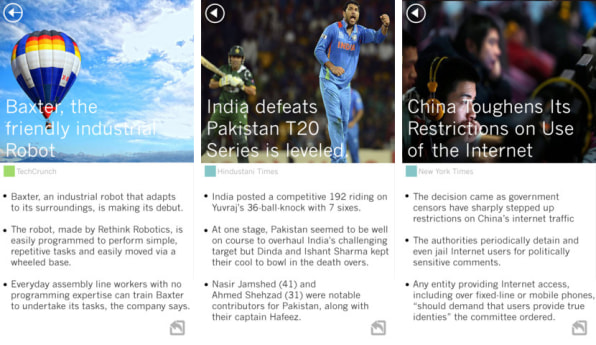 FAST COMPANY: How'd you get the idea for Clipped?

TANAY TANDON: I'm a Lincoln-Douglas debater, and it involves lots of prep, reading evidence files and cases. It's a long process for me, and I wanted to find something to condense an article into something more concise and readable. I wrote the first version of the algorithm last year, and continued to improve it throughout the year. I decided it could be applied not just to debate but to news articles and other types of documents.
Some users have complained that Clipped doesn't always work so well.

The news version of the algorithm is targeted to news articles about a page or two in length. It's targeted for things that, rather than give opinions, have lots of facts and information. But in the case of opinion articles, I'm a working a bit on that.
When you developed the algorithm for your debate prep, how did you personally use it?

I use it to scan over articles, and after using Clipped, if I like an article, I have to go back and read the whole thing. For a typical debate I have about 100 different evidence files about 2-3 pages in length. There might be an article where the title might sound appealing, but after running Clipped, I can see the focus of the article is definitely not what I'm looking for. Last year for a debate on animal rights, I found a paper on animal rights–but it was targeted towards the philosophical side of why to respect animal rights. But for that specific debate, I was looking for evidence from the scientific side, research showing that animals can think as much as humans.
I've talked to a 19-year-old and a 20-year-old recently, but you're the youngest entrepreneur I've spoken to. You turn 16 this month. Do you have your learner's permit yet?

Not yet. I haven't started looking into that. I probably should. This summer I'll put some time into that.
Shouldn't you be focusing more on high school stuff, getting a date to prom and such? Is it hard to juggle Clipped with high school?

Cilpped is unique in a sense, since it goes hand-in-hand with what I'm trying to do with school. I don't think people should rush into this kind of thing. I'm a strong believer in education, and I definitely will be going to college. I didn't start with the sense of wanting to release a product. I started with, how can I take this process and make it better for my debate team? I do put a lot of focus on being a high school kid and hanging out with friends. I do tennis and a couple other sports.
How many hours were you putting into Clipped last year?

On a regular school day, I'd come back, do homework for 3-4 hours, then I might go meet up with friends for an hour or two, or I'd go and work on Clipped pretty much the rest of the night. In the last couple weeks leading up to launch, it was winter break, so I didn't have to worry about school, and I put 6-7 hours a day in the last couple weeks.
Do you think there's an age that's too young to launch a product?

I don't think any age is too young. So long as there are the right people around you and you can make sure none of it gets to your head, you can pretty much do it at any age. Building Clipped, I didn't pay attention to what my age is. I kind of just built it.
This interview has been condensed and edited. For more from the Fast Talk interview series, click here. Know someone who'd be a good Fast Talk subject? Mention it to David Zax.