With 3-D printing, makerspaces, and online forums about how to create hardware, it's never been easier to create a new gadget. And crowdfunding platforms such as Kickstarter have made it easier than ever to fund a new gadget. But selling a new gadget? Still pretty tricky.
Which is why, although Amanda Peyton cofounded a company with plans to make a smart-home assistant, she and her team ended up launching a website that rethinks hardware sales.
"With a lot of these companies, they'll go through the Kickstarter process, but then if they want to scale the company and sell more units, it's tough," Peyton tells Fast Company. "We realized that Kickstarter was focused on funding, and getting products off the ground, but what happens when these products want to grow and grow into larger companies?"
Peyton's new website, Grand St., highlights one new gadget every day. Product selections generally favor the offbeat: an alarm clock stand for your iPhone, a smart flower pot, "futuristic sensors" for your home. The founders test each product and write a personal account of what they love about it, put together a gallery of photos, and set a limited amount of time to buy it. The result is reminiscent of a crowdfunding site, which may not be entirely an accident.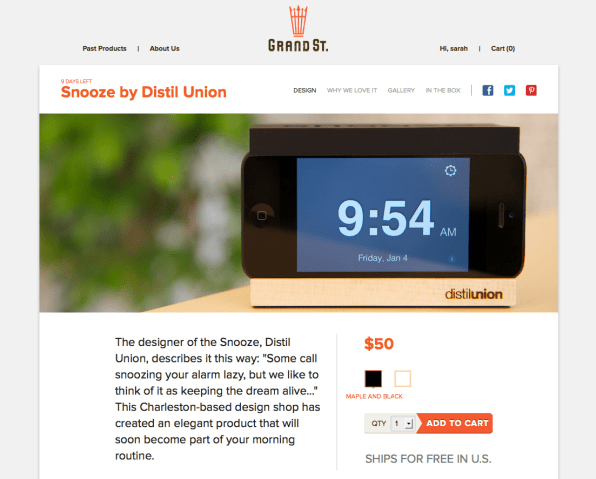 "Kickstarter is not a store," the crowdfunding company declared in a blog post this September after several stories circulated about projects that missed deadlines or never materialized.
But that hasn't stopped many Kickstarter supporters from thinking of it as one, particularly in the gadget category. The site has facilitated millions of dollars of funding for gadgets such as the Pebble Watch, Ouya, and the Elevation Dock that would have been unlikely to otherwise ever see the shelves of big-box electronics stores. It's no accident that many of the best-funded Kickstarter projects are gadgets. Some people are in it for the stuff. Project creators are also guilty of thinking of the platform as a store. One of them I spoke with last year said his project was ready to ship whether or not he met his goal. He was using Kickstarter to scale.
Selling quirky gadgets may not be what Kickstarter was designed to do, but it's helped established demand for a such a service on both the seller and buyer sides.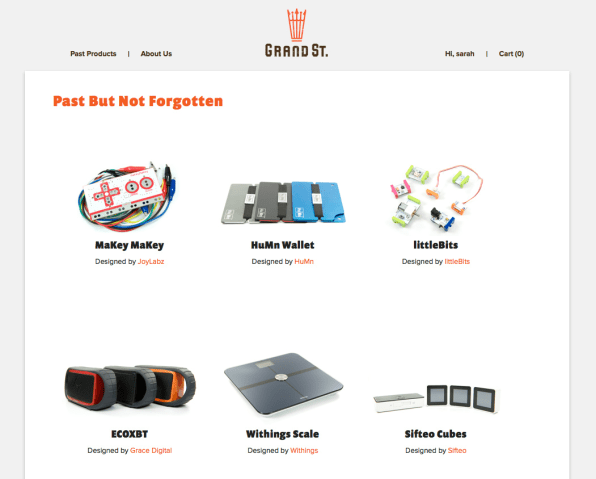 Grand St. has perfectly positioned itself as a place to satisfy that demand.
Peyton hesitates to classify Grand St. as a destination for graduated crowdfunded projects (though many projects were formerly kickstarted, the site sources its gadgets from gadget blogs and inbound requests), but she says that it does better suit the needs of modern-day hardware development, which is both faster paced and less standardized than it was a few years ago.
"It's not just about TVs and appliances and gaming counsels, and those kind of key categories you would find in a Best Buy," she says. "It's much more about everyday objects becoming more gadgetified."