"I'm an odd duck," says Karen Randal, and that's precisely what she is: a bureaucrat in love with art and machines. She has set herself a task that's just as unusual, which is to revivify a moribund industry–textile manufacturing–in a somnolent city–Philadelphia–and in so doing reimagine the urban factory for the 21st century.
The place can use the attention. Like many American cities, Philadelphia has bled manufacturing jobs, retreating from a postwar peak of 359,000 jobs in 1953 (nearly half of total private-sector employment) to 39,200 in 2001 and only 23,700 in 2011–just 3.6% of the workforce and less than a quarter of all industrial jobs, which now mostly involve storing or shipping things rather than making them. Much of this old city's manufacturing decline in the four decades after World War II was in apparel and textiles, which lost some 91,000 jobs. As recently as 1980, Philadelphia's textile plants employed 25,700. Today that number is 1,200.
Yet there's a resurgence of passion for the idea of manufacturing in Philadelphia, if not manufacturing itself. Unlike New York, where most geographically desirable industrial districts have been rezoned residential, Philadelphia still has factories near the center of town, and the same cultural currents that have brought a taste for locally grown food into the American mainstream have lately buoyed the idea of making things around the corner rather than on the other side of the world.
Randal–a tiny blond woman in her early sixties–is a walking advertisement for her objective, often dressed head to toe in clothing made in Philadelphia. She grew up spending summers working in her father's Midwestern architecture practice. Soon after graduating from Ohio State University with a fine arts degree, she landed a job in Chicago at architecture firm Skidmore, Owings & Merrill, where she ran a color and material specifications group. Corporate offices in those days required wall-to-wall carpets, often with custom patterns, and Randal flew all over the country in a tailored suit, high heels, and an impeccable manicure, visiting carpet mills. "I looked like I should be walking down Fifth Avenue," she says, "but get me under a piece of equipment, machinery, and watch how it works… Let me at it."
Now Randal is trying to renew the web of relationships that once made the textile industry so vibrant. She is especially interested in forging alliances between local designers (many young and hipsterish) who have a product to make and sell and factory owners (many older and not hipsterish at all) who have fallow capacity and machines designed for or adaptable to textile manufacturing. Randal helps make these connections through sheer force of personality–networking, exhorting, spending a lot of time on the phone, even mounting a contest for designers to conceive a product they can make on a piece of gear in a local factory.
If it all sounds very grassroots, that's the point. Randal is, in effect, transforming an alternative business model into public policy, bridging the chasm between the creative foment found at street level in almost every city and the lack of imagination generally found at city hall. "Economic developers in government would not be doing this," she admits. If that makes her an odd duck, she might just be the right one for the times.
What follows are some of the textile businesses that Randal has touched, from a two-year-old dye house to a century-old fabric mill.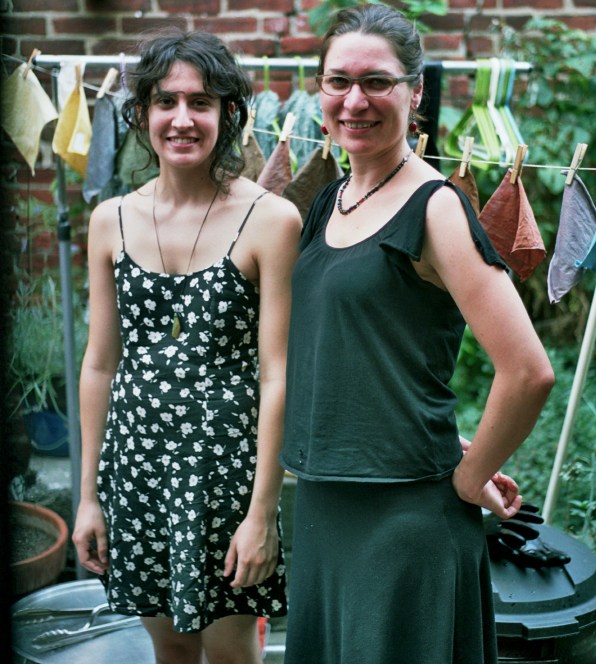 ---
"Mira and I started the business as an alternative to more toxic dye services," says Elissa Meyers. A $2,700 grant from the Corzo Center for the Creative Economy, at Philly's University of the Arts, became, quite literally, seed money, with the partners planting indigo, madder root, and marigolds in a community garden near the Schuylkill River; they also bought organic cotton, stainless steel pots, and other gear. "Our goal was to do everything in Philadelphia using natural fibers and the dye yields from our plants," says Meyers. "We have a vat with naturally fermenting indigo. It's kind of like a bread starter. We refresh it when it starts to get exhausted. We've had it for two years. The vat is alive, so when you immerse fabric into it, it goes through an oxidation process. It's pretty awesome." Their first order: shirts for a woman who does musical yoga with kids in New Jersey. Their largest: dyeing fabric in five colors for Temple University's Tyler School of Art. Randal recommended them for the gig after they attended one of her textile industry get-togethers; the grapevine may have helped, too. "A friend of mine from another project told Tyler about us," says Mira Adornetto. "As dyers, it would be ideal to work with designers and entrepreneurs to collaborate. It is extremely difficult to do all things yourself. We are such a baby small business that it's hard to speak with any authority. All networking is helpful."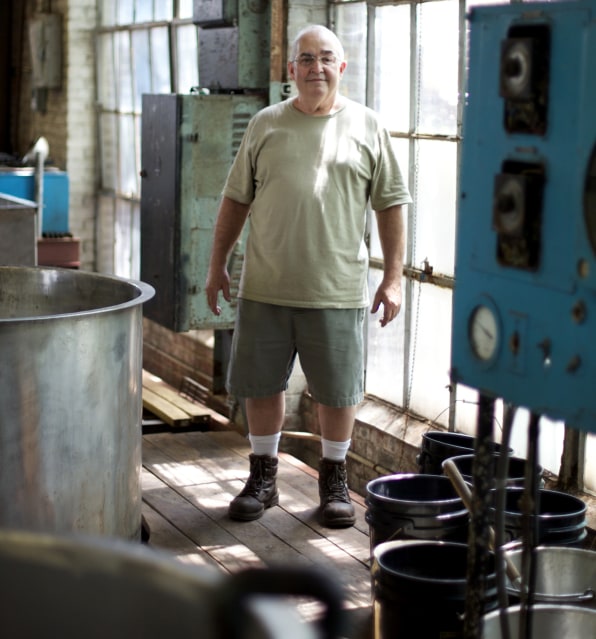 ---
"Back when I started in the industry, there was a stinking dye house on every corner, down in Fishtown and Frankford and Kensington," says John Raisch. "All the carpet manufacturers were on Allegheny Avenue. Stetson Hat was in Philly. You name it. They were here." Now his shop is one of three that remain. The "package" in package dyeing is yarn wound around a perforated steel or plastic tube. Each tube carries a few pounds of yarn; an assemblage can hold nearly half a ton. "You lift them with a bridge crane," Raisch says, "and you put it in the dye machine and you close the lid and electric motors pump the dye through the carrier and out through the perforated tubes. The yarn doesn't move. The dye liquor is pumped through it. You get very little distortion." Randal envisioned a mashup of Yarn-Tex and BlueRedYellow; maybe the girls could move from their little buckets to Raisch's big vats. As it happens, the dyers had already met. "I talked to the girls at one of the meetings at the old Globe Dyeworks Building," says Raisch, referring to a conclave of old textile firms and upstarts co-organized by Randal. Their encounter reminded Raisch of some bad experiences he'd had with organic dyes. "The machines got all dirty," he says. "But it's heartening to realize that there's still someone interested in this industry." If BlueRedYellow does want to scale up someday, his insights would help.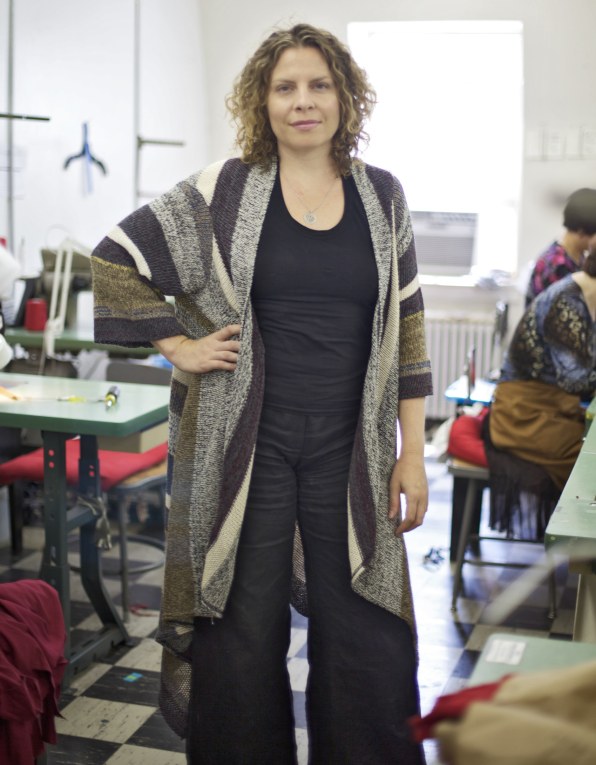 ---
"It was a random event," says Sarah Van Aken, retracing the string of connections that led her to set up shop in a small building on Sansom Street in Center City, Philadelphia–a fashion boutique downstairs, a dozen sewing machine operators upstairs, and a half million dollars in annual revenue. Van Aken owned a factory in Bangladesh, where she produced the chic uniforms she designed for restaurants like New York's Gotham Bar and Grill. But she wanted to segue into womenswear and was having quality-control problems; she also faced rising costs for air shipments. "I met a guy who worked for the city," she recalls, "and he said, 'You need to meet Karen Randal.' So I showed up at her office." Randal played on Van Aken's ethical qualms about manufacturing offshore. "I complained to her that I can't find tailors here," Van Aken recalls. "She hooked us up with Philadelphia Workforce Development. We got a grant to train sewing machine operators. Every person who now works in my garment factory is older than I am. It's been two generations since textiles has been a thriving business here. Randal's presence made sure that even though it was complicated, the deal got done."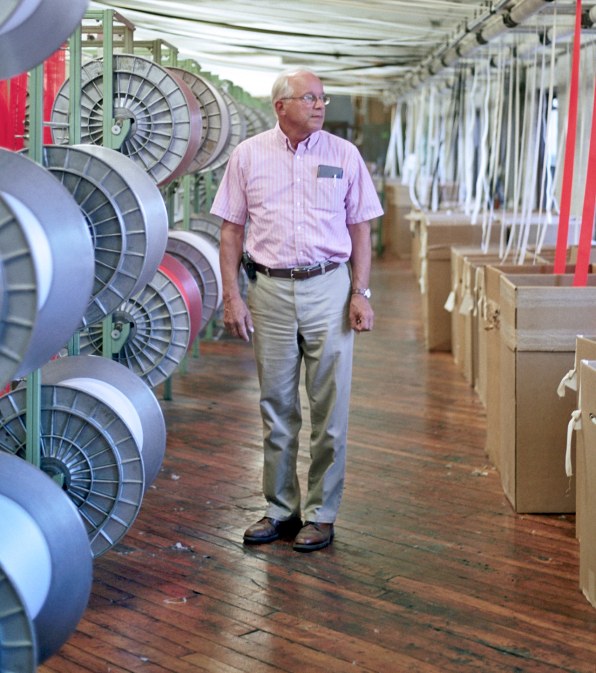 ---
"We're an old business with new equipment," says Martin Heilman. "A lot of people are surprised that there are still manufacturers like us around, which is why we have history tours through our plant." A family-owned operation with modern Swiss-made needle looms, Wayne Mills occupies a former carpet mill built in the 1880s. The firm's secret to surviving the near extinction of fabric manufacturing in the United States: its skinny niche. Wayne Mills makes so-called narrow fabric, strips that are 6 inches wide or less–5-inch cotton tape for carpet binding, polyester safety tapes in bright orange and bright green, header tape to go along the back of a flag where the grommets sit. "We make a million-and-a-half yards a week," says Heilman. Revenue is $10 million a year. Recently the factory hosted an artist-in-residence as part of Philadelphia's Mural Arts Program, for which Randal served as an adviser. "It was another chance to open our facility to other people's eyes," Heilman says. "A lot of people are surprised that there are still manufacturers like us around."