To the super fan, a music artist's Facebook page or Twitter account are much more than places to check in for their next tour date. Increasingly, they also act as portals into the lives of our favorite performers when they're not on stage. Seeing photos and tweets and updates that capture moments at home, in a greenroom, or on a tour bus feels like we're being let in on a secret, and we always want more.
That intimacy is what artist-turned-entrepreneur Evan Lowenstein is trying to capture with StageIt, an online platform that lets artists webcast live, impromptu mini-concerts from wherever they are, that fans can stream at home.
Now, Lowenstein is eyeing a bigger audience in a new deal with country music label Warner Music Nashville, which represents artists such as Blake Shelton and Hunter Hayes. Each month, one to two Warner Music artists will perform web concerts on the label's site in a new series called "Live From Music Row," powered by StageIt.
Artists on StageIt can choose their own date, ticket price, and set length–usually about a half-hour. And because playing a StageIt show requires nothing more than a webcam-equipped computer, a mic, and an Internet connection, artists can perform from anywhere, whether they're on a tour bus before a concert or in their living room.
"We've turned downtime into a revenue stream," Lowenstein says. "We said, 'Hey, let's capitalize on the connectivity of the Internet to deliver these micro moments that might not matter to you, but are huge to a fan."
Any mid-20s woman worth her weight in "Dawson's Creek" episodes will recognize Lowenstein as one half of the '90s twin duo, Evan & Jaron. If there's anyone who understands how much personal connections mean to a super fan, Lowenstein says, it's him.
"There's no place in the world where I can show my appreciation to an artist and they can know it's me," he says. "When I buy a Lady Gaga record, she has no idea I exist. When I pay for the $1,500 package to a Katy Perry show in the front row, Katy Perry has no idea I exist."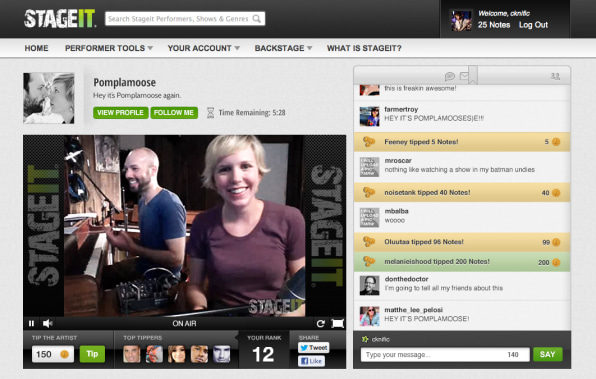 On StageIt, fans can directly show their appreciation by leaving notes (StageIt's virtual currency) in a tip jar at each show. They can also request songs or talk to each other in a live chat box. To encourage tips, artists will often come up with creative, personal prizes for top tippers–for a recent StageIt show, Chicago-based artist Mark Rose offered a silk screen poster from his first concert; indie duo Pomplamoose served up homemade cookies. The result? On average, Lowenstein says 60% of people at a show will tip, and the average fan spends around $12 a show. For top performers, that translates to anywhere between $5,000 and $25,000 per gig.
"In an industry where we can't get people to spend $10 on a record, we're getting them to spend $10 in 20 minutes to hang out with somebody online," he says.
For artists, StageIt offers a way to connect with fans in a way that's not always possible at a physical show. At a recent Pomplamoose holiday concert, for example, several fans requested vocalist Nataly Dawn's cookie recipe and the arrangements keyboardist Jack Conte had written for that night's show. Both went up on the band's Facebook page the next day.
Lowenstein has recently discovered another use for StageIt: as a place to meet potential dates. You can already privately message another showgoer on StageIt, and come spring, a new "hitchhiking" feature will allow you to buy a ticket for someone based on which shows they've indicated they want to attend. And unlike a typical dating site where you learn as much as you can about people then take a leap of faith in meeting them IRL, you can go on a few "dates"–virtual concerts–via StageIt. It's part of Lowenstein's plan to turn StageIt into not just a music venue, but a destination.
"For the most part, you wouldn't go to StageIt to see who's playing, just like you wouldn't go down to Madison Square Garden after work and see who's playing today," he says. "But if you said, let's go to a jazz club, it's a destination. We know we're going to enjoy the jazz."
[Image: Flickr user Tracy Apps]