CEOs, listen up: if you don't have time for social media, you don't have time to be a CEO.
It's your job to run your company, right? Well, social media will keep you from getting locked up in your ivory tower and get you grounded in your people and your market. As CEO of So So Def Recordings, I know what I'm talking about. A couple of years ago, I got rid of my own So So Def website and replaced it with my own social media site, Global 14, which has plenty of swag and passion thanks to 43,000 Lifers (as I call Global 14 members). Based on my experience on sites such as Global 14, Twitter, and Instagram, here's how I think social media can help you be a better CEO.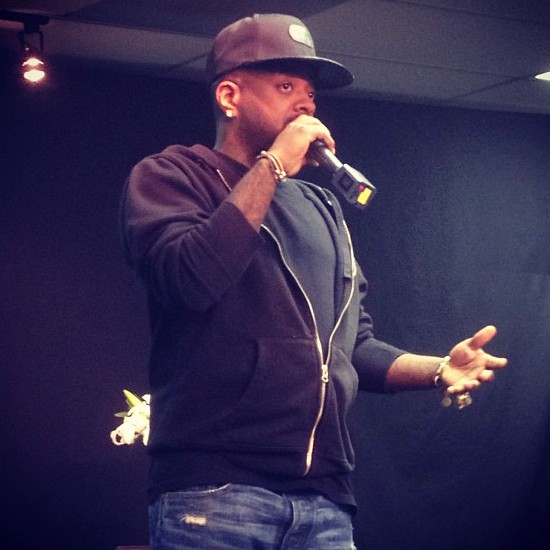 1. Know Your Market
If you think you can succeed without having your ears to the ground, good luck. Global 14 is my own focus group. I know what's going on in the marketplace–who is hot and who is not–thanks to the brutally honest feedback I get from the Lifers. When Nicki Minaj's Roman Reloaded got a lukewarm reception in the first few days of its release, I was not surprised. The Lifers had already told me her new music wasn't moving them based on what they'd heard before the general release.
Spending a few minutes in the trenches of social media is a great way to stay grounded in the needs of your customers. Twitter CEO Dick Costolo learns a lot about Twitter by responding to customers' issues, and that's exactly what I do on Global 14. If you have a problem with the site, tell me, and I will respond.
Don't get rid of your customer service department. Just use social to talk to a customer. Is that so hard?
2. Know Your Own People
How well do you think you know your own company? Spend some time on social. I can guarantee you'll learn something.
I have to say, in the early days of running Global 14, I did not really appreciate how much Lifers hustle and create their own ideas, but I learned after a while. Some of the most innovative and active Global 14 communities were launched not by me but by Global 14 members, such as the popular Global 14 Radio brand, which is a digital radio talk show launched by Global 14 members.
Do yourself and your company a favor by getting personal accounts on Facebook, Google Plus, and Twitter. Then visit your company's official pages. You can learn a lot by seeing what your own people say about your company and what they say about themselves.
Even better, give someone in your company a shout-out or an employee a question on a social post and see what kind of reply you get. Social is the new company meeting.
3. Humanize Your Brand
This past year, I've been going around the world with David Deal of iCrossing talking about how we have been working together to build the Global 14 brand. No matter where we go, a CEO is bound to tell us, "No one on Twitter cares what I had for breakfast today." And our answer is the same: yeah, no one wants to know that you had scrambled eggs for breakfast, but they want details about you that may be unusual or surprising (like the fact that I'm a vegan). Accept it: The CEO is the most public and powerful face of your brand. And people respond when you show a little humanity with your brand.
When Richard Branson of Virgin posts pictures on Twitter of himself hanging with dolphins on his vacation, he gets serious retweets, and makes Virgin more human. And I try to share sources of personal inspiration in my life, which humanizes So So Def. One day I might discuss my visit with the Factory Zero startup in San Francisco. Or I might share some fresh Louis Vuitton fashion that inspires me. On Instagram I shares pictures and videos from my life wherever I am–on the 106 and Park show, VegasTech…you name it, I'm there, and I'm sharing my world with you. Here's the thing: Everyone thinks I'm going talk about music. But they get surprised and curious when they see the inspiration behind the music.
4. Own Your Brand
Not too many CEOs really manage their brands because they think it's someone else's job. That's crazy. As a CEO, you can do more than anyone else to show what your brand is all about. And social helps you become your own chief brand officer. George Colony, CEO of Forrester Research, represents his brand by blogging about industry trends just as he expects Forrester analysts to do. Starbucks CEO Howard Shultz famously credited social media for saving Starbucks by giving him and his brand fresh ideas through the customer feedback he gets from activities like My Starbucks Idea.
Global 14, Twitter, and YouTube help me test the music of my own artists such as Fresco Kane before giving them broader exposure to the public. And then social helps me spread their music when they are ready to gain a broader audience.
5. Do Good
CEOs are like superheroes: With great power comes great responsibility. Social media gives you a platform to achieve a higher purpose. I use Global 14 to help people share ideas with each other. During the presidential debates, I hosted forums on Global 14 to discuss the candidates. Yeah, I know CEOs get uncomfortable sometimes talking about issues besides their stock performance. But guess what–huge brands like Patagonia are using social to tell the stories of their commitment to social responsibility. So for a CEO to do the same is not as far-fetched as you might think.
You don't need to tell me being a CEO is hard. Every day you have to know what's around the corner and deliver results today. But social media can help you. Social is the most direct and powerful tool you have to build a connected brand and understand how your market, your business, and your customers are changing. So what are you waiting for?
Find more social media savvy in the Fast Company newsletter.
—Jermaine Dupri is CEO of So So Def Recordings. He launched Global 14 in January 2011. David Deal is vice president of marketing for iCrossing. Dupri and iCrossing collaborate to build the Global 14 brand through co-created thought leadership, earned media, and social.
[Images: Flickr users Stephan Geyer, and Frank Gruber]