I've always approached business the way a classical musician reads a sheet of music. What counts is how well and how passionately you execute the notes as written, not how you improvise them. Whether you play the violin in a symphony or lead a for-profit or nonprofit organization, great execution requires discipline and focus. You cannot achieve flawless execution without a painstaking devotion to the details. It is not easy to keep track of all the things necessary to achieve such flawless execution.
That's why every manager I work with has a factbook. It's a three-ring binder that breaks down a manager's tasks into small, manageable steps. Such a factbook keeps you on top of the details and assures that there are no misunderstandings between managers and their subordinates.
At its simplest level, the factbook is a tool that keeps you focused and disciplined about your work. It contains the minutes of meetings with your boss, all assignments, your progress against these assignments, and a 12-month schedule of future meetings. If it's put together carefully, the factbook is the place to go where your work life is both organized and crystal clear.
So when I work with a colleague in regular planning sessions, typically once a month, my three-ring binder has the same tabs as he has in his. The tabs quickly get you to the minutes of the last meeting, a person's prioritized assignments, and an update on what he's accomplished since our last session. Each task stays on that assignment list until complete. Nothing is forgotten. That makes it easy to focus on the important things and never lose your place. Every assignment is there in black and white, staring at the person who is responsible for getting it done. He can't forget about it. Just as important, the boss can't forget about it, either. Too often, that's exactly what happens.
All of us can get overwhelmed with things to do at work and in our lives. We're often racing from one meeting to the next, from one city or country to another. Every business is a fairly complicated system. If you're leading an organization and seeking flawless execution in the pursuit of excellence, the best way to stay on top of all the details is to have a clear accounting of them. The system reminds you of what's important. It also imposes accountability on the boss and the subordinate to get things done.
A factbook can take away excuses. Using this process, it's unlikely that people will not have enough work to keep them busy. And if a subordinate feels unhappy about something, the regular sit-down meetings with her boss gives her an opportunity to address these feelings. Mostly, the factbook can be the place where the details of your work are made the focus of how you do your work.
To an outsider, a factbook looks deceivingly simple. To me, the three-ring binder that every key employee has is not merely a notebook. It is a process. Every month, almost every key manager in our company has a factbook meeting with his or her boss. Typically, it's a one-to-two-hour opportunity to have a thoughtful and candid conversation. Together, the manager and her boss review the progress the manager's made against her written assignments, and her boss can help reprioritize them, given the always changing needs of the business.
These sessions always start with the subordinate reading aloud the minutes of the previous meeting. This gives the meeting structure and organization. It's a natural follow-through from the last meeting. This reminds both parties of what was discussed at the last meeting, and provides a way to share what has been accomplished since then.
This is detail, and it works! The minutes become an agenda. Reading the minutes almost always triggers considerable discussion and, often, major modification. Sometimes it leads to the reversal of a decision. Other times, it can lead to a deep discussion of execution issues.
After the meeting, the employee is responsible for creating a set of minutes. These minutes are sent back to the supervisor as soon as possible. They are sometimes corrected by the boss as needed, and then placed into both three-ring binders for the next session.
The factbook system is a great way to stay on track and make real decisions, with built-in accountability. When a meeting is over, there is great clarity. Both parties know what to do. The face-to- face interaction also allows subordinates to push back when there is too much on their plate or if a project proves to be much harder than initially anticipated.
The benefits are clear:
1.The system can make you a better professional. A factbook helps you stay organized and disciplined. It enables you to always be working on the right things, as agreed every month with your boss.
2.The system ensures that the most important work gets done first, by putting a laser-like focus on an individual's work plan and carefully setting priorities.
3.The system makes you feel more engaged. You can't go through this process and not understand just what is expected of you. It reinforces our culture as well, reminding us that we must stay focused on what we do if we want to achieve superior execution.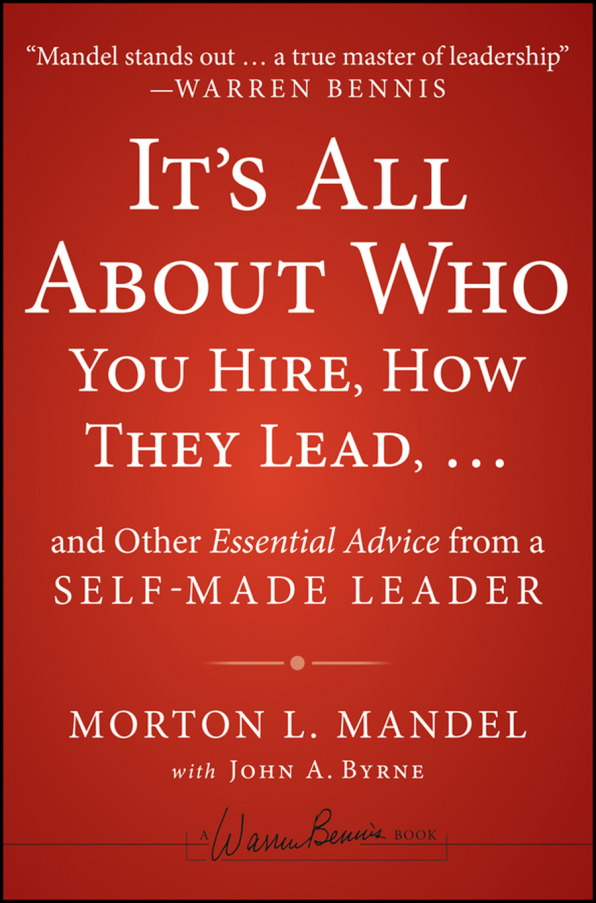 One of the most difficult tasks any leader has is to get the full story from his subordinates. It's only natural for people to try to please the boss. So as a leader you're less likely to get the full truth unless you have a way to find it. These structured meetings help you discover what's getting done and what isn't. The planning my managers do with their subordinates will reflect the planning I do with them. Because I get the minutes of factbook meetings between my subordinates and their direct reports, I can see in detail what people are doing a layer down and how our goals and objectives cascade through the organization. This gives me a deeper understanding of what is actually happening on the ground.
Factbooks create a way for people to deeply understand the policies and strategies that make for excellence in execution. Fact-books are the sheet music a leader needs to expertly play a symphony.
Excerpted with permission from the publisher, Wiley, from It's All About Who You Hire, How They Lead…and Other Essential Advice from a Self-Made Leader, by Mort Mandel and John Byrne. Copyright 2012.
–Morton L. Mandel is a self-made billionaire, entrepreneur, and philanthropist. With his brothers, Jack and Joseph, he cofounded Premier Industrial Corporation in 1940, eventually merging it with Farnell Electronics in a $3 billion deal. The three Mandel brothers also established the Jack, Joseph and Morton Mandel Foundation, which funds numerous social leadership initiatives all over the world.
John A. Bryne is former executive editor of BusinessWeek, former editor in chief of Fast Company, and author of 10 books, including the New York Times best seller Jack: Straight from the Gut with Jack Welch.