Social media redefined real-time communication. And now that we've been tweeting, liking, and checking in for a few years, it also has the potential to unlock a new view of history.
In other words, there's value in now; there's value in then. Where that value lies is the million-dollar question.
The biggest social platforms have just begun to explore the potential of the past. Facebook has provided flashback access through its Timeline, Foursquare provides checkin tallies for the past six months, and Twitter–CEO Dick Costolo has promised three times now–will give us a downloadable archive of our own tweets by the end of the year. Both Twitter and Facebook treated us to summaries of our activities on their platforms this year.
Startups have been the more enthusiastic pioneers of the social media past. Here's how they've put it to use.
When Facebook launched Timeline, Memolane CEO Eric Lagler gritted his teeth and rejoiced that the vision he had for his startup had been validated.
Memolane automatically creates a timeline of your life using posts from your social media accounts. You can search and scroll this "lane," invite friends to contribute, and share specific snippets of it with friends or embed it on a website.
After Facebook published its own scrollable timeline, Memolane made its memories more active. You can now invite friends to contribute their social content to your timeline as well as share and embed specific memories. A new daily email resurfaces one memory–a comment, photo, video or checkin–each day. "Rather than creating this museum, which we succeeded with very well," Lagler says, "we have, over the last half year or so, to make it more of an amusement park. We want to make it an engaging place that drives more active users that are coming in on a regular basis checking out the memories."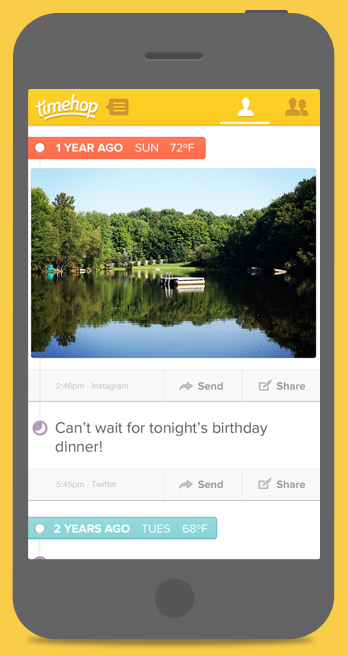 The emails provide an opportunity to reminisce upon a specific artifact from the past, and Lagler says 55% of his mailing list opens them every day.
Another startup called Timehop creates a similar memory-delivery experience in its emails and app, but focuses on reminding users what they posted on Facebook, Foursquare, Instagram, Twitter and Flickr exactly one year ago today. It calls itself "A time capsule of you."
Both companies are optimistic about monetizing the past. Lagler has been exploring options to print timelines or create a paid social media storage service on Memolane. Timehop's cofounder Jonathan Wegener says the company is focusing on growth and user acquisition, but that "Any time large numbers of people use and love something, there's an opportunity to make money."
If you can't remember what you had for lunch, good luck trying to remember the name of that great Italian restaurant you ate at last month. An app called Rewind.me might help you with this problem. It turns your real-time check-ins into a searchable activity log.
Cue creates a more comprehensive day book by accessing your social media accounts, calendars, email. It plots out your day today, but also lets you flip into what you've scheduled for the future and past.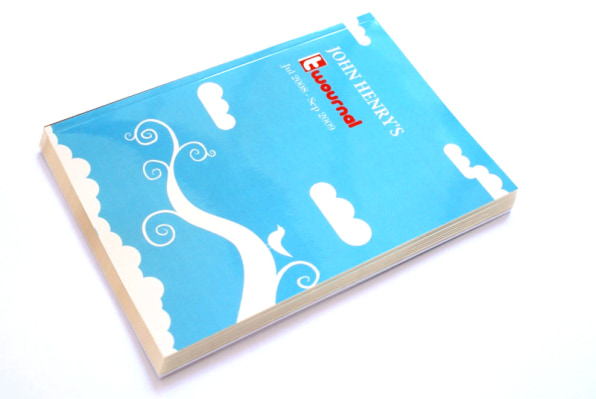 A diary's business plan might not be obvious, but it exists in a couple of different forms. Rewind, for instance, plans to offer rewards to users based on the places they have visited. Then there's the paper option. A company called Twournal charges between $45 and $135 to turn your tweets into a book. Free online social media journal Scribr also has a paid option to print. And UK-based social media journal Loccit announced today it had sold 8,000 personalized books since launching last Friday.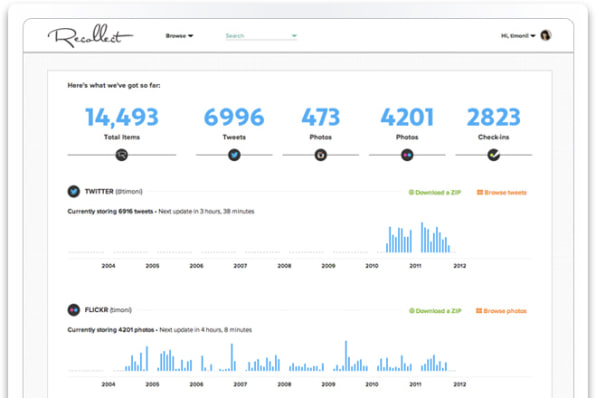 Startups are still fumbling around the best precise use of your social media past, but in the meantime, you can download your history and figure out the solution yourself with Recollect, ArchiveSocial, and Backupify–a few of the most popular archiving social apps.
[Image: Flickr user Jonathan Brierley]