Every January thousands of leaders, companies, and teams gather to discuss their goals for the upcoming year. Numbers and goals are passionately shared by leadership and written down by employees with anticipation and excitement. It's an experience filled with energy, hope, and optimism.
The problem is that by April the positive energy and optimism felt in January has given way to the tests and challenges of reality. And the goals and numbers that were shared and written down with such passion and enthusiasm are likely in the garbage can, in a binder on the shelf, or ignored on the laptop.
Three years ago I discovered a better way than numbers and goals to refocus companies and motivate employees. My friends Dan Britton and Jimmy Page told me how each year for the past 15 years they chose a word that would be a driving force in their lives and work. No goals. No Resolutions. Just One Word.
I was inspired and chose "purpose" as my word for the year. I knew that by focusing on my purpose each day I would have the energy and strength to overcome the challenges and stress of traveling around the country. My wife chose "intentional" for her word and it helped her tune out distractions and focus on her priorities. My 12-year-old son chose "focus" as his word and it helped him focus more in school and on the tennis court. My 14-year-old daughter chose the word "motivation," which was a great thing because she needed it.
Putting One Word into Action
After seeing the impact these words had on my family I started sharing this concept with my clients, who include companies, professional sports teams, hospitals, and schools. During my talks I explained the concept and power of One Word and asked each leader and person to reflect upon and identify a word that would serve as a driving force in their life and work. I suggested they take some time to discover the word that is meant for them this year. Then I encouraged leaders to gather their companies and teams physically or virtually and have each person share their word and why they chose it. The reason and meaning behind a chosen word is what gives the word purpose and power.
The stories and results from organizations and leaders that have implemented this simple, powerful idea have been extraordinary.
The Atlanta Falcons discovered their words before the season this year and currently have the best record in the NFL. Head Coach Mike Smith's word was "finish," because he wanted the team to finish strong in everything they did.
Charlotte-based Hendrick BMW encouraged their employees to discover their word for the year and then painted the words on a car in their showroom. General Manager, John Desmond, told me that each day employees see their words when they walk into the building and it's a powerful reminder to live their word. Desmond also told me that customers often ask about the words on the car and it provides an opportunity for employees to share how their words inspire them to provide exceptional customer service. When I asked Desmond if One Word has made a difference he shared a loud YES. Turns out Hendrick BMW just received an award for the number one BMW dealership in the country.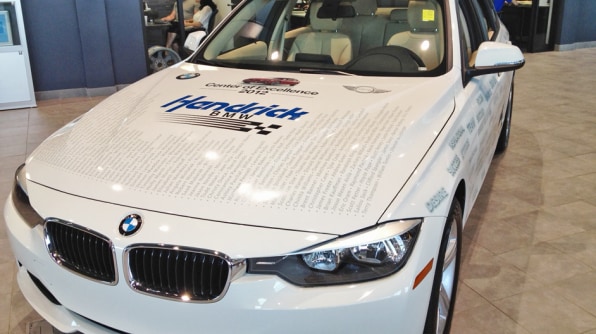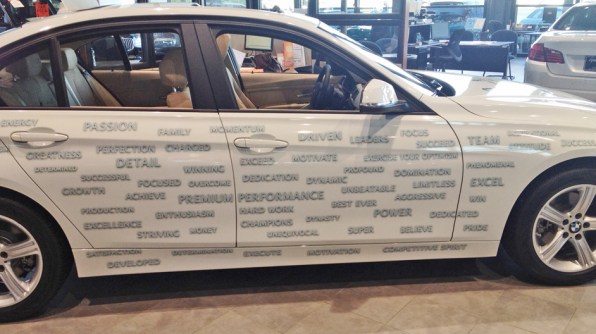 I've also shared the power of One Word with other innovative companies such as Cisco, Scott's Miracle Grow, Seventh Generation, Precyse Solutions, Gallagher Bassett, Organic Valley, Volvo Construction, and General Motors, and the response is always the same. One Word helps leaders and teams generate clarity, focus, power, and passion. While goals are easily forgotten, One Word sticks and inspires their employees to perform at a higher level.
Looking Ahead to 2013
Does this mean we shouldn't share goals and numbers anymore? Of course not. Leaders and companies should continue to share goals and numbers to start the year. You do need to measure progress because that which you can measure you can grow. But you must do so knowing that numbers don't motivate people. Motivated people produce great numbers. Real motivation is driven by a passion and purpose to do great work, grow and make a difference. Leaders can help motivate and inspire their people to excel by helping them discover the one word that will remind them of their purpose, maintain daily focus, and keep their passion alive throughout the year.
So this year, at your 2013 kickoff meeting, do what everyone does and share your goals but also do something different. Encourage your people to discover their word that will drive them to work harder, care deeper, focus more, and surpass your goals and numbers.
Find more ways to motivate your employees in the Fast Company newsletter.
Jon Gordon is the author of The Wall Street Journal bestseller The Energy Bus, Soup: A recipe to nourish your team and culture, The No Complaining Rule and The Seed: Finding Purpose and Happiness in life and work. Jon and his training/consulting company are passionate about developing positive leaders, organizations and teams. You can connect with Jon at www.JonGordon.com.
[Image: Flickr user Ian Murchison]