This holiday season, a new generation of parents will be lining up (and throwing elbows) to get their hands on the latest version of Furby. At least, that's Hasbro's dream. Fourteen years after the original robo-pet hit store shelves, the third and latest iteration (complete with techy upgrades) will try to waddle its way into consumers' hearts. And the fuzzy hamster/owl/alien toy has come a long way.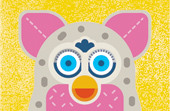 Furby, 1998
Height: 5″, Weight: 0.7 lbs
"The original Furby was this very sweet, emotional experience," says Dan Judkins, Hasbro's senior director of
integrated play.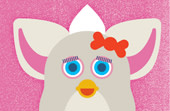 Furby, 2005
Height: 7″, Weight: 1.4 lbs
"Furby 2 was focused 90% toward girls," says Judkins. Echoes Kenny Davis, marketing director: "It was a departure. It's more like a stepchild."
Furby, 2012
Height: 6″, Weight: 1.1 lbs
The newest iteration is a nod to the original; the team wanted to focus on what worked well the first time around. "We've taken that up quite a few notches," says Judkins.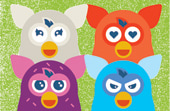 Eyes
"We wanted it to look like an advancement in technology," Judkins says. LCD eyes help create more emotional expressions.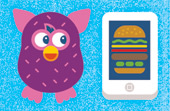 iPhone App
Linking with iOS devices, the app lets users select a variety of food and drinks for the toy, even creating deli sandwiches.

Touch Sensors
How you interact with the toy determines its personality, Judkins says. "If it's tossed around, it will have an aggressive character; if it's nurtured, it will be sweet. It's a reward for input."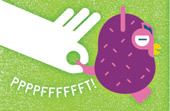 Tail
Kids want a reaction when they pull the toy's tail. Depending on the personality the toy adopts, it will either laugh or, less charmingly, fart.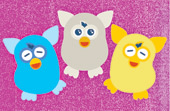 Movement
New animatronics let the toy lean into you, as if it's actively listening. "It's surround-sound expression," Judkins says.
Illustrations by Mikey Burton