Julie Williard's productivity is audible from across the room. The 25-year-old is working at a conveyor belt that runs through a sprawling Walgreens distribution center in Windsor, Connecticut, tossing tubes of toothpaste and gels into plastic bins, creating a staccato that resonates above the background chorus of buzzing machinery and beeping forklifts. "I try to get my hands on fire," says Williard. "I want to work quickly."
Williard is sorting merchandise into tubs bound for the company's shipping department, and unless you spoke with her, it would be difficult to tell that she's partially deaf and has Velocardiofacial syndrome, a genetic disorder that can cause learning disabilities and developmental delays. "You see that line?" says Walgreens disability outreach manager Joe Wendover, pointing to a monitor. "It shows Julie's gone through 900 cases an hour when she only needs to do 756. She's a rock star."
As companies such as AMC Theatres, Home Depot, and Microsoft can attest, disabled workers can be a great asset. But only about 20% of Americans with a physical or cognitive disability participate in the traditional workforce, and of that group 14% are unemployed–roughly twice the nondisabled rate. A regulation being pushed by the Department of Labor would try to improve those numbers by requiring any company with a federal contract worth $10,000 or more to give 7% of its jobs to people with disabilities. If passed, roughly 200,000 companies would be affected. For very different reasons, both companies with and without disability programs are worried about the proposal.
As the mother of an autistic child, Heather Davis, a senior managing director at financial services firm TIAA-CREF, knows firsthand that autistic people often have the ability to focus on repetitive tasks for long periods of time–a valuable skill for line workers. That trait has contributed to the success of TIAA-CREF's Fruits of Employment disability program, which Davis founded in 2008, and presently employees 24 people. New research from Walgreens suggests that this group makes for a particularly stable workforce. A study of its distribution centers by the American Society of Safety Engineers found that workers with disabilities had a turnover rate 48% lower than that of the nondisabled population, with medical costs 67% lower and time-off expenses 73% lower. "At a time when many workers are unreliable, this is a pool of laborers that can get the job done," says Davis.
Doing this right takes time. The Walgreens disability outreach dates back to 2002, when Randy Lewis, then the company's senior vice president of supply chain and logistics, suggested making a new warehouse in Anderson, South Carolina, disability-friendly by switching from text-based to image-based equipment. The program launched in 2007 and was such a success that Walgreens next built the Windsor center, where roughly half of the staff has some manner of physical or cognitive disability. Windsor is the company's safest, most productive warehouse. Across Walgreens's 21 distribution centers, 10% of its employees are disabled; the company would like to increase that slice to 20%.
Implementing a disability program requires great flexibility, often in surprising areas. Andy Traub, then the director of recruitment at AMC Theatres, had to revamp the hiring process when his company launched its FOCUS employment program in 2010. A traditional interview involved asking applicants about prior work experience, but many people with disabilities have never had a job. Instead, AMC started walking applicants through the building to show them what their responsibilities might be. By gauging the candidates' reactions to various tasks, AMC can match employees with a job that best suits them.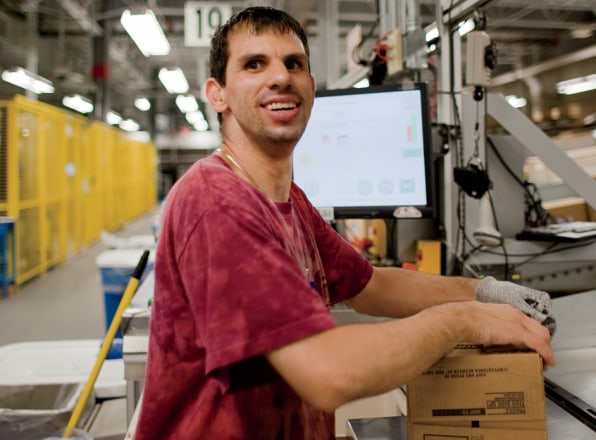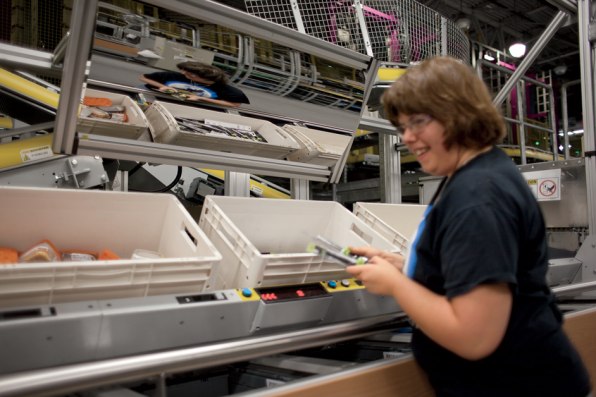 That's a creative response, but it also adds one more step to the nonrevenue-producing hiring process–which is just the sort of bureaucracy that some critics fear could become mandatory. The Department of Labor's proposed regulation is actually an amendment intended to give teeth to the Rehabilitation Act of 1973, which established workplace protections for disabled Americans but lacked an active prescription for change. Besides creating a hiring quota, the amendment may also require companies to do such things as ask employees to voluntarily disclose a disability pre- and post-hiring, partner with three state employment assistance agencies, and increase data collection about evaluations and hiring of nondisabled versus disabled employees. Companies violating the regulations could have their contracts terminated and payments withheld. The stipulations are strict, but as Patricia Shiu, director of the Office of Federal Contract Compliance Programs, said in a December 2011 press release, "What is measured gets done."
But compliance may not come cheap, and estimates of the costs vary wildly. A study by the Associated General Contractors of America claims that the quota would cost the average construction firm at least $14,000 a year per project site–far more than the estimated annual cost of $473 outlined in the amendment. And a financial breakdown published by the HR Policy Association found that costs to the 200,000 potentially affected companies would be at least $5.9 billion the first year and more than $2.6 billion per annum afterward. Another point of contention is the requirement that companies work with state employment agencies rather than independent ones. Deb Russell, a manager of diversity and inclusion at Walgreens, points out that while some state agencies do a good job of pairing companies with talent, others don't. "We want to partner with the agencies we prefer," she explains, "rather than be told who to do business with."
There's no timetable in place for resolution of the amendment; all a Department of Labor spokesperson will say is that "they're working on it." But whatever happens, companies that dive into the disabled workforce will discover many benefits, including a PR boost: According to a 2005 study published in the Journal of Vocational Rehabilitation, 92% of Americans view companies that hire people with disabilities more favorably than those that do not.