Seamless is a staple for many hungry New Yorkers who lack time or prefer to use their ovens for designer-shoe storage. So as he braced for the worst of Hurricane Sandy, Jonathan Zabusky, CEO of the online food-delivery service, knew he'd best come armed with a multi-pronged contingency plan if he wanted the mutual good feelings to continue.
Times of crisis offer companies memorable opportunities to either pleasantly surprise or royally tick off their customer bases in a way that can reveal something (nice or not so) about the company's leadership and culture. Here, Zabusky shares the most important lessons he learned about staving off complaints, and even delighting customers, during a difficult week.
Zabusky had employees begin contacting partner restaurants on Sunday to ask if they were planning on closing due to the storm. That way, Seamless could accurately update its site so customers wouldn't accidentally be placing orders with closed restaurants.
And before Sandy had even arrived, Seamless employees were already well-versed in various possible scenarios, such as when a restaurant didn't confirm orders or when order volume was through the roof.
"We rehearsed a number of scenarios ahead of time so everyone would know what to do," Zabusky says.
Seamless has more than 300 employees across the company who work in different departments, from data entry to restaurant relations to sales and business development. But customer care is the only part of Seamless that hungry customers interact with when they call to complain. So Zabusky, prepared for the influx of disgruntled calls that would inevitably flow through during Sandy, made sure employees from all parts of the company were already cross-trained in how to interact with customers. That way, Seamless was able to staff its customer care team with about 50 additional employees from elsewhere in the company. "In a situation like this, it's not important to have employees entering menu data or making sales," Zabusky says.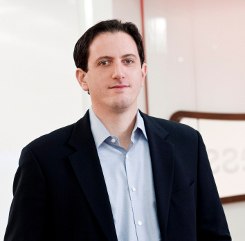 And rather than wait till the last minute to hurriedly train staff, Seamless requires the vast majority of new employees to take a turn through customer care, regardless of what they were hired for, Zabusky says.
"People who come to Seamless will all have some experience with our order monitor and troubled orders so they can experience what it's like, no matter what their job is," he says.
Normally, Zabusky says Seamless's partner restaurants have the ability to set their expected delivery time for orders. But during the storm, open restaurants were getting slammed with orders and often unintentionally gave customers misleading delivery times. So he used the opportunity to experiment with what would happen if Seamless told customers to expect longer delivery times.
"We can know ahead of time if a restaurant isn't going to be able to keep up with their delivery estimate timeframe," Zabusky says. "So in the case of certain neighborhoods with a lot of closings, we proactively raised the delivery estimates for the restaurants that were still open."
What he found was that as Seamless elongated the expected delivery timelines, it saw a significant decrease in inbound complaint calls because peoples' expectations were more realistic.
"If you tell someone their order is going to be there in an hour and it gets there sooner, they'll be much more likely to have their expectations met," he says.
And happy, fed customers are good for Seamless in any weather, so Zabusky says Seamless will be paying very close attention to experimenting with expected delivery times in the future.
Seamless primarily uses Twitter as a marketing vehicle, but Zabusky says it quickly became a critical way to communicate with customers who were having trouble with orders. And when Seamless began interacting with customers through more channels, Zabusky said transparency became the top priority.
"One of the key things we learned last year during Hurricane Irene that's really permeated our business is just being completely transparent with customers," he says. "In general, customers on social media have been very, very reasonable." And in some cases, it went way beyond that, with customers tweeting sonnets of thanks to Seamless delivery people: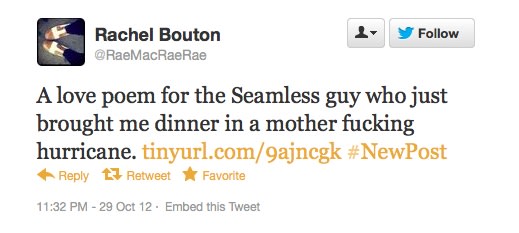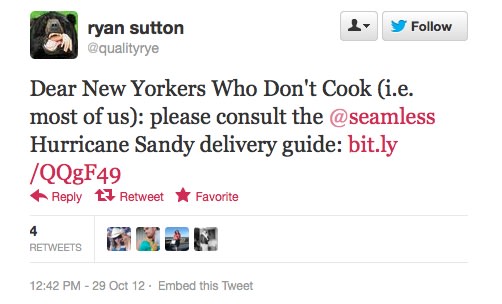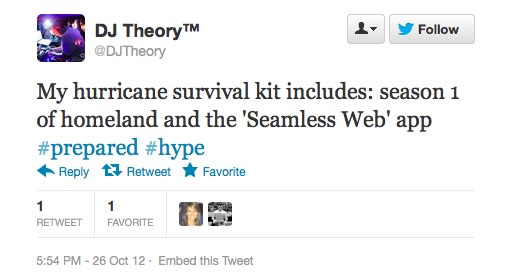 In between all the order monitoring and phone calls, Zabusky is having all Seamless employees document what they've learned this week, based on the different strategies they tried and whether or not those strategies resulted in happier customers.
"Each person involved in each of the functional areas is taking copious notes on the different situations and the strategies we tried," he says. "We're formally trying to capture our learnings from this process."
Do you have an inspiring/horrifying customer service story from Sandy? Tell us about it in the comments!

[Image: Flickr user Duane Romanell]