Whether you're trying to buy a new vacuum or a weeklong vacation to Aruba, chances are you want to do a little bit of pre-purchase research online. Do you perform a quick Google search? Do you pore over hundreds of consumer reviews on Amazon? Do you post a status asking your Facebook friends?
"They're all kind of flawed," says Seattle-based entrepreneur Tom Leung, of those options. "When I need to make a decision, I need a thoughtful conversation made for me with people who have firsthand experience making similar decisions. Where do you go to do that?"
Leung hopes that destination will soon be Yabbly, a new community-based Q&A web and mobile app he cofounded to help people make smarter decisions and avoid buyers' remorse by allowing them to get feedback from others who have recently been in the same situations.
On Yabbly, you can ask a question soliciting recommendations from the general community, and Yabbly will then match the question with others who have recently made similar decisions. It's an attempt to mimic the often-serendipitous nature of the interactions you have with strangers or friends of friends in real life.
"The way people usually make decisions is they'll run into someone at the coffee shop or a party who just happens to have made a similar decision recently, or knows someone who has," Leung says. "So we built Yabbly as a way to make a decision you're contemplating."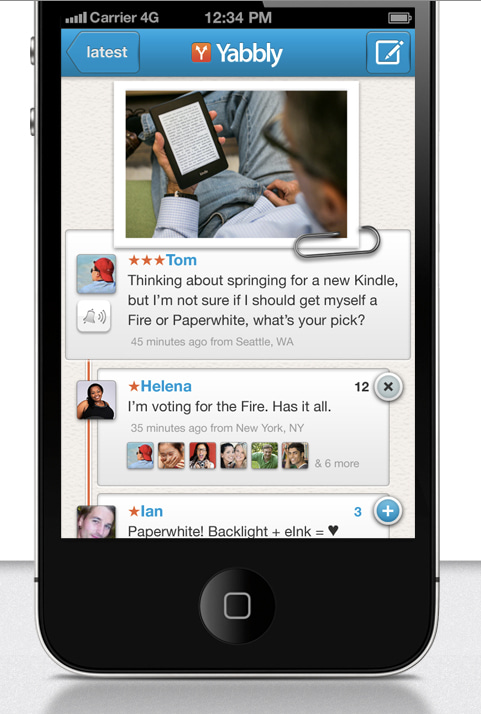 Yabbly launched as a beta web app this week. Leung says so far, the most helpful answers from the site's several hundred early users have been in response to very specific questions. For example, asking, "What's the best vacuum cleaner?" garners less useful responses than, "What's the best vacuum cleaner for a dog owner in a large, residential house with lots of stairs?"
"Right away, people can triangulate around those needs," he says.
In order to control the quality of its initial userbase, Yabbly is currently invite-only and focuses on a "karma system" between users to encourage them to help each other with their respective questions. The idea is that if you get a notification saying the person who helped you choose your vacuum cleaner is now asking a question about a topic you've discussed in the past, you're more likely to return the favor. Leung says this karma system is what differentiates Yabbly from a Q&A site such as Quora, where he says it feels like more of a competition over who can provide the best answer.
Yabbly is also currently conducting consumer research on what things people like and dislike sharing with their Facebook friends about their purchasing decisions. In its alpha version, Yabbly required you to opt-out of an auto-share feature that would share your Yabbly activity with your Facebook friends. But Leung and his cofounder Ian Shafer quickly found many people didn't like sharing their Yabbly questions on their Facebook timelines. Moving forward, Leung says, Yabbly will experiment with opt-in ways to share your activity on other platforms, such as Facebook or Twitter.
"If someone is asking about purchasing a BMW versus a Mercedes, they might not necessarily want to be bragging on Facebook about how much money they have, but it's still an important question," he says.
And although the beta version limits the way you can browse questions to their respective categories, such as "parenting" or "products" or "career," Leung says Yabbly will eventually let you create a profile where you can list your personal interests and create your own feed of questions and people you're interested in. The feed especially could be a useful feature to attract users who might not have an immediate question they'd like to ask now, but who might spot another user's question they want to keep tabs on.
Yabbly has raised $500,000 in seed funding from investors including Google and Amazon execs. Although it's mostly focusing on building out a strong community first, eventually Leung says Yabbly will add support for sponsored questions and answers, as well as ads. For example, Dyson could contribute a sponsored answer to the thread started by that vacuum cleaner enthusiast.
"Advertisers really value eyeballs when people are making decisions," says former Googler Leung.
To try Yabbly, sign up for beta access here before 5 p.m. today.
[Image: Flickr user Marco Bellucci]