According to his new Apple profile page Mansfield is now senior vice president of the new Technologies group, reporting directly to Tim Cook. He's been at Apple for 13 years, with an impressive engineering background, and he oversaw "the team that has delivered dozens of breakthrough Mac products including the MacBook Air and the all-in-one iMac line." These two products alone underscore how Apple's shrugged off the malaise affecting the rest of the PC market, but in 2010 Mansfield also took over iPad and iPhone hardware. As Apple puts it: "Over the years, Bob has led some of the company's most challenging engineering projects."
Indeed. In June Mansfield announced he was retiring as head of hardware engineering. Immediately it was said Tim Cook faced internal revolt over his choice of Mansfield's replacement Dan Riccio. Cook listened, and persuaded Mansfield to stay on in a fuzzy advisory role for Riccio, for a massive fee that amounted to about $2 million a month in cash and stock options. Mansfield was also positioned to help with "future products" in hardware and reported to Cook. If that isn't a measure of the importance of the man, it's hard to say what is.
How does this look in real life? Check out Apple's official iPhone 5 video from a few weeks ago below: While Ive speaks about the big-picture feel of the new device, it's Mansfield who calmly explains all the clever, intricate hardware details that enable Ive's overall vision to fully bloom.
Now in Tim Cook's new regime, Craig Federighi runs all Apple software, Ive looks after design of both hardware and software, Eddy Cue runs Services, and Mansfield's new Technologies group is, as the name suggests, looking after key parts of how the products function.
So the fuzzy, interim definition of Mansfield's role is gone. He's signed on to his new SVP position for two more years, and it's a fresh and probably even more important challenge.
In his email explaining the move to staff, Cook gave away how critical Mansfield's new job is. He explained that Mansfield's new group "combines all of our wireless teams across the company in one organization, allowing us to innovate in this area at an even higher level. This organization will also include all of our semiconductor teams, who have some very ambitious plans."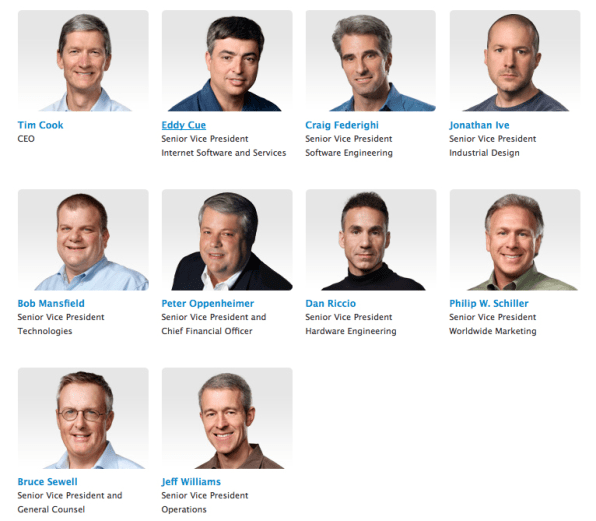 Steve Dowling, Apple's director of corporate communication, told Fast Company that Mansfield is positioned at the same level as Ive, Eddy Cue, and Craig Federighi in the new structure: "He's right there on the executive team…They're all senior vice presidents."
Reinforcing Cook's statement, Dowling noted that "The new group described in the press release is going to oversee all of the wireless technologies and then all of the semiconductors."
The importance of this move comes from what may be a new style of product management inside Apple. Famous ex-Appler Matt Drance noted in a post that he saw the new "regime change" as "a profound change in Apple's organization going as far back as I can remember. There's a long-standing pattern of separating watershed products important to the company's future. The Mac and Apple teams. Mac OS X and Classic. The iPod division. iOS and Mac OS X." In a separate email to Fast Company, Drance added that this argument also applies to Mansfield. His role change "is in line with the rest: clear leadership in a strategic area that spans across products. Apple is doing serious technological research, not just traditional 'product development,' and this reorg solidifies that idea."
While Dan Riccio is still heading up the part of Apple that polishes the engineering design and manufacturing details of how Apple's products actually fit together and work, Mansfield's old role, he himself is now heading a brand new division of Apple that controls everything about the future of some of the most critical bits of hardware inside each product: Chips and networking.
His new role includes all of Apple's semiconductor teams, a diverse group of experts that's likely influenced by a number of high-profile chip company acquisitions Apple's made over recent years. We already know how important Apple's own chips have become to the company: The A6 chip in the iPhone 5 is a rarity in that Apple actually customized the reference ARM chip design to ensure an even better marriage between hardware and software. There are many rumors that if and when Apple does make a push into television, it'll use its own ARM-based chips to power the hardware. There're even a few rumors that Apple's chips may soon have an even more critical role: Severing Apple's dependence on innovation in chip-maker partners like Intel to improve its Mac computers.
Mansfield is also in charge of all of Apple's wireless teams, meaning technologies like 3G, 4G LTE, Wi-Fi, Bluetooth, and…yes…NFC. Could this lead to all Apple devices communicating far more seamlessly? It seems quite likely, especially given that Mansfield has a background in semiconductor design, and he's now in a position to ensure that Apple's future processor chips can work in 100% harmony with its networking chips. In an era of the "internet of things" this is going to be critical.
The new oversight by Mansfield actually means he's in a key position to influence the subtle balance of Apple's complex technologies. Chip design influences processing power of a device (which in turn influences the fluidity of UIs and the way apps run), and also how much battery life devices can manage–two key characteristics that seem to be defining the iPad Mini's benefits over its peers, for example.
With Apple confirmed in its most recent finances to be upping R&D spending by a billion dollars, you can argue that Apple is hoping Mansfield can achieve some marvelous progress in its mobile device power (and perhaps desktop PC power too) and add still more polish to the tight hardware synergy that really does mean Apple products "just work" when compared to their peers. Maybe we'll even see a little more decisiveness about NFC, now that Mansfield is in charge of Apple's entire wireless tech, which may be the key to Apple tackling the mobile payments boom.
The fact that Tim Cook has effectively put Apple chip design and networking on the same level of importance at the executive level as Jon Ive's design prowess is another clue here. Expect still more polish, cleverer wireless, and even more precision in technological design and manufacturing. These are qualities that Google, Microsoft, and Amazon, already struggle to compete against.