"Apple has a different business model than the Dell business model," David Johnson says. "The reason we didn't come up with [the iPad] is because there wasn't an OS provider that could work with a tablet."
Over a fruit plate and diet Coke at Locanda Verde, a TriBeCa restaurant, I had just asked Johnson, Dell's SVP of corporate strategy, why Apple (and not Dell) was able to create the iPad. It was part of a larger conversation about Dell's approach to innovation.
Dell, once the world's top PC maker, has struggled to adapt to dramatic industry changes, as Asian rivals such as Lenovo continue to squeeze its PC market share and consumers increasingly turn to mobile devices such as Apple's iPad for their computing. Last quarter, as the company cut its full-year outlook due to challenges to its PC business, Dell's earnings dropped 18%, and revenue missed analysts' expectations; its market cap has roughly sliced in half since February. But this week, Microsoft will release Windows 8, the most radical redesign of its operating system, which will give Dell a second shot at capturing some of the tablet market and reviving part of its decelerating PC business.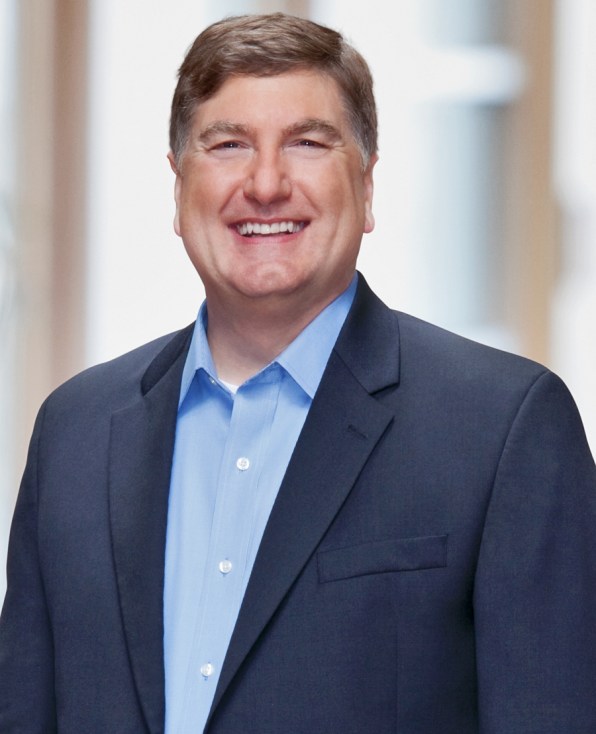 Johnson says Dell did not produce the iPad because of its reliance on Windows. Traditionally, hardware makers like Dell and HP have licensed Microsoft's operating system for its PCs. But due to the unprecedented success that Apple, which controls both its hardware and software, saw with the iPhone and iPad, Microsoft and Google were forced to focus on creating mobile OS solutions for its hardware partners. "In order to come out with a tablet, you had to have the ability at that time to influence and manage the power architecture, as well as a software layer," Johnson says. "The reason why Apple has had so much success is because they've vertically integrated all of that into their environment. If you step back and look, that's not been Dell's historical model. We leverage and integrate others' technologies."
"But in this particular case, those other technologies didn't exist until now," Johnson continues. "I can simplify it to say that the Android system didn't work in a tablet form factor, Microsoft wasn't ready, and we're not an OS provider–we had a dependency on the OS providers."
To avoid the downsides of dependency between software and hardware makers, some players in the space have started to move toward Apple's verticalized model, which many believe allows for more innovation and polished products. As Johnson explains, "We've had this long-standing, extremely successful Dell model, and that model has shifted." Google, for example, recently bought Motorola Mobility, signaling an interest in the hardware space; Microsoft, too, will soon release its Surface tablet, which will compete with many of its own partners' products.
But why didn't Dell foresee such radical industry changes and try to adapt earlier? HP, for example, acquired Palm for its WebOS software, which would power new HP smartphones and tablets. Though ultimately unsuccessful (Apple now sells more iPads than HP does PCs), HP saw the rapidly evolving landscape and tried to keep pace.
"When you say, 'Well, HP saw it and bought Palm,' you're correct, but having the OS layer is only a piece," Johnson says. "When it comes to the application layer, you have to make sure you have enough velocity to attract the application layer to your platform. And that's a bridge too far for most companies. That's not Dell's strategy. That's clearly Apple's strategy. It is working for Apple, but that is not Dell's strategy. There is clearly a fundamental difference in the model in terms of the skill sets [needed], and we didn't have an OS layer."
I couldn't help but ask whether Dell was experiencing the innovator's dilemma. The company is being squeezed from all sides: from overseas competitors and suppliers as margins decline; from new mobile markets created by Apple and Google that Dell has yet to make an impact in; and even from its main ally Microsoft, which is stepping on Dell's toes with its hardware entry. Has Dell reached an inflection point?
"First of all, I acknowledge all the points you make, and if we were approaching the market to just be another purveyor of devices, we'd be feeling exactly what you're articulating," Johnson says. "I hear what you're saying, but I think of the innovator's dilemma as somebody having a huge profit pool and then they don't want to catapult to the next generation because it attacks that profit pool. I don't consider this the innovator's dilemma at all. There are a lot of places where I do agree with you but not here."
As Johnson explains, the biggest disruption in the last several decades has been the convergence of the consumer and enterprise spaces, part of the reason for Dell's sharpened focus on corporate clients. In such heterogeneous environments, filled with PCs and mobile devices, Johnson says Dell can provide unique value in providing management, networking, security, and data solutions. "We're really focused primarily on that," Johnson says. "Our PC business is actually very healthy. It's a different investment."
And as for Microsoft's Surface tablet, which will vie with Dell's tablet products, Johnson says, "This is not a catastrophic event from our perspective. I mean, how many purveyors of the Windows operating system exist today? They're just another purveyor."
Because of the fast-approaching launch of Windows 8, Johnson is bullish about Dell's product line, which includes laptops, tablets, and hybrid PC-tablets. I ask what Windows 8, with its novel interface and mobile-centric applications, could mean for Dell in the coming future.
"You know, I'm not the expert on Windows 8," Johnson says. "But the people in Dell that are using it are pretty excited about it."
[Image: Flickr user Leon Rice-Whetton]