In 2005, Rebecca Tomsyck left her psychiatrist practice in Charlotte, North Carolina, and joined the Army. She was 53.
During her seven years in the service, Tomsyck who's regularly based in Germany, has served on the edge of the action during U.S. missions in Iraq and Afghanistan, where she learned just how valuable an experienced psychologist can be in today's Army. In fact, in 2011, Colonel Tomsyck was awarded a Bronze Star for exceptionally meritorious service.
But the most surprising thing to come out of her second life as a solider was what the trained, seasoned psychologist learned about fear, stress, and control–often in extreme circumstances.
Tomsyck considered joining the service back in the '70s, but her mother nearly had a fit, she says. Then after the attacks of September 11, 2001, she found herself again looking for a way to serve. At the same time, she was searching for a way to shake up her life before life shook her up. Her psychiatric practice was growing so fast it had started to get away from her. "I'd tried many ways to adjust my schedule, but the demand was so great, I couldn't get control of it. I was close to burning out, but I didn't have a clue at the time," Tomsyck says.
So she enlisted.
She and her husband had always dreamed of living in Europe and part of her deal with the Army was that in exchange for the years of experience she brought, she wanted to be based in Europe. She's currently stationed in Germany. "This is my first and only duty station–if you don't count six months in Iraq and six months in Afghanistan," Tomsyck says.
After a little more than a year on active duty, a Commander called looking to fill a vacancy in Iraq. Tomsyck volunteered. She was deployed to a small forward operating base in an old hospital building right across from Sadr City. "We saw a lot of action," she says. It was a three-month tour. "But I stayed for a total of six months."
In July 2010 her number came up again. "I was the one in Europe with the longest time between deployments, so I was deployed with a combat operational stress unit and was on loan to the Air Force at the hospital in Bagram, Afghanistan," Tomsyck says. There she was made Commander of the Combat Stress Resources in Regional Command East. "My experience was challenging and life-changing," she says. "I had a terrific team."
"I had no earthly idea that the Army needed psychiatrists, but it turned out I had a skill they could use," Tomsyck says.
In Iraq and Afghanistan and even at her home base in Heidelberg, Germany, she's dealt with soldiers whose wives are having affairs or whose children are sick back at home while they're stuck overseas feeling helpless. She's addressed interpersonal issues between soldiers and supervisors. "In Heidelberg, the majority of what I'm seeing people for is very similar to my private practice–depression, anxiety disorders, sleep issues. The big difference is I see a lot more PTSD that's related to combat," Tomsyck says.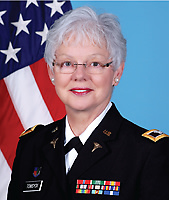 "Sometimes people reacting to losses–that's pretty intense."
Running a psychiatric practice in peacetime in the U.S. was one thing, but in Afghanistan and Iraq, she was dealing with exhausted, often very young men and women. "It's tough not to internalize that," Tomsyck says. Add trauma and her own exhaustion–"You need to take care it doesn't consume you." To cope, she developed a unique set of skills.
"In Iraq we were mortared an awful lot, but I wasn't afraid because I came to realize that I had zero control over what happened. Once I recognized that, there was an element of peace that accompanied that. I got to that place pretty quickly in Iraq, and I recreated it pretty quickly in Afghanistan."
At times, Tomsyck has found herself on the figurative couch. "We all process with each other often in a group setting, as a team. And we have counseling services available to us. I talk to a German priest on a regular basis–about matters of faith, matters of walking forward."
The Army's usual age cutoff for doctors is 52–Tomsyck was 53. She was accepted with some extra paperwork, she says. She started active duty seven years ago in September.
I'm a pretty adaptable person and tried to approach this with an open mind, but the officers basic course in San Antonio, Texas, was really hard," she says. It was hot. The physical challenges were not created for someone approaching retirement age, even though she came across a 58-year-old family doctor and a 56-year-old cardiac surgeon during her three-month basic course. "I was with a wonderful group of young officers, who helped me with carrying duffel bags and heavy equipment, completing obstacle courses, and sharing responsibilities," Tomsyck says.
She describes the years since uprooting her life in Chartlotte as a dream come true. She travels a lot in Europe with her husband, who's retired. "He's my travel agent," she says. Her goal is to spend three more years offering her psychological counseling experience to active duty and veteran combat soldiers in need. She's aiming for a decade in the military. "That would put me at 63 when I stop," Tomsyck says. "But we'll see what the Army's needs are. I'm 60 now. It's been a great adventure, and I have no regrets."
[Image: Flickr user Army Medicine]