Let's say you're the television industry. A Nielsen study says that 88% of tablet owners and 86% of smartphone owners are using mobile devices while they watch your shows. Some of them are playing Angry Birds, but some of them are Shazaming to get more information, checking into content with GetGlue , and tweeting about plots in real time.
This is the point that likely stands out to you: Bad Piggies, Shazam, GetGlue, and Twitter are all making money by capturing your viewers' attention on mobile devices. You, the television industry titan, are likely not. At least not directly.
So what are you going to do about it? You might try to make apps that provide a second-screen environment for each show. But those are expensive to develop, and they don't deliver a great experience for channel surfers who don't want to app surf simultaneously. You might promote the existing social media conversation around your shows, but that won't directly promote increases to your bottom line.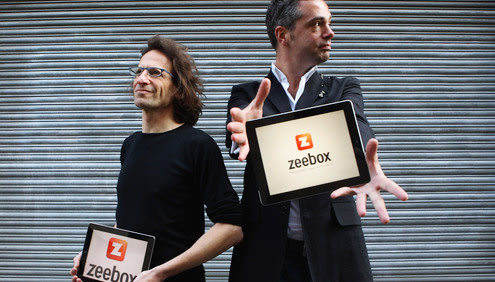 Perhaps it's time to partner up.
That's what NBCUniversal, Comcast (which owns a controlling interest in NBCUniversal) and HBO have decided. On Thursday, the companies announced partnerships with Zeebox, a startup app designed to play sidekick to any television show. NBC and Comcast have invested an undisclosed amount in the startup. British Sky Broadcasting has previously taken a 10% stake.
Launched in the U.K. last January, Zeebox has been downloaded by 1.5 million people there. It launches in the U.S. Thursday.
The app isn't an alternative venue for shows the way Hulu and Netflix are. Instead, it aims to enhance programs as they're watched on a television set. The free app not only acts as a program guide–telling users, for instance, which shows are being most discussed or watched by their friends–but also as a remote. Meanwhile, it allows any broadcaster to add additional content like videos, games, and polls to their shows' digital hub. Even if a show's producers don't participate, users will find a dedicated page for it with relevant Twitter chatter, additional information, and a chatroom on Zeebox.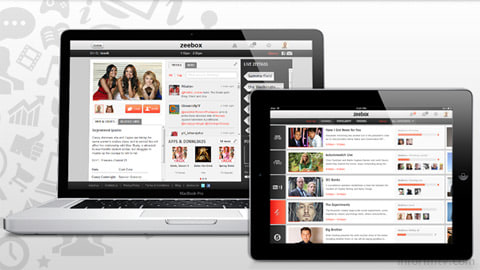 For HBO, which relies on subscriptions rather than advertising, Zeebox could provide an incentive for watching programming on cable rather than through iTunes or your parent's HBO Go account.
If you're still pretending to be the television industry, this probably all sounds awesome. But if you've lapsed back into average viewer mode, you might be feeling left out. What does Zeebox give you that you don't already have? Short answer: Everything. At once.
Want to tweet about the show you're watching? Zeebox has a chatroom for group discussion with strangers. Want to share what you watch with friends? You won't need GetGlue when you have Zeebox. Looking for what to watch next? There's a guide built in. More info on that celebrity the host just mentioned? Use Zeetags instead of Google. Games? Got those, too. Put your Bad Piggies away.
None of Zeebox's many features is the most likely source of new users. That would be HBO, Comcast, and NBC, which will all help promote the app. NBCUniversal EVP of Strategic Integration Page Thompson declined to comment on the scale of the network's planned marketing effort, but Zeebox cofounder and CTO Anthony Rose said it "will be hard to watch NBC without noticing Zeebox."
NBC has 307 shows across 28 networks, including Bravo, USA, and SyFy. HBO has 41 million U.S. subscribers. Zeebox isn't the most appealing second-screen product we've seen—it seems more like a mishmash of everything anyone could ever want to do in front of a television rather than a solution to a specific problem or desire–but by appeasing broadcasters, it has set itself up to be among the most popular.