Apple's forest so cleverly makes us forget the trees.
The iPhone 5 has been improved significantly over the previous generation–from its screen to its shell to its dock connector. But most of the tech specs featured by Tim Cook and crew at Apple's event on Wednesday can be found in other devices by Apple's competitors. Not one, single device, mind you–that's a unique feat Apple pulls off with most of its launches. But take a look at the hallmark iPhone 5 features compared to its competition: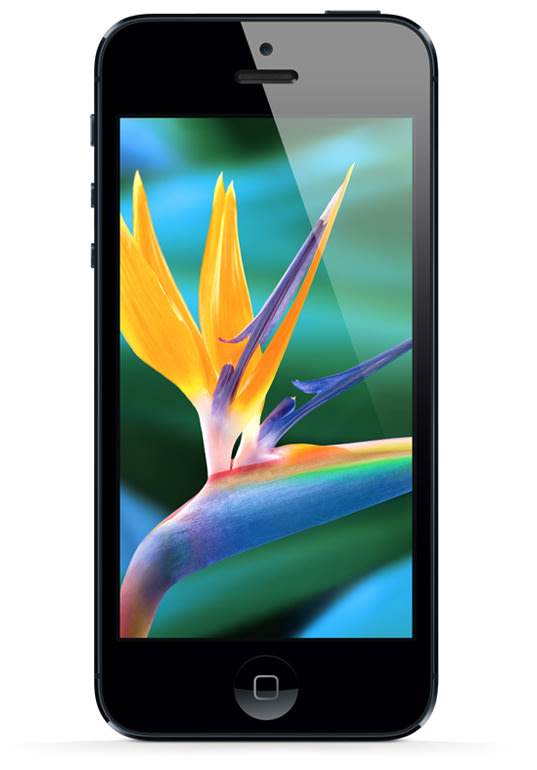 The iPhone 5 has a 4-inch, 1130- by 640-pixel screen that incorporates touch sensor circuitry directly into the core LCD display system. The old iPhone 4S had a 3.5-inch display with 940- by 640-pixels. Both have 326 pixels per inch "retina" resolution.
Meanwhile the Galaxy S3, perhaps the iPhone 5's most direct competitor, has an AMOLED screen measuring 4.8 inches, with 720 by 1280 pixels at 305 ppi resolution. AMOLED is better to look at in direct sunlight, too–then again, Apple's thinner profile is arguably better to hold.
Apple ditched the pointless augmentation of megapixels and stuck with an 8-megapixel rear camera on the new iPhone. But it added sapphire glass to protect the unit, and beefed up the hardware and software to deliver better image stabilization, more face detection options, and the neat ability to snap photos while shooting video. Low light performance has been boosted too.
In comparison, the new Nokia Lumia 920 is relying on its PureView camera system as one of its most saleable features. It too has 8 megapixels, but we're told they're bigger for better low-light power, and it has floating optics for better video stabilization. If Apple's camera packs the same spec, it isn't saying so.
All told, from what we know now about the iPhone 5, it matches the PureView at best. Samsung's S3 camera seems on par with iPhone 5's, too, but it adds smile detection.
Apple's new phone sports 5Ghz dual-band Wi-Fi for the first time, via switchable antennas, which makes it swifter–it's still a 802.11 b/g/n system, though. It also has a 4G LTE system that's compatible with many 4G phone networks around the world and Apple notes it'll compete with many home broadband speeds, with 100-megabits-per-second speeds.
Nokia's new Lumia 920 launched with a speedy 5GHz 802.11 n "MIMO" Wi-Fi system, relying on multiple switching antennas. It's 4G radio supports 10-megabit rates for download. The Galaxy S3 lacks 4G , but does have a 5Ghz Wi-Fi. For any normal user, it's a draw. (Update: The S3 packs 4G in some versions, but not all, nor for all markets. It's still a draw.)
Apple's new iPhone is skinnier than before, and since it has one less glass face and a less-protruding front glass element, it's probably less likely to suffer damage in a fall. It's lighter too, at 112 grams, helping its drop resistance. The mostly metal rear shell should make the phone pretty robust and resistant to damage. Apple's new dock connector is designed, among other things, to be really easy to insert because its connector is mirrored.
The Lumia 920 is nearly two-thirds heavier at 185 grams, and its back face is made of polycarbonate. The S3 for comparison is 133 grams in weight, and has a plastic back. Both the S3 and the Lumia have a microUSB port for charging and data sync (though the Lumia has a wireless charge option)–and while it's small, it's much more fiddly to insert this cable than it seems like it will be on the iPhone.
In terms of individual specs, the iPhone 5 is neck and neck with its peer devices. And critics will say the iPhone 5 lacks a single "hallmark" feature. If you're looking for a camera, the Lumia's pretty tough to beat. If you're looking for the highest resolution the Galaxy S3 is tough to beat and even HTC's got the iPhone beat. But Apple upgraded every single system on the iPhone, including the OS and audio recording (with three microphones) and the design of its bundled headphones.
In other words, it's focused on the forest, not a few trees.
[Image: Flickr user Frank Wuestefeld]