What does a startup sound like? To artist and producer Dr. Dre and Beats Electronics CEO Jimmy Iovine, the soundtrack of success is the insistent bass thump and synth hook of 50 Cent's platinum-selling hip-hop anthem "In Da Club." The duo, along with president and COO Luke Wood, listened to the track hundreds, maybe thousands, of times as they were tuning Beats by Dre, the first pair of headphones introduced by Beats Electronics.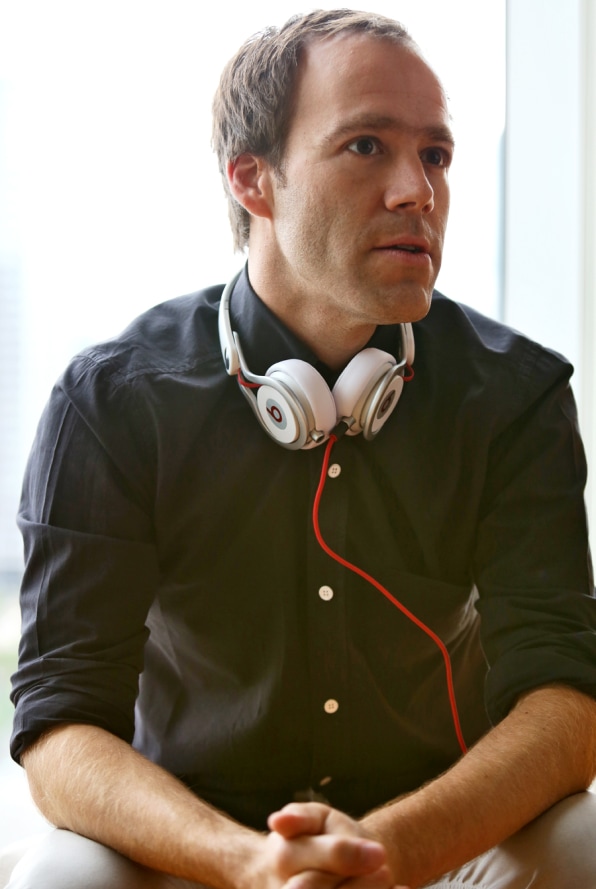 When the now-ubiquitous headphones debuted in 2008, Beats defied the foundering economy. Flaunting a hefty price tag north of $300 , Beats lured customers away from flimsy $20 earbuds with their signature turbocharged bass and sleek design. Just over three years in, Beats Electronics has snapped up 51% of an estimated $1 billion headphone market, according to retail analysts at the NPD Group. "So far we've had triple-digit growth in every market in the world," Wood tells Fast Company.
Although he says Beats Electronics is about to get even bigger, Wood insists there was no grand plan to create an empire. Instead, "We are slowly creating the narrative about the mission of Beats," he says.
"We didn't come in thinking to be the authority on sound in the consumer audio space," he says, defining the company as subversive and oppositional. "[Dre, Jimmy Iovine, and I] naturally gravitate to the outside. We push left when all is moving right. We follow our noses."
That meant diversifying beyond the headphones. Over the past 18 months, Beats Electronics got busy building its sound technology into HP computers; in Chrysler 300s, Dodge Chargers, and Fiat 500s (all owned by Chrysler), and selling a majority stake in the company in exchange for a $300 million investment by smartphone manufacturer HTC (Dre later bought back $150 million worth of the shares). Incidentally, that deal earned Dr. Dre a cool $100 million, putting him squarely on top of the heap of high earning hip-hop stars–and the only one to make bank without a new record. In July, Beats Electronics acquired the MOG subscription digital music service, adding content to its burgeoning business.
Stay True
Wood may say that the story of Beats is unfolding one verse at a time, but there is a repeating chorus.
"Our compass is so true," he says. "We always go back to 'How does it sound?'" Given Wood's background as a musician (he played guitar in the '90s alt-rock band Sammy) and long tenure in A&R, he also understands that the business moves fast and reinvention is necessary for survival. So he says, "Every day we rebuild what it can be. We trust every day we'll have a great new idea."
Make Some Noise
"The minute you hear something you haven't before, you gravitate to it," says Wood. "That is not something normal to consumer electronics."
The space was "rudimentary and safe" for 25 years, he says, not only for sound but design, too. Dolby technology had become an industry standard for audio solutions, but it lagged behind as visual advancements in HDTVs and computers leapfrogged ahead. In the process, Wood says, "Sound was completely marginalized."
Beats Electronics wasn't built just to sell more add-ons for devices. It grew out of a desire to catch sound up to better visual technology as users migrated to listening in cars, on phones, and on laptops. "We chase everywhere we can bring emotion back into sound," Wood says. "We wanted to affect the sound of the device in a simple, pure, and clean way."
Spot(ted) On Marketing
Audiophiles may turn up their noses (and turn down the volume) on Beats but their cache among music's cognoscenti is undeniable. While artists, celebrities, and Olympians alike sport custom designs (the velvet rope VIP room of users) the rest of the crowd can buy the brand off the shelf. Those sightings translate to roughly one-in-five premium headphone purchases, according to NPD Group's recent study.
Wood says it wasn't a calculated marketing move or even an endorsement. It just illustrates Beats' "prerogative to move culture." He says, "We are not chasing a trend," but rather working with artists who "could testify that is how music should sound." Wood admits Beats' founders are fortunate to have access to some of the biggest names in the entertainment industry, such as Gwen Stefani and Wil.i.Am, as well as influential athletes. LeBron James approached Beats a month before the 2008 Olympics to get 15 pairs for the team. Beats has also worked with Lady Gaga and Justin Beiber to produce special series.
But Wood continues to be amazed by the number of music videos filmed in recording studios that feature artists jamming with Beats on. "I would equate it with Eric Clapton playing a Stratocaster. It's an instrument of choice."
Play On Repeat
Wood says as the company grows beyond its namesake product, "I'm mindful every day of that pivot," especially as Beats Electronics delivers sound into more diverse platforms. Wood believes magic and creativity can come from any part of the company, from how they do enterprise or research, to how they deal with vendors. "I don't have legacy systems to unwind," he notes. "If we always think forward to where we haven't gone before, you have a company with incredible longevity."
[Image: Flickr user Duncan Hodges]