As more of their interactions move to digital platforms, consumers will also leave behind much more data about what they are interested in, since they will be visiting sites and consuming media that captures everything they do. This will give advertisers the opportunity to get to know them much better so we can tailor our offers and products accordingly.
Increased visibility into how consumers interact with your brand will also increase opportunities for interacting with them. We have seen the shift already. Marketing today is a lot less one-way and much more about engaging consumers through conversations, relationships, interactive entertainment, etc. This tends to involve many more interactions between consumer and brand, which again generates a lot more data.
The Internet works economically because of the effectiveness of the online ads, and that effectiveness is driven by the data that is collected and used to personalize the messages. No data gathering, no effective ads, no free content.
With all this data gathering, the privacy issue is hugely important. And without context, it can seem creepy to know that people are tracking your every move when you shop or interact with digital communications.
There might be "data walls," like the pay walls that exist on certain sites, such as the Wall Street Journal's (wsj.com). If you go to that site, you can read the beginnings of most articles for free. To get the complete content, you need to sign up. Well, the same thing could happen at your favorite website. You would get limited access for free–and no information about you would be collected–but to have access to everything, you would have to agree to have data about you collected and used for targeting.
I do believe in a couple of years the privacy debate might fundamentally change. Whereas it is now very much about limiting the downsides of data collection, the focus in the future will be more on the advantages of having a well-detailed individual public profile and how companies can add a lot more value to our lives by knowing more about us.
This may sound Pollyannaish, but it is already happening. Millions of people allow Foursquare to capture real-time data about where they are geographically so they can get tips about things to explore in their immediate vicinity. Foursquare does not capture this data behind people's backs. They do it openly, and people agree to take part because they can see the value. Mint.com, now part of Intuit, has a value proposition that says: "You tell us your financial situation in detail, and we will give you advice to help improve it." Consumers find it so compelling, they eagerly provide their most intimate financial information so that Mint.com can help them optimize their personal finances.
Recommendation engines such as Amazon and Netflix are more widely known. They create value for the user–"if you bought/watched this, you will probably like that"–in exchange for personal information. All these firms have changed the game. They are not semi-secretly collecting data about individuals in the hope of not being found out. They aren't putting "opt out" clauses in fine print, hoping customers won't notice it (and opt out). They make data collection and value creation a central part of the value proposition, so that people actively want to participate.
My colleagues at Ogilvy Singapore came up with a very clever way to capture customer data for Pond's. The beauty care company has a skin care analyzer that people in a drug-store or at a cosmetic counter hold to four points on their face. The device then measures the composition, moisture, and oil rate of the skin. Based on this data, it determines the best Pond's product for the person's skin type. Customers are more than happy to submit their personal data to Pond's. The skin analyzer is the perfect data capture device.
Nike Plus is another great example. It is comprised of a kit that includes a sensor called an accelerometer (a fancy name for a motion sensor) that is placed in or on one of your shoes, and a receiver that attaches to your iPod Nano. The sensor detects each stride a runner takes and the information about speed and distance can be calculated. This way you are providing Nike with detailed personal information about your workouts. People don't mind since Nike uses that information to make their lives better. Obviously, you need to provide Nike with a lot of personal information to make this work.
In all these cases, consumers are voluntarily giving marketers information about themselves. I think the tracking of consumer behavior in all cases should be voluntary. If you don't want to disclose information about yourself, that should be your right. Just as it is the right of the people providing content to charge you for it, if you decide not to share details about yourself.
Even if you can't persuade consumers to hand over data, others might be able to. And they can always resell it to you with a customer's endorsement. This is already happening on Foursquare, where you will get a voucher or an offer from a restaurant or coffee shop because you are in the neighborhood.
It would be great if the privacy conversation would change to one that stresses the potential value exchange, and as I said, I think it is going to happen.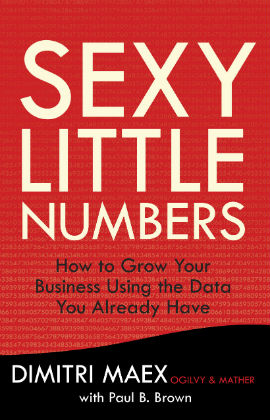 From the book SEXY LITTLE NUMBERS: How to Grow Your Business Using the Data You Already Have by Dimitri Maex with Paul B. Brown. Copyright 2012 by Ogilvy & Mather. Published by arrangement with Crown Business, a division of Random House, Inc.
Dimitri Maex is Managing Director of OgilvyOne New York, Ogilvy & Mather's Direct and Digital operations. He also serves as the head of the company's Global Data Practice, a team that has been recognized by Forrester Research as being number one in the industry. Renowned worldwide for the analytics solutions he's developed, he has helped companies such as GlaxoSmithKline, IBM, Philips, Siemens, Sears, UPS, and many other global enterprises employ hugely profitable and radically new uses for their data and analysis.
Paul B. Brown, a long-time contributor to The New York Times, is a bestselling author who has collaborated on numerous business classics including Customers for Life (with Carl Sewell) and Your Marketing Sucks (with Mark Stevens).
[Image: Flickr user Bethan Phillips]