If you're holding an iPhone, the tools to create compelling professional video are, remarkably, already in your hands. The market for them already exists online or in mobile. You already have an eager audience, conditioned not just to appreciate video, but more and more to expect it.
People are uploading 48 hours of video to YouTube every minute–the site now has more than 56 billion videos. Were NBC to try and replicate the content that YouTube has accumulated in just the past 5 years, they would have to continue to produce content 24 hours a day, 7 days a week for 3,000 years.
The move to video is already happening. Yet if no one watches your video, then you're wasting your time.
You need to be able to tell your story with moving images as with the written word. There is a grammar to video, as there is to writing.
Some basic rules for making compelling video for your business:
When I run seminars I tell people if they learn nothing else, learn this. Don't move the camera when you are shooting. Ever. Just don't do it. Hold each shot for a count of 10 seconds. Pretty much anyone can hold the camera still for 10 seconds, that's why we don't recommend tripods (unless you're shooting architectural pieces or art on the wall). 
 
Great video and movies are actually comprised of stills. Motion is in the edit. If you want an example of this, watch the shower scene from Psycho. Watch it frame by frame. You'll notice that the camera never moves. If you don't like Hitchcock, you'll find this true in almost every film. There are moves, but they are carefully planned out. For the beginner, no moves. See also the famous shoot-out scene from The Good, The Bad and The Ugly or the open from James Bond: Quantum of Solace. It look like the camera is all over the place, but when reviewed shot by shot you can see it's all still.
People have short attention spans. If the beginning is boring, they are not sticking around. Ever watch something online? Ever dump out of it before it was over? 40% of people dump out in the first 10 seconds. You have to reach out through the screen, grab them by the throat and say "Hey! This is really important! Pay attention!" If you save the goods for later, there will be no later–no one will be left to watch.
Ever see Fight Club? How does it start? The gun in the mouth! Best shot. Ever see Mission Impossible? How does it start? Action! Even if you're a plumber shooting flanges, start with something big.
People are naturally geared to hear and receive a story. We have been telling stories since Grok and Iggoo sat around the fire in the cave drawing animals on the wall.
Storytelling is one of our most basic instincts. I know you want to sell me a flange, but if you're going to do it in video, make it compelling.
Look at No Reservations on the Travel Channel, for many years their most successful show. People watch it because they like Tony Bourdain and they like the story of what happens to him. Where he goes each week is, in fact, an abstraction. No one tunes out because it's Paris and not Tokyo.
Ever watch Top 100 Rock Hits of the 80s? Why do you watch? To find out what was number one. That's arc of story. If they started the 4-hour epic with the #1 hit of the 80s, how long would you watch? About 2 minutes? It's not the content, it's the story.
Nothing is better at driving away an audience than a talking head blathering on endlessly to the camera. Trust me, even if you think it's really important, no one wants to hear it. Here's a good test of how compelling your video is: walk into a bar, go up to the first attractive person you see and say "let me talk to you about flanges."
Does that work? I don't think so. Neither does your "talking head." Show me something cool instead –even if it's just how the flange works. Imagine Casablanca done with an on-camera host!
People have very limited attention spans. The video has to rocket along. As soon as it gets boring, your viewer is gone. So keep it to under two minutes. One minute is better!
Onto the edit
When it comes to editing, there is a wide range of edit software available. Most are good. My favorites are iMovie11 for the beginner and FCP for the more adventurous. As for editing per se, we are still at the point where you can't do much more than simple edits on the iPhone alone (though I expect this will change in time), but an iPhone married to a tablet or a laptop is a killer combination.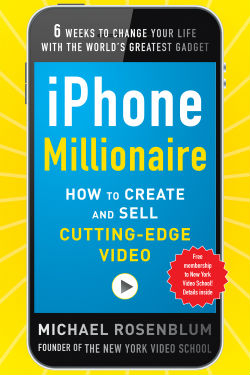 As an entrepreneur, you want to sell your product and your business. Images and stories stick have a strong impact on us and stick with us for years. Try this little experiment: pick a word, like "Paris." What do you see? Try again: "detergent," "car," "cat." They're all images from movies, TV, or the Internet. That's what sticks, that's what sells.
Over the past 25 years, I have taught tens of thousands of people to create their own broadcast-quality video on very simple and inexpensive equipment. It's easy, simple, and fun. And now, with an iPhone, anyone can create broadcast quality video on their own. You don't need a professional crew. You don't need to pay a professional production company. All you need is an iPhone and an idea.
And keep that camera still.
Michael Rosenblum is the president of RosenblumTV.com and of The New York Video School. His newest book, iPhone Millionaire, is available from McGraw-Hill.