A handful of web publishers have noticed something unusual about their incoming traffic lately: For the first time in years, readers are coming from Digg.
Once an Internet kingmaker with traffic that trumped Reddit's, Digg has been largely absent from publisher traffic reports since it began a dramatic downward spiral about two years ago. In the last month, however, writers from blogs such as Buzzfeed, The Verge, Gizmodo and AdAge have noticed a resurgence.
"We work with almost every major publisher, and for the first time in a year or two we've been seeing Digg pop up in dashboards across the web as a major referrer," Tony Haile, the CEO of analytics provider Chartbeat, tells Fast Company. "It's also been a topic of conversation between our Product team out in the field at various newsrooms."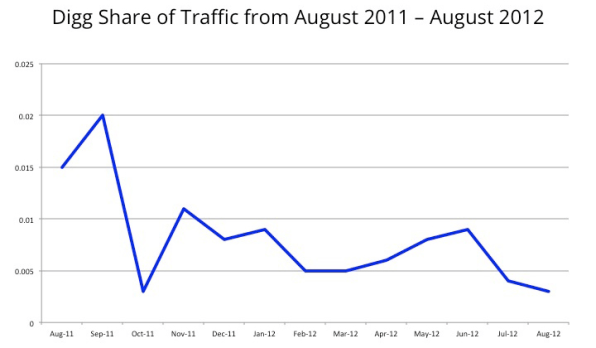 What's odd is that the sum of daily activity on Digg hasn't changed much. Shareaholic, a company that makes content sharing, discovery and measurement tools used by 200,000 websites, tells Fast Company that in the last 30 days its publisher customers have actually seen a very slight .001% decline in referral traffic from Digg. And Jake Levine, Digg's General Manager, confirms that the site's traffic has not changed dramatically. Digg has about 125,000 daily active users, and it sent 100,000 visits to publishers last Monday (the last day it measured).
So if Digg isn't getting more traffic, and it's not sending more traffic, what did change that's making publishers take notice?
To understand you'll have to rewind to July, when Chartbeat's parent company, Betaworks, announced it had acquired Digg's assets for $500,000.
At that point Digg was displaying few signs of life. Its once-booming traffic had plummeted to a relative trickle in the wake of a disastrous 2010 redesign. Its famous founder, Kevin Rose, had departed. A boost from a new Facebook integration had proved effective but not sufficient. And what was left of the team after massive downsizing had been sold to the Washington post.
Betaworks essentially acquired a URL, a brand name and a couple of million users, many of which were actually robots gaming the submit button.
Investing in a site that looked doomed to sit beside MySpace as a cautionary tale of precarious Internet power might seem foolish, but the acquisition made sense in the context of Betaworks's other social news company, News.Me. That startup had launched a personalized email newsletter and an iPhone app, but it was looking for a way to reach a more casual news consumer.
"It's really where we wanted to take News.Me anyway," says Digg and News.me general manager Levine. "Digg just gave us the opportunity to do that, and to do it at a scale on day one that we would never have had with just News.Me."
News.Me took six weeks to completely revamp Digg, and it launched the new version on July 31st. That version works nothing like its predecessor. Where Digg contained thousands of pages, News.Me's version has just one. And where Digg relied completely on a system of upvotes to declare which stories made the front page, News.Me has added Twitter, Facebook and editorial discretion. All that's left of the classic Digg is some character, the upvote and the name.
"When you say Digg, people know you're talking about news, they know you're talking about social news," Levine says. "They know it's a verb, that you can Digg something. It stands for participation, it stands for sharing, it stands for conversation."
The site behind that name, however, is now a completely different beast. One likely explanation for the increased referral traffic at some publications is this: Along with its changed algorithm and layout, Digg is picking up different types of stories. As Haile puts it, the site is linking to more articles from reputable publishers rather than "kittens pulling pranks in a Cthulhu mask."
"It's hard to say, but that makes sense to me," Levine says, adding: "Digg had a serious spam problem before we took it over, and we've done a lot of work to mitigate those problems. So we are most definitely driving traffic to different (and hopefully better) sites."
It's still too early to say that Digg is back from the dead, but its six-week-long revamp has in one way or another changed the direction it sends users. The next trick will be to send more of them.
[Image: Flickr user Wessex Archeology]