For the first time in its 8-year history, the Clinton Global Initiative (CGI) has assigned a theme to its Annual Meeting–"Design for Impact"–to remind participants that the goal of the organization is action, not simply ideas.
"When the history of CGI is written, it won't be about the meetings, it will be about the impact of the commitments," says Ed Hughes, CGI deputy director and program director, referring to its member's Commitments to Action. "What we need to continually stress is that the meetings over the course of the year are the means to a greater end of motivating action and achieving impact."
President Clinton has always described CGI as being in the "how" business: turning ideas into action. Having participated in CGI since 2008, I have seen the power of the partnerships between companies, NGOs, philanthropists, and governments in creating and implementing solutions and the astonishing results. I've seen small NGOs with new approaches rise almost overnight by leveraging relationships developed at CGI (such as Build Change and Refugees United), and already effective NGOs advance much further (such as Landesa, previously "RDI"). According to CGI, Commitments to Action are already improving the lives of nearly 400 million people in more than 180 countries.
Established by President Clinton in 2005, CGI has convened more than 150 heads of state, 20 Nobel Prize laureates, and the CEOs of corporations, foundations, and NGOs, as well as philanthropists to address the world's most pressing challenges. Through partnerships among its members, CGI has facilitated 2,100 Commitments to Action, which will be valued at nearly $70 billion when fully funded and implemented. Hosted in New York City for the eighth year in a row, CGI is scheduled from September 23-25. Here's an overview of the changes on tap for this year's meeting: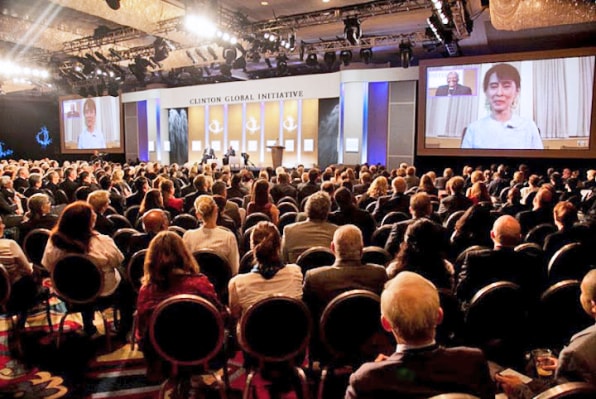 "Design For Impact"
In describing "Designing for Impact," Hughes says that "the goal is to figure out the world you want to live in, rather than just fixing the one you are in."
"'Designing for Impact' will bring together some of the world's most influential leaders, thinkers, and doers to focus on designing a better future where increased profits, equal opportunity, and a clean, safe environment aren't at odds," explained Robert S. Harrison, CEO of CGI. "When many people think of the word 'design,' they think about beautiful objects like an iPhone or a well-designed building, and while those are very much part of the concept, design can also be an approach. As a verb, it prompts us to get out ahead of a challenge and design the world as it should be, including the steps to get us there. We hope, in addressing global challenges, CGI members will consider how to design solutions that are creative, practical and inclusive."
8 Tracks To Catalyze Action
This year's Annual Meeting has expanded the number of tracks from four to eight. "We decided the previous topics were too broad," explained Hughes, "so we shifted to be more specific in order to encourage action, facilitate partnerships, and build communities for members to become more self-reliant and interdependent, not only at the Annual Meeting but year-round."
The eight tracks are: the built environment, education and workforce development, energy and ecosystems, girls and women, global health, market-based approaches, response and resilience, and technology.
Greater Variety In Breakout Sessions
While the plenary sessions are very popular, the action often takes place in the breakouts. This year's format has been shifted to provide a greater variety of small sessions; they're designed to help members explore new ideas, share knowledge, create new partnerships, and support existing ones. There will be three types of breakouts:
Commitment workshops: For members to present what they have achieved, share lessons learned, and elicit feedback from members with expertise in a multitude of disciplines.

Design labs: To pose a challenge to the room and brainstorm solutions. Designed to be real time incubators for ideas and possible projects. Hughes emphasized, for example, that there is robust interest among members–as well as Secretary Hillary Clinton and Chelsea Clinton–in finding ways to expand opportunities for girls and women to be part of solutions to global challenges. The goal of the design labs is to spur new partnerships and Commitments to Action.

Conversations: Major public news figures will facilitate discussions with thought leaders highlighting innovative action and approaches to global challenges.
Calendar Shift
For the past seven years, CGI has been held from Tuesday to Friday to coincide with the week of the U.N. General Assembly General Debate. This year, since the U.N. General Assembly General Debate overlaps with Yom Kippur, CGI will instead begin on Sunday and end by Tuesday in respect for the holiday. Yom Kippur, a day of fasting, prayer and contemplation, is the holiest day of the year for the Jewish people.
Confirmed Participants Include: Fazle Hassan Abed, Founder and Chairperson of BRAC, Jim Yong Kim, President, The World Bank Group, Nicholas D. Kristof, Columnist, The New York Times, Carolyn Miles, President and CEO, Save the Children, Luis Alberto Moreno, President, Inter-American Development Bank, Irene Rosenfeld, Chairman and CEO, Kraft Foods Incorporated, Luis A. Ubiñas, President, The Ford Foundation, John Chambers, Chairman and CEO, Cisco, Klaus Kleinfeld, Chairman and CEO, Alcoa Inc., Robert E. Rubin, Co-chairman, Council on Foreign Relations, and Former Secretary, U.S. Department of the Treasury, Carlos Slim Helú, Founder, Fundación Carlos Slim, Hans Vestberg, President and CEO, Ericsson, Jacqueline Novogratz, Founder and CEO, Acumen Fund, Inc., Denis O'Brien, Chairman, Digicel Group, Sally Osberg, President and CEO, The Skoll Foundation, Hillary Rodham Clinton, Secretary of State, Fred P. Hochberg, President of Export-Import Bank of the United States, Rajiv Shah, USAID Administrator, Ellen Johnson-Sirleaf, President of Republic of Liberia, and the leaders of many nations throughout the world.
Hundreds of world leaders will be adding their names to the list of participants in the coming weeks. I'll be reporting here for the fifth year in a row from CGI. Please join me to learn how companies, NGOs, philanthropists, and governments are innovating and collaborating to build a better world.