It's always a bit of a drag for new bands when they're too young to have free drinks at the venue they're playing. In the case of Unlocking the Truth, however, the band members are too young to even see a PG-13 movie after rehearsal, but that doesn't mean they haven't already accrued some valuable insight beyond their years.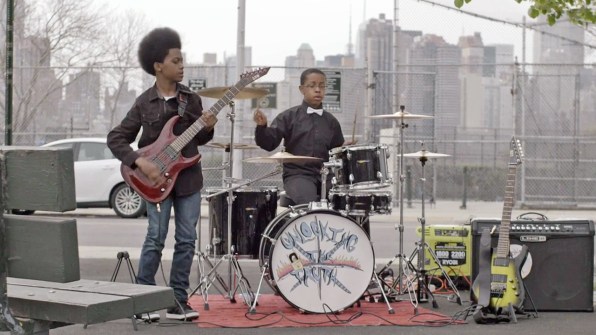 There are early starts and then there are seriously early starts. Incredibly shredding guitarist Malcolm Brickhouse and thunderclap drummer Jarad Dawkins got the idea of starting a band when they were five years old. As wrestling fans, they'd get amped each week at hearing the sounds of 80s-style thrash-metal emanating from televised matches. Brutal bassist Alec Atkins glommed on to the crunchy riffs of Metallica and such through music videos, and he joined the band years later. Together, the boys jam out all over New York, and they've gained a heightened profile this year.
Their performances are energetic displays of technical proficiency. Malcolm and Alec rip around the stage like whirling dervishes, building up to gloriously wonky guitar solos. But just as clear as the boys' on-stage intensity is the bond they have with each other, which underscores a precocious understanding of what it takes to move together as a group. Co.Create spoke to Unlocking the Truth recently to find out their tips on working together as a creative unit while rocking the eff out.
Alec: Malcolm has written the songs that we have right now. We make the beats together and then later the lyrics are written.
Malcolm: When I'm by myself during the week, I make up a riff and turn it into a song. Then when Jarad comes over, I show him the song and he adds his drums to it. Then we teach Alec how to play the bass part of the song.
Jarad: Sometimes when Malcolm can't figure out a chorus, he asks me to write a chorus. Sometimes we collaborate together.
Jarad: Sometimes it can be tough to stick to a rehearsal schedule. But if you love what you do, there will be no problems. And I love what I do.
Malcolm: If you stay dedicated to your music, you will stick to practicing when you have to.
Alec: We enjoy being together, doing what we love.
Jarad: Schoolwork is always first. That's one of the rules of being in the band: You have to keep your grades up.
Alec: During week days, I focus on my school work and on the weekend we practice. The amount of time that I spend practicing is based on how much homework I have. My mom says that school comes first.
Malcolm: We all take a vote on things like choosing the set lists. Our parents make all the decisions about where we're going to play, but we have a little bit to do with it.
Jarad: We usually come together with different, but similar ideas. Sometimes we have to draw from a hat in order for us to make a decision.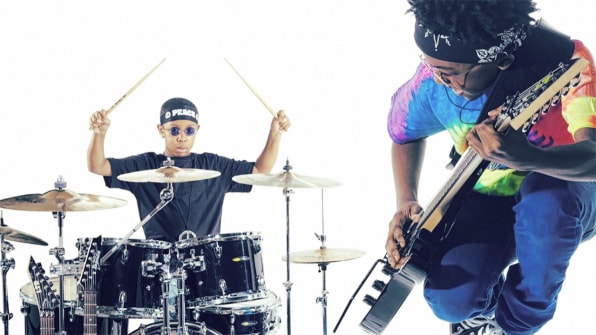 Jarad: This summer, Malcolm and Alec are going to a music camp. I'm still looking for a good drummer's camp to go to. I still want to go to school to enhance what I already know.
Alec: I'm taking private lessons at Brooklyn Guitar School and I am now attending a Music Summer Camp.
Malcolm: I'm going to learn how to read music and fundamentals because I only know how to read tabs. That should definitely help me improve.
Jarad: People notice me on the streets sometimes [since the band's recent popularity] and ask for pictures. I have a lot of Facebook fans now and it seems at each performance I get better and better.
Alec: How other kids in my school react to me has changed. They think I'm cool now.
Malcolm: My life as a kid changed a little, like I don't have a lot of time to do other fun things like play games and skateboard, because we're starting to meet all kinds of people and do a lot of interviews. Other than that, it's the same.
All three members of Unlocking the Truth thanked me for interviewing them. Clearly, they're going to go far.