Maybe it's the too-many-to-count levers and knobs or the polished steel and handcrafted wood cabinetry. Something grabs hold of Foo Fighters front man and former Nirvana drummer Dave Grohl and makes him light up every time he talks about the custom built, '70s-era Neve 8028 analog recording console.
Grohl, a self-taught drummer and guitar player, adds non-fiction filmmaking to his creative bio with the feature-length documentary Sound City, a celebratory history of the San Fernando Valley recording studio of the same name that closed in 2011. Grohl credits the 8028 for rocketing Nirvana to fame with their breakthrough 1991 album Nevermind along with countless other bands from Fleetwood Mac to Tom Petty and the Heartbreakers who also recorded on the custom-built console.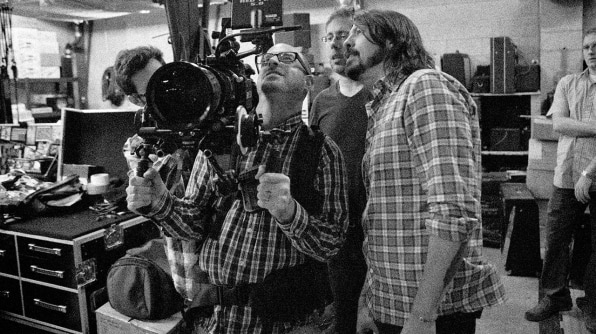 Grohl stepped from behind the camera to interview the musicians and producers that recorded at Sound City over its 42 years in operation. He's an unabashed believer in the authentic Rrock and roll sound created by the 8028, the beauty of analog recording, and the importance of musicians leaving behind their laptops to work together in a studio.
Grohl wants to preserve the Sound City story especially in an era of low-cost, digital home recording driven by Pro Tools software and instant celebrity via talent shows like The Voice and American Idol. At a time when bands sound polished to the point of shiny perfection, Grohl believes the Neve 8028 provides a much-needed burst of rock and roll rawness; so much so that he bought the console from Sound City and reinstalled it in his own recording studio.
Select Sound City alum including Rick Springfield and Stevie Nicks perform their classic songs in the movie. There's also a key performance with someone from outside the Sound City fraternity; what Grohl calls his "full circle" moment when he records with his boyhood idol Paul McCartney.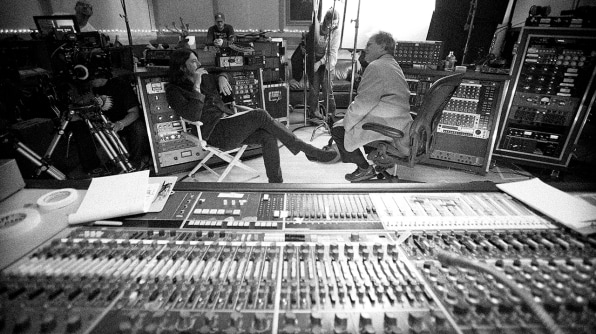 The film is a sweetly nostalgic return to a rundown facility staffed by people passionate about music and the incredible musical artists who came to the space.
Still, the Neve 8020, located far away from the glamor of the Sunset Strip, its clubs and Rock and Roll hotels, remains the film's key character because without it, well, Grohl insists he wouldn't be who he is today.
"That's the thing that's kind of a shame," Grohl says. "Because (the 8028) is considered obsolete; people think why use it? But there's a life to it. There's more to that board than just wires and capacitors and knobs and shit. There's something inside. It's meant to be used forever and I can't imagine it would ever stop working."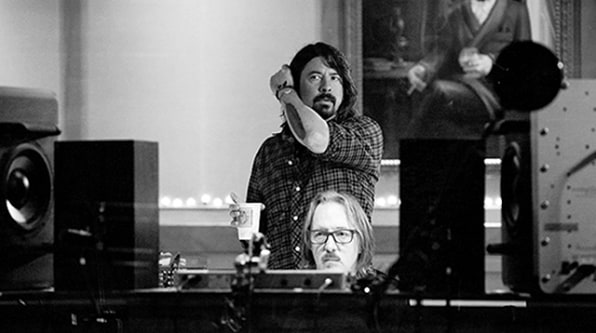 The feature-length documentary, is just the latest chapter in Grohl's Sound City journey. Sound City is available via online streaming via VHX, iTunes, and DRM-free downloads in addition to a theatrical rollout nationwide. Grohl's also planning more Sound City Players concerts from SXSW to New York, London, Berlin and beyond. The Sound City: Real to Reel album is available March 12, although the song "From Can To Can't" featuring Grohl, Cheap Trick's Rick Nielsen, Scott Reeder, and Corey Taylor is out now.
Grohl admits that the first Foo Fighters album he did for fun 18 years ago without any plans to do more and yet, they kept on coming. So when it comes to directing, well, the same thing may happen if he can find a topic that excites him like Sound City.
More importantly, the 8028 console is alive and kicking in Grohl's Studio 606, waiting for the next Foo Fighters album as well as any other artist who wants to come and experience the 8028 sound firsthand.
For musical artists who find it difficult to imagine reel-to-reel analog recording surviving in an era of Pro Tools and DIY digital recording, Grohl and his Sound City team encourage you to give low-fi a try.
"The thing about that board is there's no bullshit in between," adds Sound City producer and veteran recording engineer James A. Rota. "There are no circuit boards, no processing, nothing. It's one of the cleanest, purest signals between a microphone and a recording device that you can ever, ever, ever, experience."
After all the interviews, performances, and archival footage throughout the movie, Sound City asks if analog recording will survive and, more importantly, will music fans remember the magical 8028 console?
Grohl jokes about the extra effort in keeping splicing tape in supply and teaching his young daughter how to handle vinyl records but he's serious about the rousing theme of Sound City. Rock and roll isn't dead, not as long as people still pick up a cheap garage sale guitar and dream of forming a band.
"Nowadays, it's almost easier for young bands," Grohl says. "You can record an album in in your living room for free and with the click of a button you can distribute it to the entire world. If you're really good, you can go out and play a gig and let everyone know you're coming. You have to get outside of the conventional processes we used to use, you know, like radio or records or any of that crap. Ultimately, if at the end of the day, if you're really fucking good at what you do and you go out and play for other people and they see that you're be really fucking good, that's how it starts. But don't expect to be Justin Bieber."
Sounds like the recipe for a Sound City sequel.