To hear the food and beverage industry tell it, big brands today are a boon to the developing countries where they source many of their ingredients; they work on community-building projects, promote sustainable agriculture, and prevent biofuels from taking over arable land. Behind the Brands, a project from Oxfam America, delves into the claims of the biggest 10 food and beverage companies–including Nestle, Kellogg, Pepsico, and Mars–and susses out the truth in their claims. While some companies score markedly better than others on the scorecard, Oxfam explains in a report that their "programs fail to address the root causes of hunger and poverty because companies lack adequate policies to guide their own supply chain operations."
Here are the big takeaways from the Behind the Brands rankings, which rate companies based on seven criteria that address sustainable agriculture issues: women (welfare and inclusion in the supply chain), small-scale farmers (sustainable production, providing a decent income), farm workers (fair working conditions and income), water, land (supply chains free of land grabs that violate rights), climate change, and transparency. Note: the rankings look only at company commitments and policy, not at actual practices. So take all of this with a big grain of salt.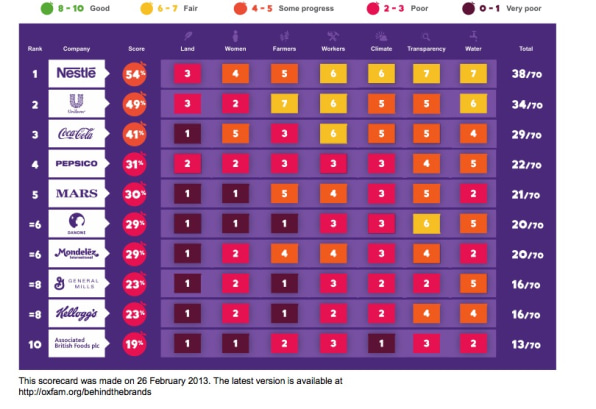 It shouldn't surprise anyone who keeps track of sustainability in the food and beverage industry that Nestle, Unilever, Coca-Cola, and Pepsico score the top spots. But as you can see, they don't actually score that well–none manage to get a rating of "good" in any of the categories, and all of them score poorly on issues related to land.

Nestle scored poorly on the "land" issue because Oxfam believes that it "shows no understanding of how changes in land use affect people and the planet." Unilever scores a notch higher for efforts to take on deforestation. But, says Oxfam: "It needs to explicitly commit to addressing land disputes in its supply chain." In general, both companies lack company policies that address exploitation of agricultural workers and women.

Water is a big issue for most of the companies. Coca-Cola and PepsiCo have policies that monitor their impact on local water access and Nestle has supplier water management guidelines, but that's it. While Oxfam didn't investigate this itself, Nestle has been accused of mismanaging water in areas that already have a limited supply (specifically, by taking up 50% of the bottled water market in Pakistan, where it bottles water next to areas that have little access to safe water.)

Five of the companies (Mondelez, Coca-Cola, Danone, Unilever, Mars) keep track of and report agricultural emissions, but only Unilever has committed to slicing greenhouse gas emissions in half by 2020. None of the companies have policies to help farmers address climate change.

None of the companies are attempting to find out how women are working in their supply chains–information that could help them determine if women are being excluded exploited, or underpaid.

All of the companies except Coca-Cola are part of the Roundtable on Sustainable Palm Oil, which asks palm oil producers to commit to free, prior and informed consent (FPIC), something that helps secure land rights in communities. But that's just palm oil–soy and sugar are also sourced by every one of the companies, and they have no other land grab prevention policies in place.
The companies have all been given the opportunity to respond to Oxfam–and they blame traders, consumers, and governments for a lack of economic and social fairness in their supply chains. These factors certainly do play a role, but all the companies listed above need to make bigger commitments, monitor and broadcast their progress more closely, keep track of the farmers and women in their supply chains, and stop allowing land grabs, among other things. Big brands don't have all the power, but they are far from powerless.