In past months, B Lab has highlighted inspiring Rockstars of the new economy like Revolution Foods, Better World Books, Happy Family, Guayaki, DIRTT, and Sungevity–companies which inspire us with their ability to make money while making a difference, as well as their high growth and high impact. We've also profiled a few emerging artists like Warby Parker and Lumni that are young and disruptive and have the potential to scale fast. (Check out past Rockstars here and here.)
But great companies are not just fast, they are built to last. That's why this month we're honoring three new Rockstars with Lifetime Achievement Awards. These businesses exemplify qualities particularly important in times of uncertain economic outlook–durability, resilience, and the ability to adapt and thrive in an ever-changing marketplace.
Operating from 25 to nearly 225 years, these companies have maintained their commitment to mission through up and down business cycles, continued to create high-quality jobs and to improve the quality of life in our communities, and paved the way for today's growing group of green, responsible, and sustainable businesses.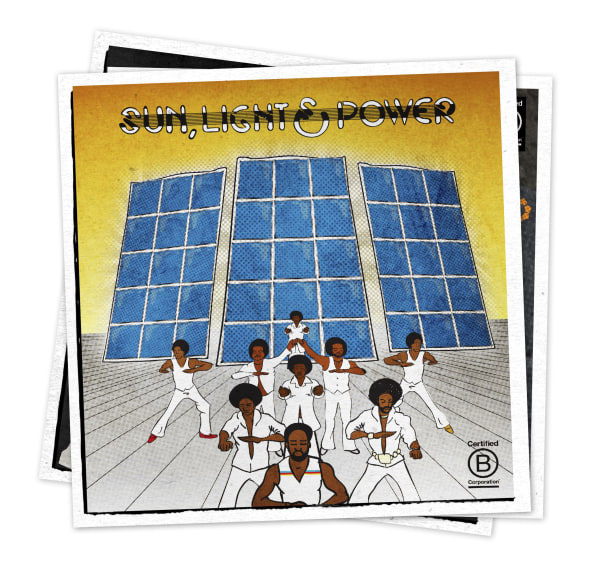 Founded in 1976, Sun Light and Power has been providing renewable energy and energy efficiency technology to California homeowners and businesses throughout on-again, off-again government support for solar since and well before the venture community sniffed a huge market opportunity. In the past 36 years, SLP has offset about 38,000 tons of CO2 and produced more than 53,000 MWh and 2.2 M therms of energy through their photovoltaic and solar thermal installations. In 2011 alone, the company installed 1,800 kilowatts of solar power.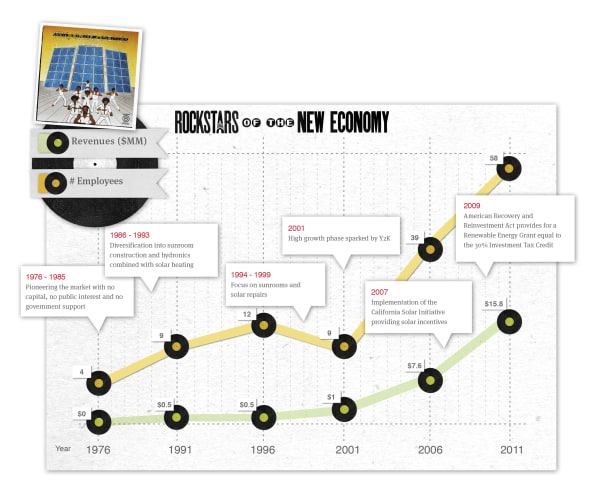 For all solar companies, increased sales translate into a better environmental impact. However, this Rockstar also practices what it preaches: Sun Light and Power's entire office is run on solar power generated from a system on its roof, its fleet of service vehicles runs on bio-diesel, and more than 75% of its office supplies come from recycled materials.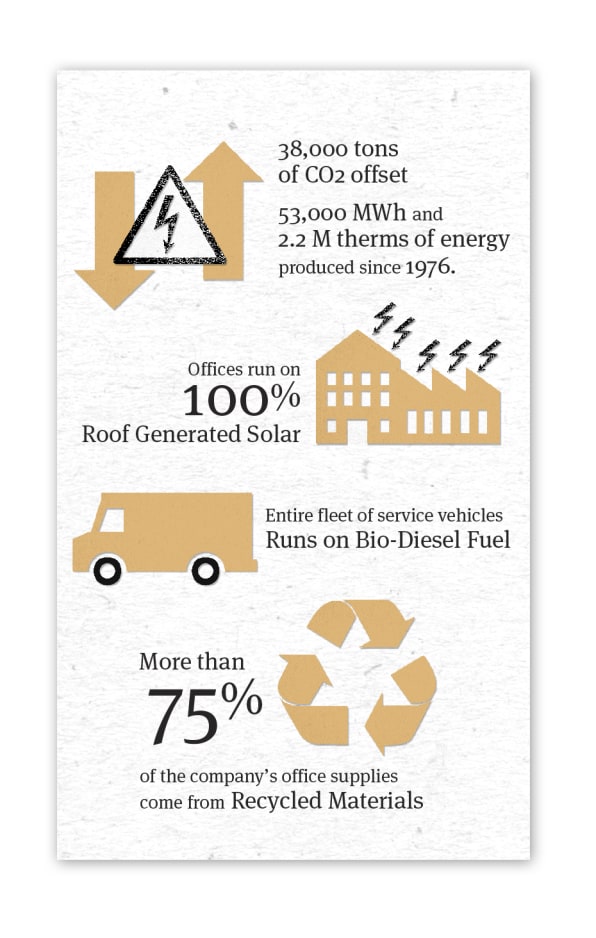 However, a real Rockstar must be a triple-threat. That's why SLP has also remained devoted to its employees and the community and became a B Corp in 2009. Rather than subcontracting installations (a common industry practice), the company hires full-time employees and provides a living wage, health benefits, a retirement plan, and paid time off. Additionally, more than 10% of its net profits are donated to local nonprofit organizations active in affordable housing, community development, and green building.
With a growing demand for solar energy, a long track record of success, and deep roots in the community, Sun Light and Power is poised to capture more than its fair share of a booming market, demonstrating a better way to do business for generations to come.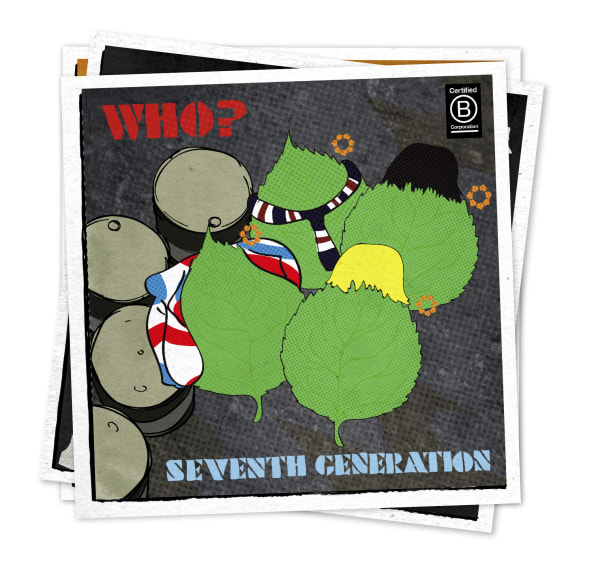 Founded in 1988, Seventh Generation is one of the nation's most recognized brands of natural household and personal care products and could be credited with helping make our homes more safe by cleaning up their industry. For nearly 25 years, the company has created non-toxic cleaners and personal hygiene products, and over the past five years its compound annual growth rate has been over 15%. The company has also grown its high-quality job base, doubling the size of its team to 113 in 2011.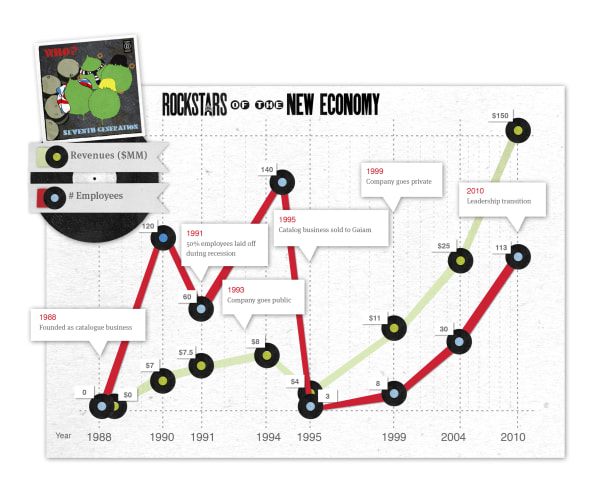 Seventh Generation achieved this growth while navigating choppy waters through an early '90s transition from catalog to wholesale, a 1993 public offering that went private in 1999, significant layoffs during multiple recessions, and a large private equity investment and 2010 leadership transition that replaced their visionary long-time CEO.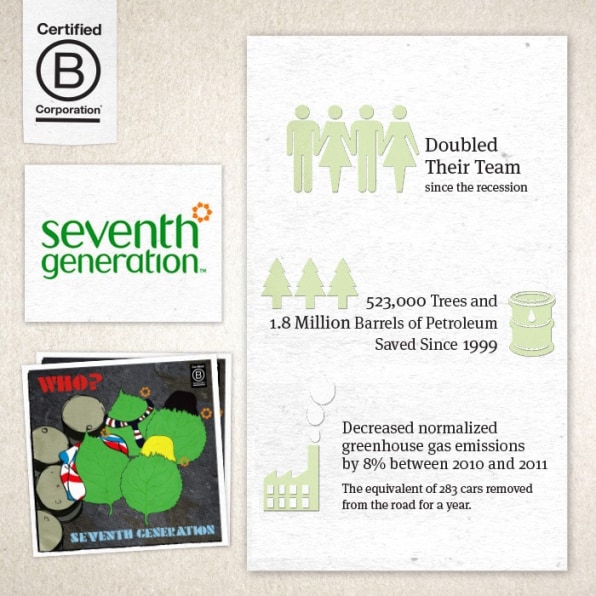 Since all of Seventh Generation's products, raw materials, byproducts, and processes are sustainable, not just those of one particular product line, the company's overall environmental impact is impressive. Product sales in 2011 alone helped save 77,000 trees, 28 million gallons of water, and enough energy to heat 1,700 U.S. homes for a year. They also prevented 35,000 pounds of chlorine and 52,000 pounds of volatile organic compounds (VOCs) from being released into the environment. Between 2010 and 2011 the company decreased normalized greenhouse gas emissions by 8%, a change whose impact is equivalent to the removal of 283 cars from the road for a year. All told, since 1999, the company's product sales have saved nearly 523,000 trees or 1.8 million barrels of petroleum–a "Lifetime Achievement" in and of itself.
Seventh Generation is also committed to giving back to the human environment. The company donates 10% of profits to charity and offers employees paid time off to volunteer. In 2011, employees donated a total of 1,400 hours toward improving the community. Moving an industry, preserving the environment and strengthening the community for 25 years–that's a true Rockstar.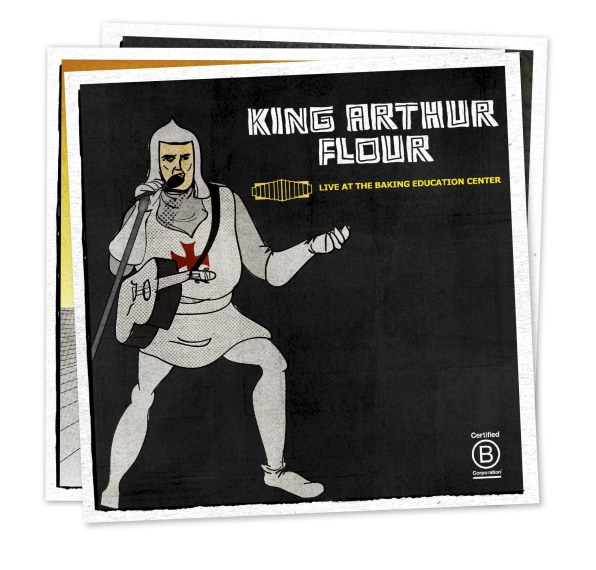 After nearly 225 years in business, King Arthur Flour knows a thing or two about success. The company's secret: focusing on employees. Based in Norwich, Vermont, this Rockstar (and America's oldest flour company) began as a family-owned business before transitioning towards an employee-ownership model in 1996 and finally becoming 100% employee owned and thriving. The Employee Stock Ownership Plan provides each employee with a stake in the company and therefore a bigger incentive to make it a success–a fact reflected in the company's growth. Revenue and their workforce have been steadily increasing over the last 10 years, both doubling in the years since converting to 100% employee ownership. Last year, KAF had gross sales of over $97 million and an employee count of 283–a huge increase from the six employees in 1990.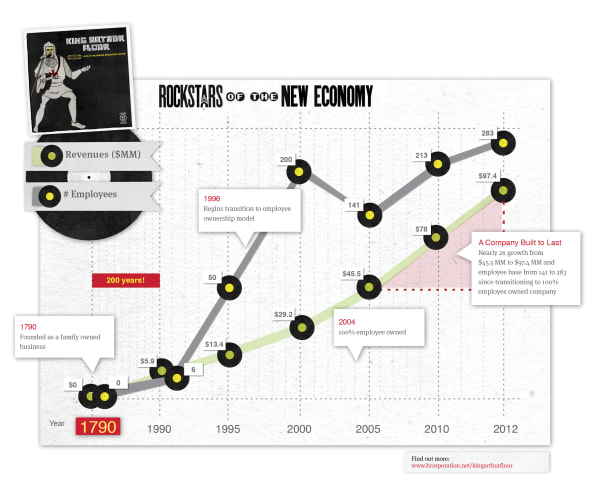 As an employee-owned B Corp, KAF has the freedom to emphasize values beyond profit, like environmental responsibility, community engagement, and the wellness and satisfaction of employees. More than 80% of health care premiums are paid for families and both full- and part-time employees receive a living wage. Providing employees with high-quality jobs and a great work environment also enables them to give back. With 40 hours of paid time to volunteer and company-wide service outings, KAF employees donated 1,524 hours of volunteer time in 2011. The company also donates both cash and products to local nonprofit organizations focusing on nutrition education, hunger relief, and environmental sustainability.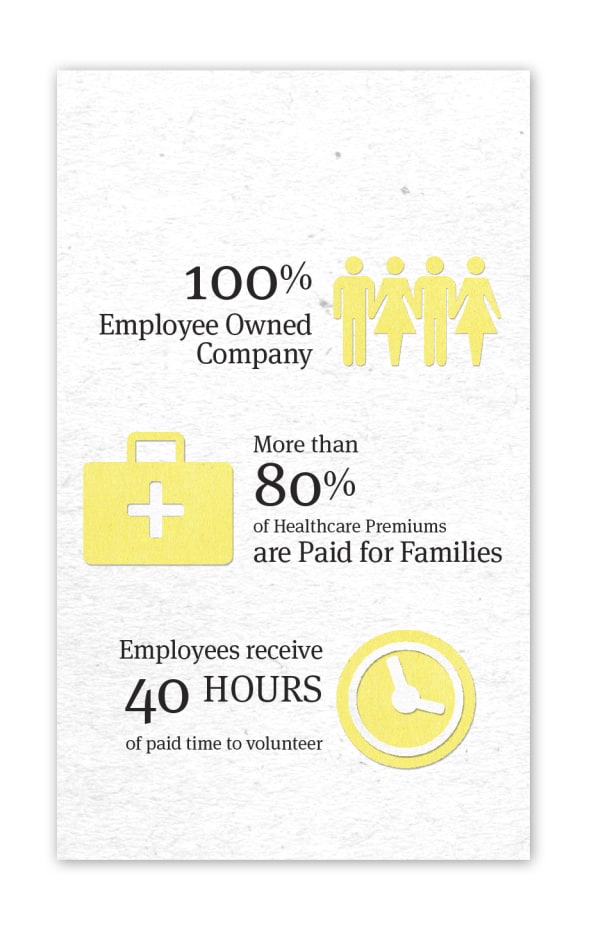 The ability to live their values at work is the secret to King Arthur Flour's longevity and success. Thriving for more than 200 years in a competitive and often unpredictable economy is an achievement in itself. Doing so while consistently contributing to a better world is what makes King Arthur Flour a Lifetime Rockstar.
These three Rockstars have withstood the test of time, acting as models of durability and resilience for entrepreneurs everywhere. And as models for today's growing class of socially and environmentally conscious capitalists, they are a part of the growing community of 670 Certified B Corporations from across more than 60 industries, meeting rigorous standards of social and environmental performance, accountability, and transparency.
Inspired by these Rockstars? Check out the rest of the B Corp community and stay tuned for when we announce the next class of Rockstars of the New Economy.