Sometimes, a skyscraper isn't just a skyscraper. It's a community gathering space, a building that offers respite from typical stale indoor office environments, a model of sustainability for others to follow, a breathing–but not living–entity. PNC Bank's new 33-story global headquarters, set to be built in Pittsburgh, is that place.
Today's "green" high-rises can be placed in two categories, according to Hao Ko, a senior associate and design director at Gensler and the lead architect on the PNC project. They're either bicycles that use onsite resources and are only as big as the site will allow, or they're hybrid SUVs, basically just normative high-rises that have fancy technology added to make them high-performing.
Bicycle buildings like the Cascadia Center Bullitt Foundation in Seattle and the Council House 2 in Melbourne, Australia, can only climb six to eight stories, while hybrid SUV buildings like One Bryant Park in New York City don't have a great mpg, to keep the analogy going. Ko hopes that the Tower at PNC Plaza can be like the Tesla of the green skyscraper world: slick, fun to drive, and efficient, too.
Ko defines a green building a little differently than most people: It's a building that isn't just energy efficient, but people-focused as well. In a sense, that takes a building beyond just sustainability into the realm of resilience, where having connections to neighbors and the larger community is key.
The PNC tower is designed to be a warm, inviting place–as much as an impersonal skyscraper can be. Located in the middle of downtown Pittsburgh (aka the Golden Triangle), the tower will engage the community around it with an open lobby (Ko describes it as "a living room for the city"), retail space at the base of building, and a 300-person auditorium and theater that can be used by the general public outside of business hours. Local partners and consultants are being used whenever possible in construction of the building. The tower will also quite literally be transparent. "The last thing [PNC] wants to do is hide behind a fortress," says Ko.
My personal favorite spots inside the future tower are the SkyGardens, spaces that pop up every five stories that will contain conference rooms, open collaborative areas, and glass-walled "outdoor spaces" that reflects the weather of each season. Sometimes it might be too cold in the space without a coat, but in the spring and summer, people will probably want to sit down and have lunch in the area. Sunglasses will be provided on a rack–a reminder that the interior of the building is connected to the exterior.
Each two-story "neighborhood" will contain office spaces on the bottom floor and a common area on the other with a space for a pantry or coffee station. Bathrooms will also be located in this space. "It's about bringing people together, creating spaces that encourage people to have chance encounters," explains Ko.
Comfort is also emphasized in the design; 91% of the building will be lit by daylight, and nearly 100% of the spaces where people spend their time will have enough natural light so that only desk lamps are necessary. The building "breathes" with a double-skin facade: a natural ventilation system that has a glass outer weather and air barrier and an inner layer with automated air vents, a wood curtain wall, and manually operated sliding doors. A series of automatic sensors on both layers open up the building for air when the weather is nice.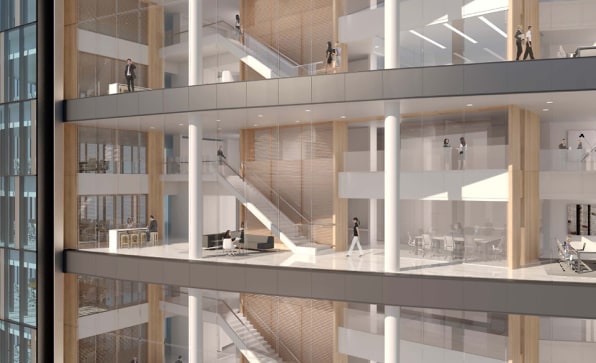 Building denizens can step out onto a ledge between the two skins if they want even more air. "If people have control of the environment they're in, they're going to be more content, they're happier, and because they're happier they're more comfortable," says Ko. And if people are more comfortable, studies have shown that they'll be more efficient.
When you open a door or window in other double-skinned buildings, it feels like air is being pushed out, but Gensler has managed to design the PNC tower so that workers instead get the sensation of air coming in. The secret is a system that creates natural suction at the center of the building, so that when a person opens up a door, air moves inward–not in gusts, but gently.
A solar chimney will draw exhaust and warm air up and out of the building, while the double skin will pull air in–a technique that can dramatically cut down on energy use. A solar photovoltaic array will lie on top of the chimney. Passive natural ventilation can be used for 42% of total working hours in the building, and the abundance of natural light will cut down on energy use even further.
PNC plans on sharing much of the data that the building yields, much as the high-performance buildings around the world that Gensler visited while planning the project shared their own data. Ko wrote in an email: "PNC has not discussed what they will share in specific, but based on our experience with them and their history, I would expect a real transparency of information that includes building performance metrics on energy consumption and water conservation. What I would hope we can talk about too is employee satisfaction and worker productivity numbers. It would be great to have 'scientific data' that shows how a building like this improves the human experience and thus positively impacts an organization."
Excavation has already started on the tower site. The building should be completed by 2015.