If you own a sewing machine, chances are it's now a) underneath the bed, b) at the back of the closet, or c) listed on eBay. That's not a slight on your stitching skills, but a seeming reality of bulky, white sewing appliances: people buy them, yet don't use them often.
A young British designer wants to change that. Sarah Dickins's idea is to make a more attractive sewing device–-something you wouldn't mind having in the living-room–and a more useable one: something even a child could handle.
"I wanted to encourage people to have fun recycling and customizing their clothes, rather than throwing them away. Lots of beginners suffer with things like threading the machine," Dickins says.
"They find it hard to control the movement of the foot on the pedal with the movement of the fabric under the needle. They can't coordinate their hands and their feet at the same time. It's a bit like when you learn to drive [a stick-shift], and you're trying to do the gear stick and steer at the same time."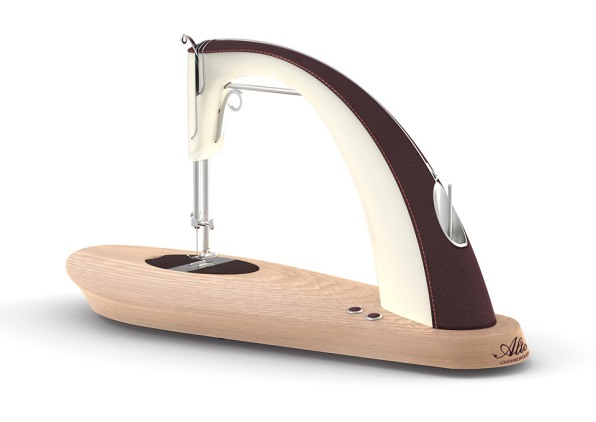 Dickins also says the big column on standard machines creates a shadow over the working area, obscuring the eye-line, and reducing space to introduce fabric. With more than a napkin, you have to bunch or fold the fabric first.
In Dickins's design, called Alto, there is a metal line running from back to front, making threading easier. Instead of a foot-pedal, there's a sensor on the bottom; you control the speed of the machine by leaning on it. Meanwhile, an arched drive-shaft frees up space in the business area.
Alto is also a more attractive animal, made from wood and designed to be a style winner.
Dickins, who graduated last year, hopes to take the prototype to a manufacturer who can develop it further. She's already got a patent for the sensor mechanism, and has been shortlisted for this year's Dyson Award.
"It would be more expensive than a normal sewing machine, something high-end," she says. "It's not meant to be an economy product. It's something you have in your lounge as a bit of a statement as well as a functional type thing."