At some point, we've all dreamed of being a rockstar. Rockstars inspire us. They make us think, "That's awesome! I want to do that."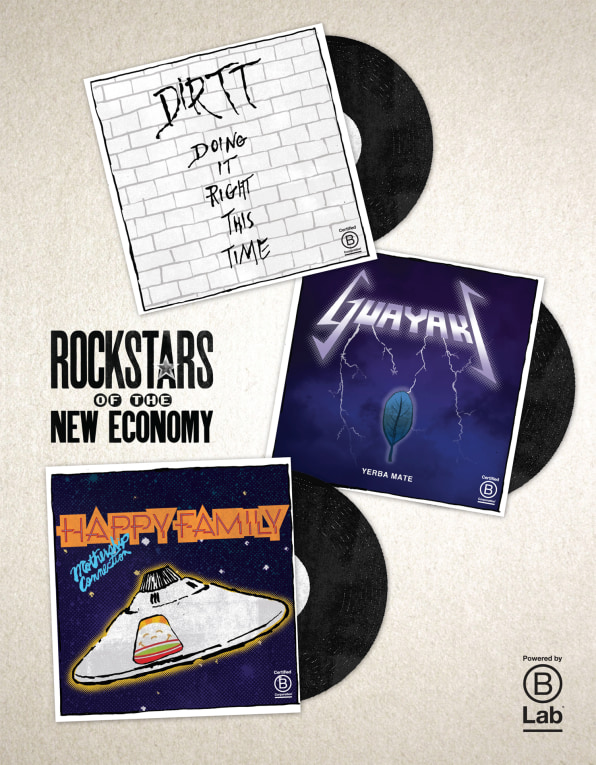 In March, B Lab honored four rockstars of the new economy (Better World Books, Sustainable Harvest, Revolution Foods, and Sungevity) as well as two Emerging Artists (Warby Parker and Lumni). These businesses are inspiring us and the next generation of entrepreneurs around the world because they are both high growth and high impact.
Folks have reacted–not only to the stories and the numbers, but to the mash-up rockstar album cover graphics. (Can you name all six original albums and artists?) So, over the next few months, the B Corp community will be introducing you to more Rockstars, all of whom are proving that it's possible to be the best in the world and also the best for the world.
And without further ado: June's Rockstars of the New Economy.
Based in Calgary, Canada, with operations in Phoenix and Savannah, Georgia, DIRTT Environmental Solutions is modernizing the construction industry by replacing dated, stud and drywall construction with sustainable, pre-engineered modular walls, plug and play power and data, millwork, and more. Using their interactive, 3-D ICE software platform to scope the project, the company manufactures custom, reconfigurable construction solutions using fewer resources. This cuts the cost, waste, and environmental impact of each project.
Since 2007, DIRTT has more than doubled their revenues, reaching $115 million in 2011 and added nearly 500 new high-quality jobs. This impressive growth has been mirrored by their positive environmental impact. A distributive manufacturing model allows them to drastically diminish the carbon footprint of transportation, while contributing to local, living economies. Their factories also have a footprint one-third the size of typical production facilities. All told, DIRTT has recycled over 7 million pounds of manufacturing waste since January 2011, tripling their total recycling in the past four years.
Featured at the Clinton Global Initiative, Guayaki Sustainable Rainforest Products is a leading importer of organic, fair trade yerba mate, a traditional South American drink with the strength of coffee and the health benefits of tea. The company is growing fast, tripling their revenues over the past five years to reach $15 million in 2011. However, it is their innovative business model that sets them apart.
Guayaki links customer purchases directly with partner farming communities to drive rainforest reforestation and provide the peoples of the rainforest with an income and the ability to steward their land. Once a farmer partners with Guayaki, the company provides technical advice, helps manage the organic growing process through harvest, and purchases what is produced. In turn, the farmers repopulate their land with native hardwood trees and provide a living wage and fair working conditions. By matching financial growth with social and environmental impact, the company has successfully restored over 27,700 acres of South American rainforest.
Happy Family is spurring growth in the exploding market for healthy, sustainable baby food. Demand is high, as moms are responding to new products that keep their babies and children safe from the danger of pesticides. Little ones are thought to be especially vulnerable due to their small size and developing bodies. Founded only six years ago, the company has exploded, growing from just $150,000 to $34 million in revenue (helped along after being featured in this American Express commercial).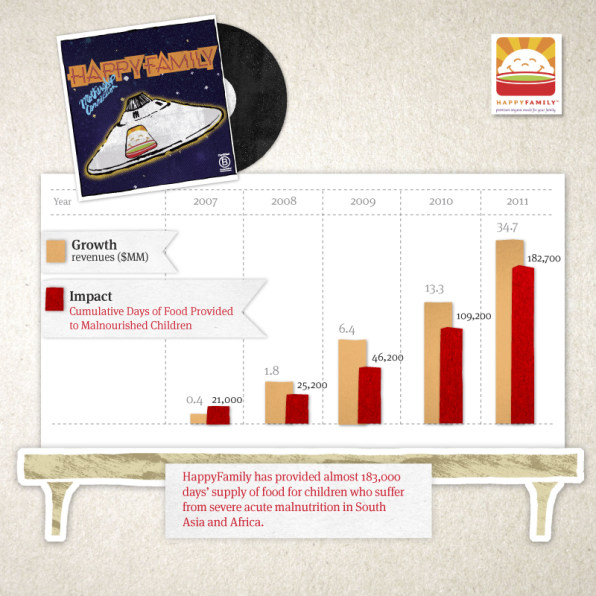 By partnering with nonprofit Project Peanut Butter, the company has managed to unite social impact with economic success. For every Happy Family product sold, the company makes a donation to help nourish a starving child with Plumpy Nut, a peanut-based paste rich in nutrients. Plumpy Nut has proven incredibly effective, with a 90% recovery rate among malnourished kids, compared to 25% to 40% for traditional programs. To date, Happy Family has provided almost 183,000 days' supply of food for children who suffer from severe acute malnutrition in South Asia and Africa, carrying their mission of sustainably improving children's health and nutrition to people around the world.
These three companies each stand out for their exponential growth both in revenue and impact, but they're not alone. And they don't only measure one metric when looking at their impact. Each of these Rockstars is a part of the growing community of over 530 Certified B Corporations from across more than 60 industries, meeting comprehensive social and environmental performance standards, as well as higher standards of accountability and transparency.
Stay tuned as next time we'll pair up some new Emerging Artists and our first honorees for Lifetime Achievement.