So you're sitting in your car minding your own business when a bunch of flesh-seeking zombies appear out nowhere. What do you do? If you are the owner of a specially customized Hyundai zombie survival vehicle, then there's no need to panic–just sit back, relax, and let the car take them down one by one.
Carmakers tend to focus on protecting drivers against extreme weather or precarious road conditions, but Hyundai took its defensive measures a bit farther–allowing drivers to arm themselves against the undead with the Walking Dead Chop Shop.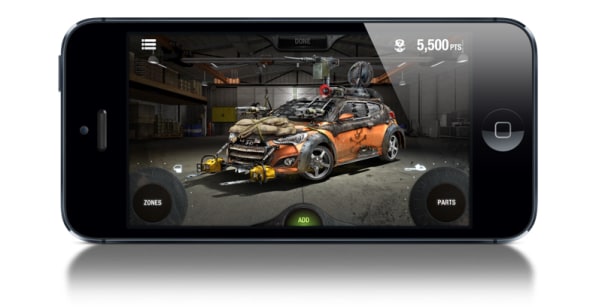 Hyundai had its first zombie encounter with the product placement of a Hyundai Tucson in the cult TV series The Walking Dead. The placement inspired the brand and its creative agency Innocean to get Robert Kirkman, creator of The Walking Dead comic book and its TV spinoff, to design his own zombie survival version of the Hyundai Elantra Coupe in 2012.
Greg Braun, Innocean's executive creative director, says: "We brought the concept to [Kirkman]. We could have designed it ourselves, but these fans are so rabid . . . we wanted to do it right when it came to designing the vehicle." Kirkman's design was such a hit that the accompanying owner's manual, the "Hyundai Zombie Survival Machine Manual," is selling for thousands of dollars on eBay.
The fans themselves have inspired the latest collaboration, The Walking Dead Chop Shop. While fans loved Kirkman's Hyundai Elantra Coupe design, they had their own ideas about what makes an efficient zombie-killing machine, as Braun explains: "They said things like, 'It was cool, but I could have built one better,' or 'It was cool, but I would have added a chainsaw.' "
So the agency came up with an app that allows people to create their own designs. The Walking Dead Chop Shop app offers all kinds of armory and the latest must-have zombie survival car accessories, from razor wire and automatic shotguns to flame throwers and machetes.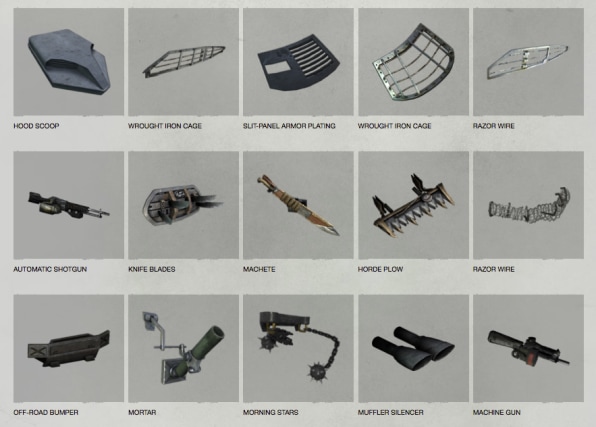 Fans could choose from three Hyundai vehicles and 150 zombie-killing parts, all codesigned by comic book artists from Walking Dead publisher, Skybound. The app, built on a real-time 3-D platform, allows users to view their creations in 3-D from any angle.
The creatives at Innocean remain divided on their favorite tools for annihilating zombies. Creative Director Scott Muckenthaler favors the doom whistle, which he calls "the pied piper of zombies".
"It's an interesting part that works well with the way zombies behave. They are attracted to noise so you can bring them towards you and either attack them with a weapon on the car or run away and get them to attack your enemy," Muckenthaler says.
Meanwhile, Barney Goldberg, another creative director, likes the horde plow, because of the "sheer amount of zombies you can mow down with it."
The app, which launched at Comic-Con in San Diego, seems to be going down well with the public. Braun describes the response so far as "phenomenal," noting that no user is content to design just one customized vehicle, with everyone who takes part opting to go back in to create a few more.
The best design will be transformed into an actual zombie survival machine, and the winner will be judged by Robert Kirkman himself–whom Braun describes as "very much a partner" on the project. The ultimate zombie survival machine will be revealed at Comic-Con in New York in October, coinciding with the launch of the next series of the show.
The Innocean creatives attest to having learned a lot from their experience of waging war on zombies. Braun says that, thanks to Hyundai's dealings with the world of the undead, he has taken part in the sort of "in-depth discussions that I don't think anyone else in the industry has ever had."
He says: "It is surreal working on a project like this. You have a room full of talented professionals, who are experts at what they do, talking about the merits of a horde plow and how many zombies you can kill with it."