While some women have closets full of high heels from Jimmy Choo, Manolo Blahnik, and Christian Louboutin, I have a closet full of sneakers–mostly high tops–from Nike, Puma, and adidas. My collection would be a lot bigger if more styles were available to me. But unfortunately many of the coolest designs are made in men's sizes only. This drives me crazy. I live in New York City where sneaker culture is hot, and I should be able to walk the streets wearing the ultimate kicks.
It turns out I am not alone in my frustration. Across the pond in London, where sneakers are called trainers, Emily Hodgson and Emilie Riis have also been stewing about this disparity, but they were actually motivated to do something about it, launching Purple Unicorn Planet. The fantasy shop was created to inspire Nike to make trainers for men available in women's sizes, too.
"Our campaign grew out of the search for the perfect pair of trainers," Hodgson says. "We were both on the lookout for something understated but fashionable. We were largely drawn to the darker colourways using patent leather, suede and different patterns. We'd eagerly check out trainer and fashion blogs, however, were always disappointed as most of the trainers were only made in men's sizes."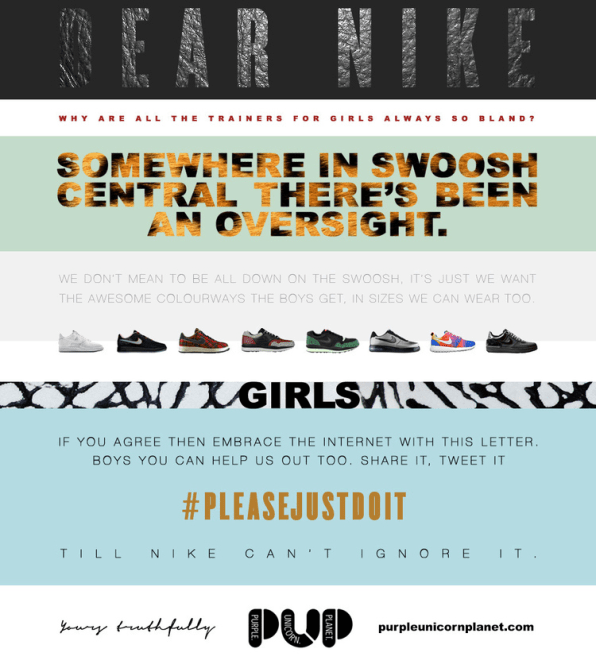 "Trainers are unisex shoes and have been for awhile. But it seems we are still stuck in an outdated view on what kinds girls and boys, respectively, should wear," Riis adds, noting, "Girls don't just want pink, purple, or banana yellow trainers."
Hodgson's favorite men's trainer at the moment is the Nike Lunar Force 1 Fuse Premium. "A glow-in-the-dark outsole, galaxy laces, gradient swoosh and lunar splatters everywhere," Hodgson marvels. "It's a one-off, and it's fun."
Riis favors men's trainers in the Nike Air Force line, which she describes as "the perfect mix of Lunar Force minimalism and Air Max street cred."
The aforementioned styles are featured on Purple Unicorn Planet. The fantasy shop showcases photos of more than a dozen of the hottest Nike kicks. But when you click on your favorite trainers, you learn that none of them are available in women's sizes.
Visitors to the site, which also includes samples of Hodgson's and Riis' correspondence with Nike customer service representatives, are urged to take to Twitter using #pleasejustdoit to let Nike know they would buy more trainers if the men's designs were available in women's sizes.
"By creating a fantasy shop and linking our cause to #pleasejustdoit, we want to show the interest and demand in the girl's category. And by showing that we are not alone in this search, we can, hopefully, get Nike's attention and change the status quo," Riis says.
Why focus on Nike? "Nike makes some amazing men's trainers, and these were the designs we were drawn to," Riis says. "It was, therefore, natural for us to target our idea towards them."
"It's important to state that this is by no means an attack on Nike," Riis stresses. "Quite the opposite. It's our call to feet. A shout-out to change it up for the girls–make it easier for us to buy cool trainers."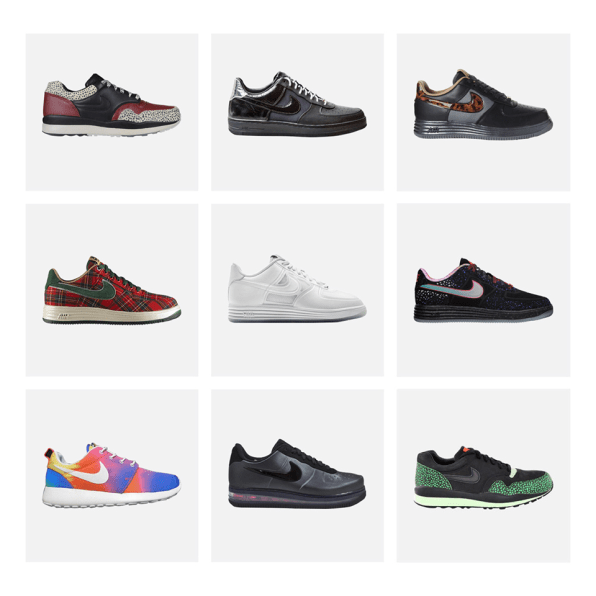 Hodgson and Riis work in advertising, by the way. They are both employed by London ad agency 18 Feet & Rising, where Hodgson is a producer and Riis is a strategist. "Our day jobs have definitely helped us in creating Purple Unicorn Planet," Hodgson says. "The combination of our expertise meant we both brought something to the idea to make it better."
The pair worked on the project after-hours and kept it to themselves until they felt they had something tangible and finished, and they did show it to their bosses at 18 Feet & Rising just prior to launch. "They were hugely supportive, which was to be expected," Hodgson says. "But it's important to say that this was something that grew out of our own heads and not a brief from the agency."
The women have yet to get a response from Nike, but Purple Unicorn Planet was visited 2,000 times in its first 12 hours of operation, and visitors have arrived from every continent, Riis reports.